KARACHI: Pakistan has had its fair share of misfortune when it comes to being represented globally. Pakistani artists, and filmmakers in particular, have had many roadblocks thrown their way. Be it films that are banned in our own country, or artists who are forbidden to work across the border, Pakistani artists have not had the best luck in reaching the masses. However, 2022 is the year that changed things for the better. This year, Pakistanis and Muslims have witnessed multiple historical moments created on some of the biggest stages. From the Grammys to the Cannes Film Festival to our own Marvel superhero, Pakistani artists have made a name for their country on an international level, for all the right reasons.
Arooj Aftab's win at the Grammys
Nominations for the 64th Annual Grammy Awards marked a historical moment for Pakistani musicians. It was the first time that a Pakistani woman had been nominated for two Grammy Awards. The honour was brought on by the talented Arooj Aftab who earned herself nominations for Best New Artist and Best Global Music Performance. While the nominations themselves were enough to have the nation and the music industry ecstatic, Aftab did not just stop there. Earlier this month, the singer won the first ever Grammy by a Pakistani as she was awarded Best Global Music Performance for 'Mohabbat'.
View this post on Instagram
'Mohabbat' which is featured on Aftab's third album Vulture Prince was a commercial success. It featured on Barack Obama's summer playlist and eventually won her a Grammy. The Brooklyn based Pakistani composer was up against the likes of Femi Kuti ("Pà Pá Pà"), Wizkid and Tems ("Essence"), Angélique Kidjo and Burna Boy ("Do Yourself") and Yo-Yo Ma and Angélique Kidjo ("Blewu") under the category of Best Global Performance.
View this post on Instagram
However, that was just the beginning and in November, Arooj Aftab landed herself another nomination for her track 'Udhero Na' at the 65th Grammy Awards to be held in February 2023 in Los Angeles.
Saim Sadiq goes to Cannes Film Festival
The month of April had another big surprise in store for Pakistani artists especially on international platforms. As the prestigious Cannes Film Festival revealed its list of nominees for the 2022 edition, we saw Saim Sadiq's name up on the website. With Joyland nominated under the Uncertain Regard category, Sadiq's directorial became the first Pakistani feature film to make it to the festival. While massive praises poured in for the team of Joyland, this is not the first major recognition that Sadiq has gotten for his work. Only last year, his short film, Darling, won in the Best Short Film category at the La Biennale di Venezia.
View this post on Instagram
More recently, Sadiq's Joyland also became Pakistan's official submission to the Oscars 2023!
Seemab Gul's Mulaqat qualifies for an Oscar
While Pakistanis wait for a verdict on Joyland's participation in the Oscars, there is a confirmed nomination that they can celebrate meanwhile. In August, Seemab Gul's Sandstorm (Mulaqat) qualified for an Oscar nomination. The short film was one of the top three films to be shortlisted at the HollyShorts Film Festival 2022 which ran from 11th to 20th August. The top three selections automatically qualify for an Oscar nomination. The Pakistani short film earned its spot in the Oscar race by winning in the Best Live-Action short category.
View this post on Instagram
Sandstorm has been produced by Gul and Merchant in collaboration with Sanat Initiative and Instinct Productions. It tells the story of a young teenager, Zara, whose world turns upside down after she shares a video of herself doing a sensual dance for her virtual boyfriend. After she sends the video, her boyfriend begins to threaten her into meeting him in person and uses the video as blackmail.
'Javed Iqbal' goes to UK Asian Film Festival
It is rare for Pakistani movies to venture out into more serious genres. And so, when it was announced that Yasir Hussain and Ayesha Omar were going to star in a movie based on Pakistan's notorious serial killer Javed Iqbal, there was a considerable amount of excitement. However, much to everyone's dismay, after a preview screening in Karachi, the movie was abruptly pulled by the government's Central Bureau of Film Censors even though the its censorship had already been approved. However, the small hiccup did not mark the end of the road for Javed Iqbal: The Untold Story Of A Serial Killer. Instead, the movie is all set to premiere at the 2022 UK Asian Film Festival.
View this post on Instagram
Javed Iqbal tells the story of the serial killer who preyed on young boys. He confessed to having kidnapped, sexually assaulted and murdered around a 100 boys. The premiere will take place on May 4 at London's BFI Southbank.
Riz Ahmed's win at the Oscars
It is a fair argument that Pakistanis are quick to jump on the congratulatory bandwagon every time an artist of Pakistani descent achieves something on an international level. We may do very little to facilitate our artists or even acknowledge them while they live in our country, but the minute they achieve something internationally, we love to make headlines out of their success and their link to Pakistan. And so it would not be entirely fair to claim Riz Ahmed as just a Pakistani and equate his win at the Oscars to a win for our country. However, Ahmed's win did mark a historical moment for Muslims around the world. With his award for Best Short Film, Ahmed became the first Muslim to win an Oscar in the category.
View this post on Instagram
Born and brought up in the UK, Riz Ahmed uses his family's experiences to depict the struggles of immigrants. While he may only be connected to Pakistan through his ancestors, the actor did represent Muslims around the world as he stood on the stage of the Oscars, paving the way for many more like him.
The Marvel squad
Ms. Marvel represented Pakistan in more than one ways when it was released earlier this year. From having Sharmeen Obaid Chinoy co-direct the series to witnessing a cast that included the likes of Fawad Khan, Mehwish Hayat, Nimra Bucha and Samina Ahmed, the series was great in terms of representation. To add to the many reasons why people were raving about Ms. Marvel was the playlist that gave many of our Pakistani artists an international platform!
View this post on Instagram
More recently, the celebration of the first Pakistani Muslim hero restarted! Earlier this week, Critics Choice Awards announced their first Celebration of Asian Pacific Cinema & Television Gala and amongst the list of honorees is the Ms. Marvel cast!
Congratulations to the Cast members from the @DisneyPlus series @msmarvel
They will receive the Ensemble Award for Television at the #CriticsChoice inaugural Celebration of Asian Pacific Cinema & Television Gala Nov 4th!
#CelebrateAAPICinema #MSMARVEL #EnsembleAward @MSMarvel pic.twitter.com/CQaFVO0OHQ

— Critics Choice Awards (@CriticsChoice) September 29, 2022
Ali Sethi makes it to Time100 Next list
TIME is one of the OGs of American magazines. Every year, it also releases its very own list of 100 most influential people. Another honour that it bestows upon talented individuals from around the world is the Time100 Next list which includes rising stars from various walks of life. And of course, 2022 being the year of Pakistani artists, our very own Ali Sethi has made it to the Time100 Next list this time.
View this post on Instagram
The writeup specially mentions Sethi's latest hit with Shae Gill, 'Pasoori', and reads, "Though written in Punjabi by a Pakistani artist, Ali Sethi's song 'Pasoori' has become a global sensation with close to 400 million views on YouTube. Even more remarkable, the song has found a huge following in neighboring India despite the escalating tensions between the two countries." Elaborating more on Sethi's strengths as an artist, the description highlights how his "great gift is that he is able to use an ancient form of music from the region, the classical raga, to challenge and expand notions of gender, sexuality and belonging."
Sajal Aly walks the red carpet of TiFF 2022
Who doesn't love Sajal Aly? The actor has made a name for herself in Pakistan for her powerful performances on screen and for taking up roles that leave a lasting impression. So it only made sense for the world to get a taste of her brilliance and who better to give her a platform than Jemima Khan!
View this post on Instagram
Sajal Aly made her Hollywood debut with What's Love Got To Do With It? starring opposite the likes of Lily James and Emma Thompson and wowed the audiences when she took to the red carpet of the Toronto International Film Festival. And Sajal Aly looked nothing less than an absolute dream!
Humayun Saeed goes to Hollywood
If there are two people that Pakistanis love the most, they are Princess Diana and Humayun Saeed. And so it was a dream come true when fans learnt that they were getting the crossover they never believed they needed. Earlier this year, it was announced that Humayun Saeed would be making his Hollywood debut in the Royal Family drama The Crown.
View this post on Instagram
Season five of The Crown focused on Princess Diana following the breakdown of her marriage to the then Prince Charles. And her story could not be told without including her ill-fated love affair with Hasnat Khan. And who better to play the doctor than Humayun Saeed! His co-star, Elizabeth Debicki, who played Diana was all praises for Saeed and said, "I absolutely adored Humayun, he was such a lovely actor, and such a beautiful person."
Fahad Mustafa, Sajal Aly, Humayun Saeed celebrated at Filmfare Middle East Achievers Night
Over the years, politics has played a great role in dampening the exchange of art between Pakistan and India. After India enforced an indefinite ban on Pakistani artists in 2016, Pakistan eventually followed suit. However, despite the political hostility, it seems as though actors from both ends of the border don't feel the same way. Which is why Sajal Aly was honored at the Filmfare Middle East Achievers Award Night alongside Humayun Saeed and Fahad Mustafa.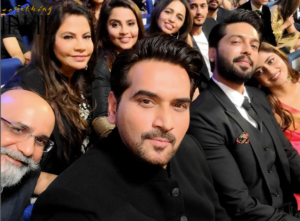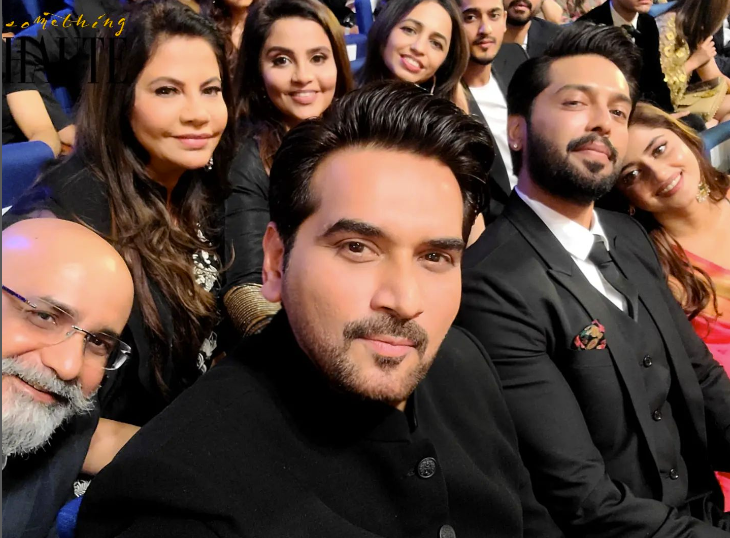 Sajal Aly was awarded the Filmfare Award for being the Most Popular Face of Pakistani Cinema, Fahad Mustafa was presented with the Promising Star of Pakistan award and Humayun Saeed was honored with the Trendsetter of Pakistani Cinema award.
Mahira Khan, Sarmad Khoosat, Saba Qamar awarded at Indus Valley International Film Festival
Organized by the South Asia Forum for Creative Arts and Heritage, the 4th edition of IVIFF received over 1000 entries out of which 21 films were screened from Pakistan, Nepal, Bangladesh and other South Asian countries. During the festival, four awards were won by Pakistani artists including Saba Qamar, Mahira Khan and Sarmad Khoosat.
View this post on Instagram
Mahira Khan won the award for Best Actress for her performance in Sheheryar Munawar's short film, Prince Charming. Saba Qamar, on the other hand, was awarded Best Actress for her role in the critically acclaimed film Kamli. Sarmad Khoosat's highly popular film Zindagi Tamasha also bagged two awards. Khoosat won Best Director while the award for Best Actor was given to Arif Haasan
*This is a developing story