KARACHI: It seems as though 2022 is the year for Pakistani artists. Arooj Aftab won her Grammy, Javed Iqbal is going to be screened at the UK Asian Film Festival and now Saim Sadiq's Joyland is the first Pakistani feature to make it to the nominees for the prestigious Cannes Film Festival 2022!
Not a lot is known about Joyland save for a few details such as Sana Jafri and Ali Junejo are starring in the feature film and a trans character is rumored to be a part of the movie as well. Jafri shared a screenshot from the Cannes website that announced Joyland would be included in the Uncertain Regard category. Along with the picture she wrote, "Yeah guys, this is real. It has happened, history has been created again. The first Pakistani feature film at Festival De Cannes!"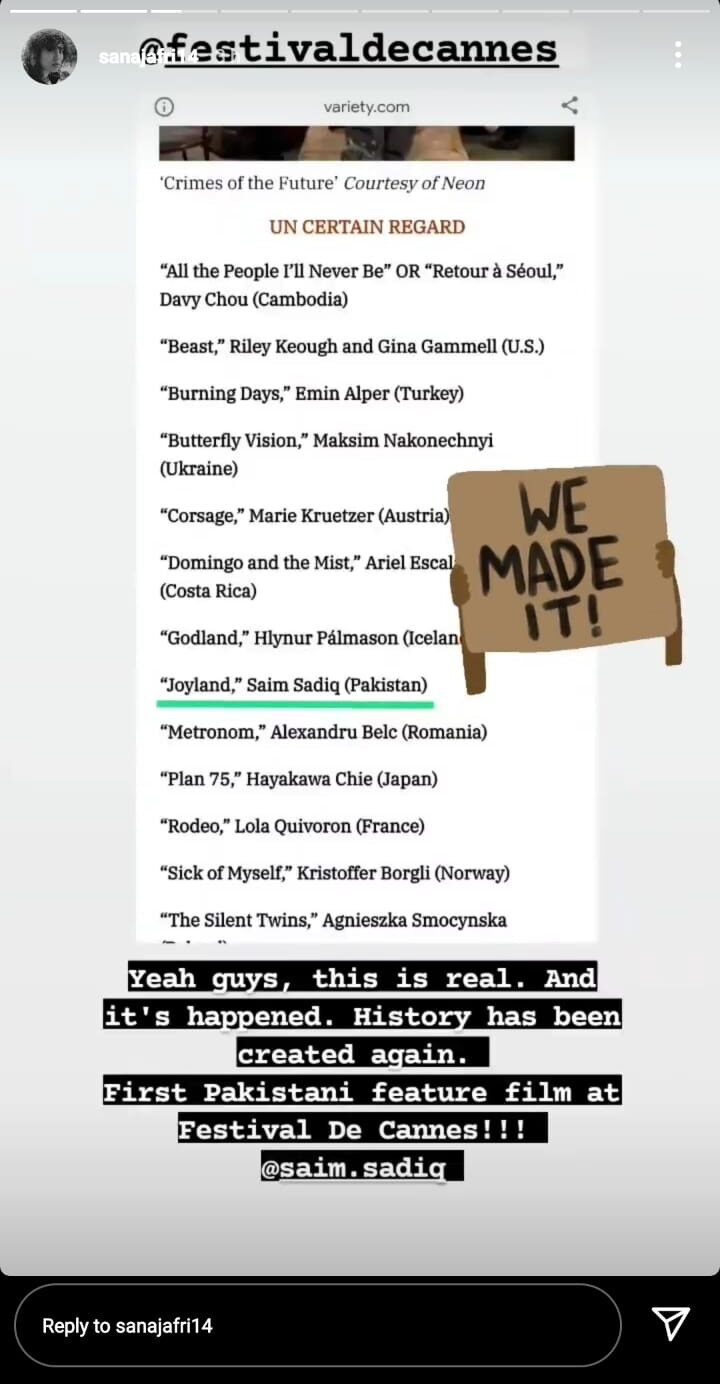 Many celebrites took to social media to congratulate the cast and crew of Joyland. Osman Khalid Butt wrote, "This is fantastic. What a huge moment for Pakistani cinema."
This is FANTASTIC. What a huge moment for Pakistani cinema. Congratulations, Saim and the entire team of Joyland! https://t.co/q79oopWz6y

— Osman Khalid Butt (@aClockworkObi) April 14, 2022
Adnan Malik also shared the news and wrote, "This is some incredible news to wake up to!"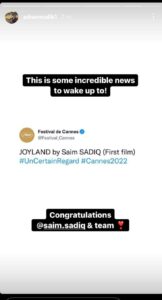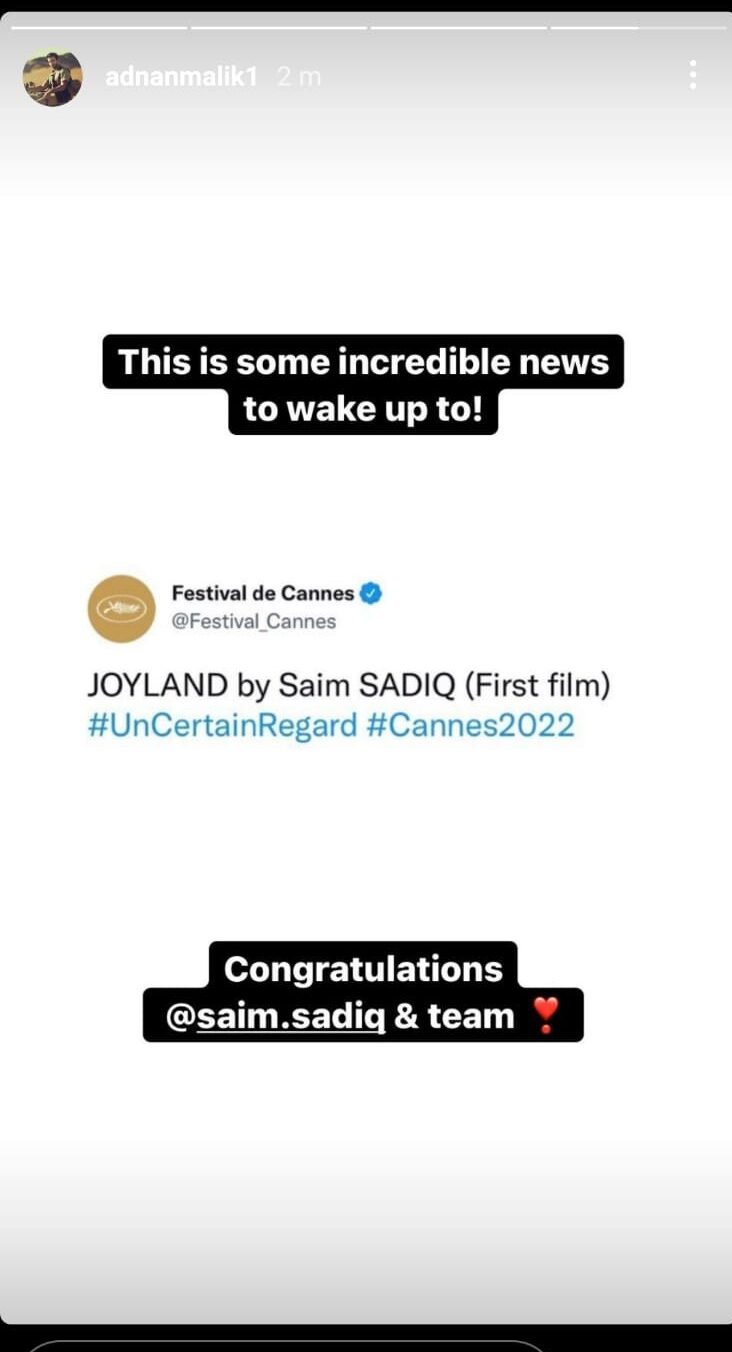 Oscar Award winner Sharmeen Obaid Chinoy also shared the news and expressed how happy she was about the Pakistani feature being at the Cannes Film Festival, "I cannot be more proud."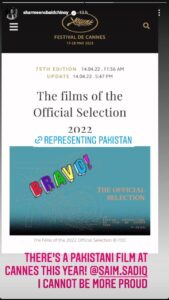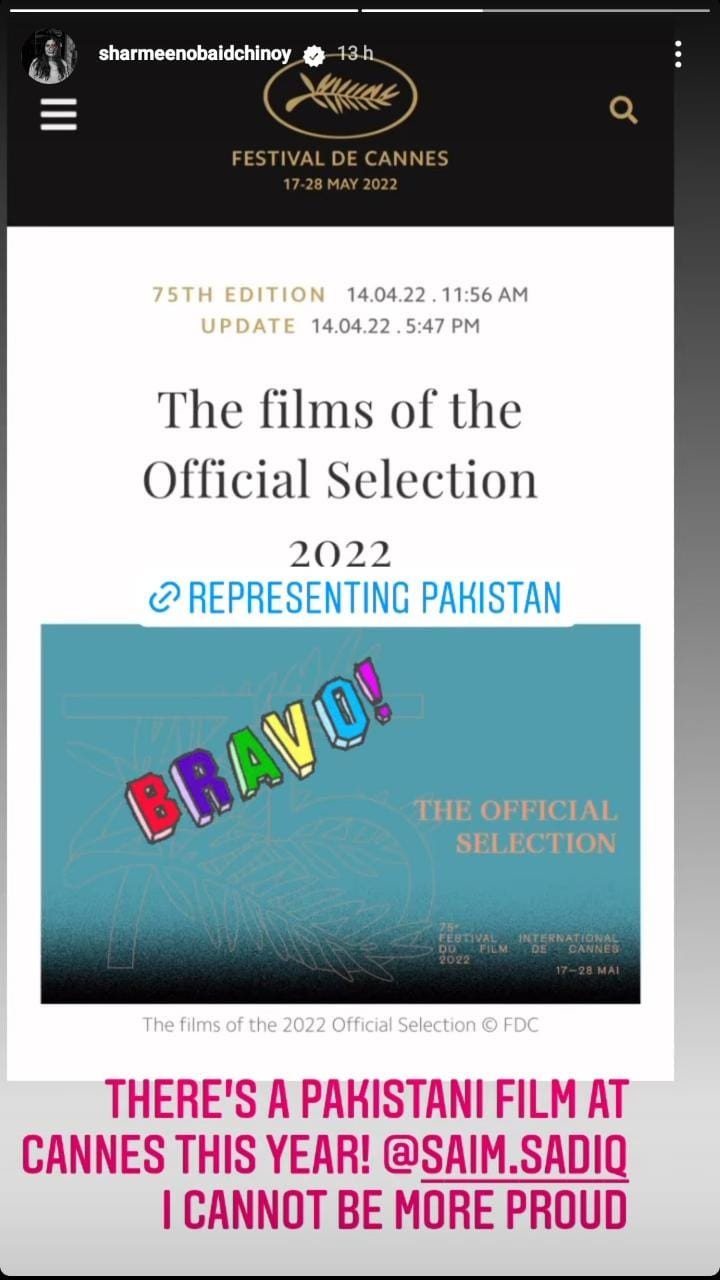 Mahira Khan also took to Twitter to congratulate the team behind Joyland.
This is amaaaazin'G!

Congratulations to the entire team. And to Pakistan 🙌🏼💋👊🏼💃🏽 https://t.co/NOvHKcIiRK

— Mahira Khan (@TheMahiraKhan) April 14, 2022
This is not the first major recognition for Saim Sadiq's work. His short film, Darling, won in the Best Short Film category at the La Biennale di Venezia last year.