KARACHI: It seems as though it is never a good time to be a woman. Not in Pakistan and not in any other country in the world. No matter what we do or do not do, we are always blamed for things going wrong. From being banned from tourist spots to being blamed for price spikes, here is a roundup of injustices women have had to face in current times.
Women asked to bring in male replacements by Taliban
When the Taliban seized control of Afghanistan, they assured the people that things would be drastically different from the last time they were in power. However, it turns out things are not as different as they would have wanted women to believe.
 

 

View this post on Instagram

 
In a recent development, women who work in the public sector and in government jobs have been told to stay at home. To add insult to injury, they have also been asked to bring in male representatives to fill their spots because, "Workload in the office has increased and they need to hire a man instead of us," according to foreign media. This comes after the women were demoted and their salaries were drastically cut.
Women blamed for rising meat prices
An award winning Imam in the Muslim-majority Kyrgyzstan determined just what was causing price hikes in the country, especially where meat prices are concerned. 
 

 

View this post on Instagram

 
As per Imam Sadabkas Dulov, it all comes down to a woman's attire. He explained how, "Do you know when meat prices go up in your city? This increases when women's meat becomes cheaper. A woman's meat becomes cheaper when she bares her skin. Shows her thighs like thumbs."
10-year-old rape victim called a liar 
Perhaps one of the most gross injustices to be carried out against women in the United States was the reversal of Roe vs Wade which basically put a ban on abortions. The ban did not take account into women who have been raped and want to terminate their pregnancies or abortions needed for medical reasons. So, what happened when a 10-year-old was raped, ended up pregnant and wanted an abortion?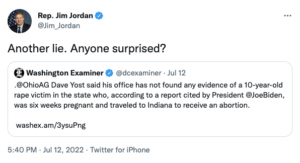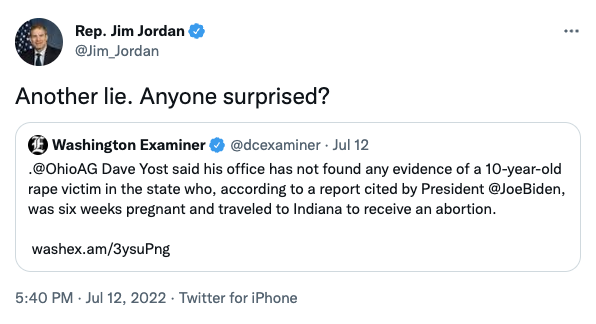 Rep. Jim Jordan, in now deleted tweets, refused to believe the victim's story and called it a lie. A week later, a 27-year-old man was arrested when he confessed to the crime. When Jim Jordan was questioned about his tweet he simply claimed that he didn't call the story a lie, just called Joe Biden a liar. 
 

 

View this post on Instagram

 
When asked whether the young girl had the right to get an abortion, the conservative responded that it was the Legislature who would make the decision, "This is a question that the legislatures in their respective states will answer. I'm just as pro-life as you can be, we want to protect the unborn children. But in this situation, you're talking about a 10-year-old. That is a question for legislatures in their respective states. That's exactly what the Dobbs decision said and that's where the people's representatives should make that decision in their state legislatures for the young girl and it was not up to her to decide."
Murder victim's family still demands justice
After almost an entire year of struggle, the Mukadam family thought they finally got justice for their daughter Noor. For months, they sat and listened to the gruesome details about how she was kidnapped, raped, murdered and beheaded by someone she once considered a friend. For months, they had to endure tactics by the accused who tried to disrupt proceedings and had to hear people sit and blame the victim for the crimes committed against her. However, they thought they won when the court made its decision and Zahir Jaffer was sentenced to death.
 

 

View this post on Instagram

 
However, never is anything that easy when it comes to women and their rights. Despite the verdict being handed in February, no progress was made in the sentencing. Instead, Zahir Jaffer and the others who were accused of aiding and abetting the crime all filed for an appeal against the verdict and their appeal is being heard.
 

 

View this post on Instagram

 
As they remember Noor on her first death anniversary on July 20, Noor Mukadam's friends and family continue to fight with all odds against them. 
Woman murdered by ex-husband
Sania Khan, an American Pakistani photographer, was murdered in her Chicago home by her disgruntled ex-husband. The 29-year-old was known for highlighting how unforgiving South Asian culture could be for divorced women. One Tik Tok explained her struggles, "Going through a divorce as a South Asian Woman feels like you failed at life sometimes. The way the community labels you, the lack of emotional support you receive, and the pressure to stay with someone because 'what will people say' is isolating. It makes it harder for women to leave [a] marriage that they shouldn't have been in, to begin with."
 

 

View this post on Instagram

 
She described leaving her husband and murderer as, "Painful to walk away from someone you once loved. But it's even more painful to love someone who is careless with your heart."
 

 

View this post on Instagram

 
Her ex-husband Raheel Ahmed, who lived in Atlanta, drove 15 hours to commit the crime. Law enforcement arrived at the scene of the crime after his family reported him missing and a welfare check was requested. Khan was found dead and shot in the back of her head in the doorway while it seemed as though Ahmed had turned the gun on himself. He was found with a suicide note nearby.
Friends and family are still reeling from Sania Khan's death.
Woman murdered by husband just three months after marriage
On Friday 23rd September and as per the reports, Shahnawaz Ayaz, the son of a prominent Pakistani journalist, murdered his wife Sarah Inam, by beating her with a dumbbell over a domestic dispute. He then took her body and put it under running water in a bathtub, took a picture of the victim and sent it to his father, Ayaz Amir, and then locked himself in a room. His mother, who had been in the farmhouse with the couple, is the one who called the police.
Testimonials pouring in to a life lost too early, too painfully.
میں بھی سارہ ہوں #JusticeForSarah pic.twitter.com/MXkqBUi5EK

— Meher Bokhari (@meherbokhari) September 25, 2022
Reports claimed that Shahnawaz Ayaz had been drunk when he murdered his wife and he claimed self defense while other reports suggest that the dispute broke over the fact Ayaz had hid the fact that he had been previously married twice and that he had transferred the ownership of her car in his name without her permission. Details also suggest that the accused tried to conceal evidence by destroying one of his five phones as well as Inam's phone and Canadian passport.
Woman killed for not wearing hijab
Since the 1979 Islamic Revolution, Iran has come to be known for some of its stringent religious practices. More particularly, there is a law that has made hijab mandatory on all women, regardless of nationality or religious belief. And to ensure the law is followed, there is a "morality police" that is in charge of reinforcing Iran's strict dress code for women, and specifically wearing a headscarf in public. The morality police is known to be brutal, physically assaulting women whom they deem are not modestly dressed. As it turns out, the morality police took their job a bit too seriously which led to the death of 22-year-old Mahsa Amini, which in turn sparked violent protests in the country.
 

 

View this post on Instagram

 
On 13th September, Mahsa, her brother and her relatives arrived in the capital city of Tehran to visit family. However, as soon as Mahsa arrived at the Haqqani Metro station, she was detained, beaten up, and taken to the notorious Vozara detention center for a one hour "re-education class." However, not too long after she arrived at the center was she urgently shifted to a hospital where Mahsa was in coma and eventually died. While the Iranian authorities claim that the cause of her death was a heart attack and even released a video of Mahsa suddenly collapsing, her family reject the claims, "Authorities have said my daughter suffered from chronic medical conditions. I personally deny such claims as my daughter was fit and had no health problems."
There is no better way to sum up the injustices against women and the blame they receive than what Khalid Hosseini wrote, "Like a compass needle that points north, a man's accusing finger always finds a woman. Always."