KARACHI: If there is one universal truth out there, it is that Pakistani dramas have a knack for subpar entertainment. Drama after drama offers the same equation for a plot which includes and usually is limited to: toxic in-laws, messy love triangles and a whole lot of crying. However, in the midst of terrible plots, one bad Pakistani drama will air with a plot so messy and will serve as an example of how sensitive plots should not be not shown.
Sangat
One would assume that with a star-studded cast including the likes of Saba Qamar, Mikaal Zulfiqar and Zahid Ahmed, you would have a plot worth watching. But boy, were we wrong! The drama tackles the story of rape and a pregnancy resulting from the rape. Only, it turns the rapist into a good guy! Only a Pakistani drama can manage to mess up with sensitive plots like these!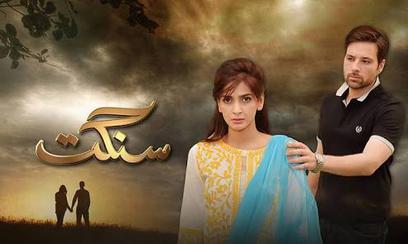 The story revolves around Ayesha (Saba Qamar) who is raped by her cousin Shahvez (Zahid Ahmed) and gives birth to a daughter. Initially, her husband Adnan (Mikaal Zulfiqar) refuses to acknowledge the baby and things get even messier when it turns out the baby is a result of the rape. And so, naturally the rapist decides to fill in the role of a father. Adnan's rejection also sends Ayesha straight into the arms of her rapist. 
To be fair, the drama aired back in 2015, so we can only hope the cast learned why the drama was so problematic.
Mere Bann Jao
Currently airing on Hum Tv, the drama stars Kinza Hashmi and Afzar Rehman in lead roles. Azmiya is the typical Pakistani girl, submissive and ditzy while Fardeen, her cousin is a more westernized man with a regressive mindset. The two are set to get married and somehow, Fardeen manages to convince his docile cousin to send him nudes which in turn leads him to believe he has irrevocable rights over her and her body. So much so, he decides to try to force himself on Azmiya right after their Nikkah. A fight ensues and it leads to Fardeen divorcing Azmiya on the spot.
This is where things get messy. When Azmiya reveals that they are divorced, Fardeen flat out rejects the claim. It becomes a he-said she-said debacle, with Fardeen's father supporting him even though he knows the truth and conspires to make the divorce seem like Azmiya's fault. To make matters worse, a religious allowance means the two can get back together and everyone conveniently forgets that Fardeen tried to forces himself on his wife and Azmiya forgets how her cousin made a joke out of her in front of their family! 
Kaisi Teri Khudgarzi
Danish Taimoor is the reigning king of playing the most toxic male characters in Pakistani dramas! Shamsher is a gun wielding, violent man whose love language is bullying. He falls in love with innocent Mehek and blackmails her into marrying him through various means which include getting her father arrested and kidnapping her fiancé on their wedding day.
To make matters worse, Shamsher's father has it out for Mehek and even hires a hitman to kill her, not once but twice! Despite all the toxicity in her life, Mehek eventually falls in love with Shamsher in what we can only hope is a case of Stockholm Syndrome!
Aye Musht-e-Khaak
What is it with Pakistani dramas romanticizing men lying to and obsessing over women that they cannot have? The drama tackles the sensitive topic of how a marriage between two incompatible people cannot work, but instead ends up trying to show how a religious girl can change a man if she really tries.
Mustajib, who lovingly refers to himself as Bobby, is an atheist who wears silk pajamas and speaks in a low monotone. Naturally, the atheist falls in love with the uber religious Dua. What results is a whole lot of chaos which includes a scorned ex-lover, a foiled honeymoon, a fake heart attack and a reformed man. Needless to say, Aye Musht-e-Khaak was as messy as can be.
Taqdeer
Toxic in-laws plotlines are as common as can be in Pakistani dramas. But Taqdeer took it one step further. Alizeh Shah stars as the doe eyed, innocent bahu married into a very toxic family. Saba Faisal, as the saas, wastes no time in verbally and physically torturing her. From being slapped to being burnt with scalding water, one would assume her character would gladly accept her husband's offer to leave the family. But she's a stickler for punishment and decides to stay. After which she's slapped around again, accused of killing her sister-in-law's unborn child and then accused of having an affair with her other sister-in-law's husband.
To add to the misery, the couple cannot have kids because the husband is infertile but our poor protagonist takes the blame for this as well. By some miracle, they do conceive, and the ever-loving husband turns the tables and asks for a DNA test which is the final nail in the coffin! Even the conclusion had no closure because it was full of death and misery.
Needless to say, these Pakistani dramas have really made a mess of handling sensitive topics!