KARACHI: Admittedly, this weekend has been tough on many people. When accusations of sexual harassment against Ali Noor surfaced, many were disappointed and disgusted. Most of our growing years were spent listening to his songs and many looked up to the singer. However, to say people were shocked wouldn't be entirely true. Over the years, there have been so many accusations of sexual harassment levied against popular Pakistani male celebrities that we are no longer surprised to learn that they are, in fact, problematic. At best, we feel disappointed because we expected better from them. Here is a list of Pakistani male celebrities who have been accused of sexual harassment.
Ali Noor
Last weekend Ayesha Binte Rashid, a journalist from Karachi, came forward with allegations of sexual harassment against Ali Noor. Ayesha shared screenshots of her WhatsApp chat with the singer and musician from May 2021. She told the singer that "What happened in the back of my car while we were driving to the airport was sexual harassment," and went on to call him a "sexual harasser and predator."
 

 

View this post on Instagram

 
Ali Noor, on the other hand, handled the accusations in the most absurd of ways. From the screenshots shared by Ayesha, he acknowledged his fault without actually acknowledging it. He claimed that Ayesha was harassed because she was an extremely empathic person, "Women are mostly born with an excess of empathy and hence fall pray to such Gods." Noor went on to share letters that he wrote to his dead grandmother where he seems to go back on his acceptance of his actions, "You know I'm no predator and don't do things like metoo."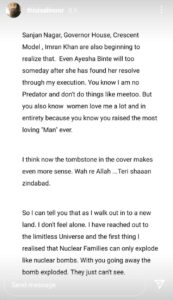 As if it wasn't whiplash enough, Noor went on to publicly accept his mistake and apologize only to recant it once again. In the meantime, other victims of harassment at the hands of Ali Noor have also come forward.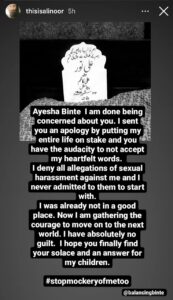 Abdullah Qureshi
Abdullah Qureshi shot to fame back in 2013 when he uploaded his cover of "Afreen Afreen"  which was a Coke Studio hit that year. Qureshi was good looking and had a great voice and quickly gathered a fan following. 
 

 

View this post on Instagram

 
However, his rise to fame was short lived when accusations surfaced where he was accused of inappropriate behavior with young girls in their DMs. The singer acknowledged his mistake and apologized. However, he tried to justify his "fetishes" by saying, "I won't blame my drunken state because it was me at the end of the day. But yes, I did have a drinking problem and I do have fetishes. But everyone has fetishes." He claimed that he stopped his problematic behavior when he had his daughter and said he apologized to his daughter for being the worst dad.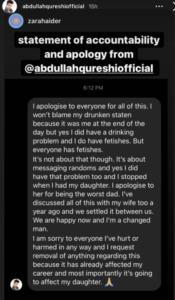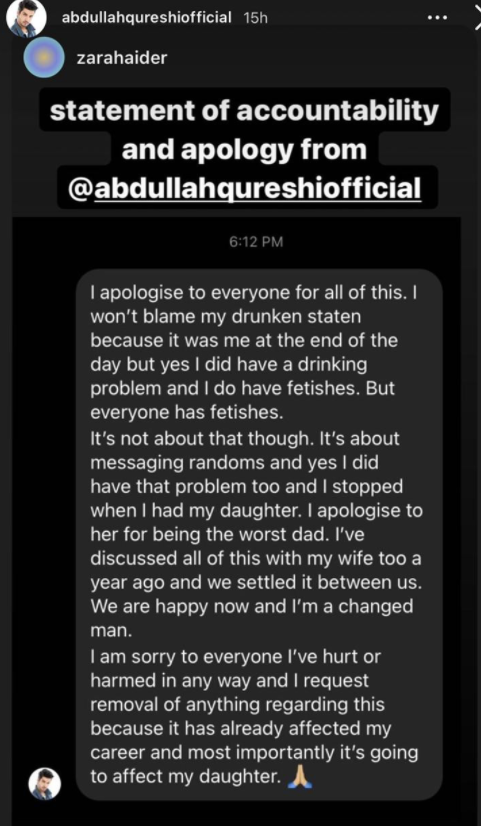 However, not too soon after his public apology, an anonymous account accused the singer of sliding into the DMs of her "barely 18 year old sister" and saying "the randomest, creepiest things unprompted," just a week before the apology.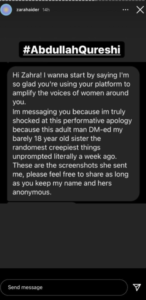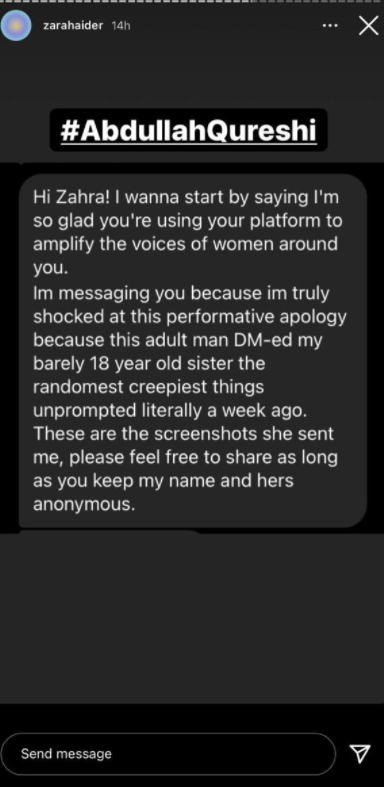 Ukhano
Vlogger and YouTuber Umer Khan, more popularly known as Ukhano, was accused of sexual harassment by several women. Back in 2019, a number of women accused the influencer of making them uncomfortable and sending them sexual messages and suggested that he used his fame and influence to interact with them in that way.
The trend in the messages sent by the influencer was to ask them for "bold pictures" or to play a game of "rapid fire questions" whereby the questions he would ask them grew more and more improper, making them feel "pressurized" and "uncomfortable." 
While Ukhano denied the allegations he also claimed to have  "Visual evidence to prove my innocence." He eventually released a documentary about his "ordeal" but it did little other than to raise more questions.
Junaid Akram
Standup comedian Junaid Akram who is also known an "Gangi Swag" was accused of sexual harassment back in 2018. The accuser detailed how she had been a fan of the comedian and would comment on his posts. Until Akram messaged her to tell her that, "I shouldn't comment on his posts which may carry double meaning as he has some 'creeps' added as well. I then avoided commenting." Akram asked for her WhatsApp number and the two continued to talk casually until one day he demanded, "I want to see you now, if you know what I mean." The woman promptly blocked him after that conversation.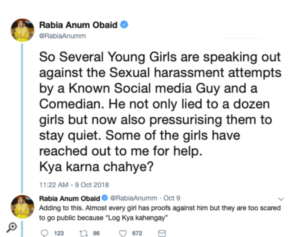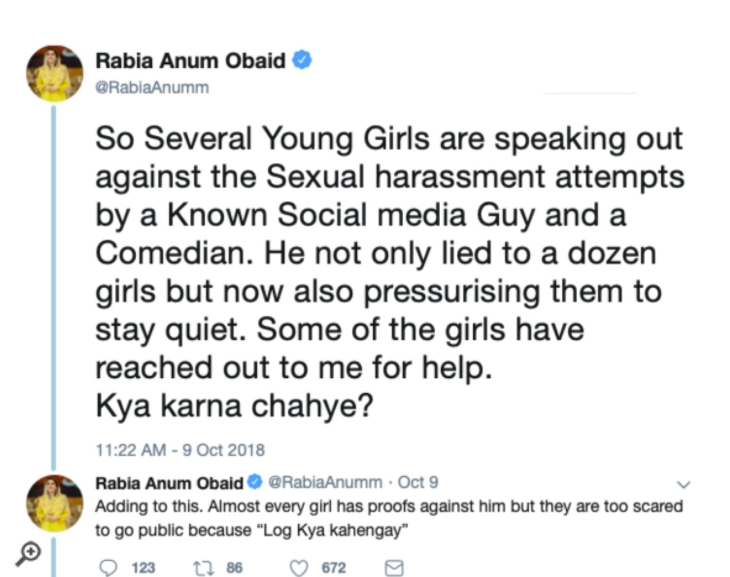 Another accuser said that she had to report the harassment from a fake profile because, "I'm scared to come out in public from my real profile because he has threatened me multiple times." She accused him of forcing himself on her and also stated that he kept most of his conversations with his victims on Snapchat and "hides that he has a wife."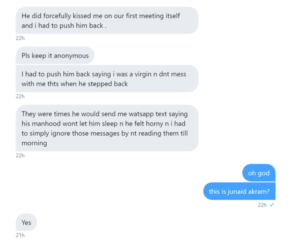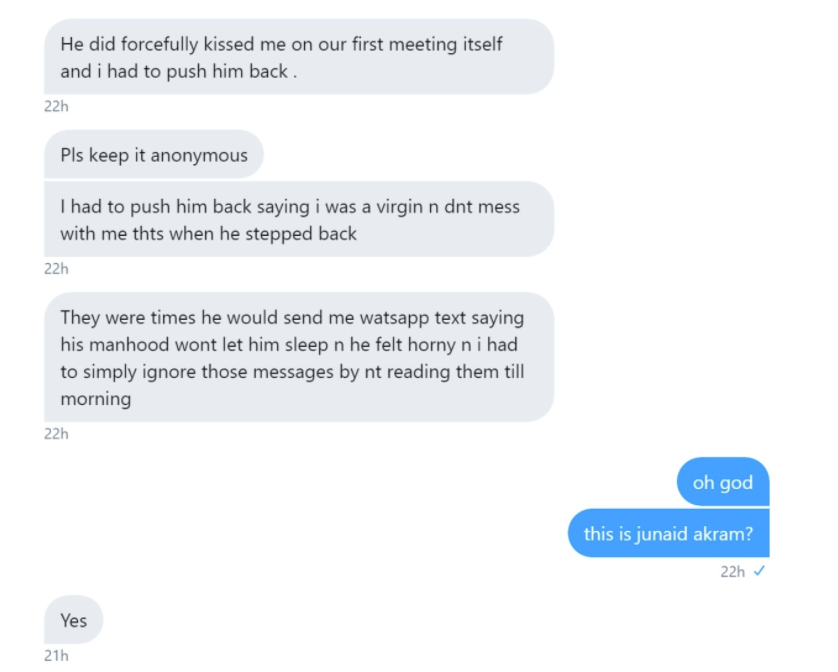 One of his fans claimed that he forced her to strip for him via video call, blackmailing her that if she did not do so, he would inform her family of her past with him. News anchor Rana Anum tweeted that several young/underage girls were affected by him as well.
 

 

View this post on Instagram

 
In response to these allegations, Akram released a video stating that this was all a  'smear campaign' against him and his career and denied all the allegations.
Omair Rana
The actor who is known for his roles in dramas such as Hum Kahan Kay Sachay Thay and Sang-e-Mah was accused of sexual harassment when he was a teacher at LGS.
An Instagram page that was dedicated to revealing the harassment girls faced at the hands of their male teachers in the school named Omair Rana and said, "I'm sure if you bring up the name Omair Rana, you'll get a million stories as well."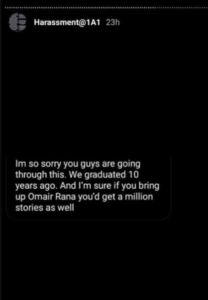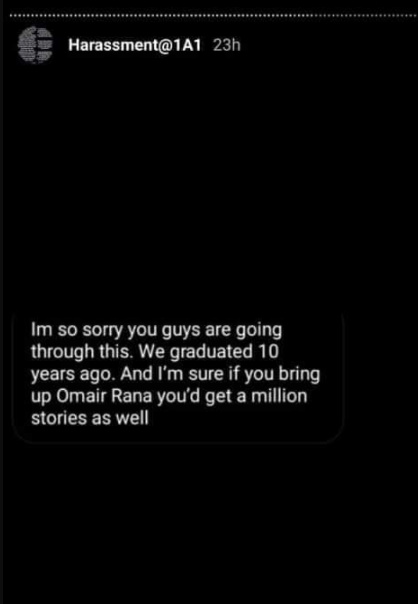 The victims detailed how, "So many girls had issues with his behavior. He would flirt. Joke inappropriately." The girls explained that "everyone admired him" but his "body language was inappropriate. The way he would speak, look at you and even texted a few girls inappropriately."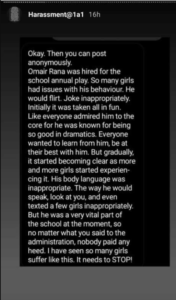 To make things worse, his wife, Maria, was accused of knowing what her husband was up to and was allegedly part of the cover up.
Ali Zafar
Back in 2018, waves of shock spread as golden boy Ali Zafar was accused of sexual harassment by singer Meesha Shafi. Shafi took the matter to court and since then, the two have been embroiled in a messy legal dispute. As per Shafi, Zafar had "groped" her during a rehearsal back in December 2017. She also made the shocking revelation that the incident wasn't the first time she was touched inappropriately by Zafar and said, "all too many [incidents of harassment] and they were all needless and uncalled for as the plaintiff and I have never shared an affectionate dynamic." 
The plaintiffs wife was also present there when this was asked. pic.twitter.com/3iCF6AiOpU

— Fatima Razzaq (@FatimaRazzaq20) January 4, 2022
For his part, between throwing defamation suits right, left and center, Ali Zafar claimed that Meesha Shafi was doing all of this to gain, "international recognition and become like Malala." He's made statements like how this was all a plot to run a smear campaign against him and derail his career. The case in still on going.
Despite the allegations against these men, there has been very little impact on their careers and they still have a massive following.