KARACHI: A shocking amount of screenshots and messages have been making the rounds on social media showcasing the seemingly inappropriate behaviour of Pakistani YouTuber Umar Khan, famously known as "Ukhano." A number of women have accused the influencer, who has about 270,000 subscribers on his YouTube channel, of making them uncomfortable and sending them unnecessarily sexual messages, suggesting that he used his fame and influence to interact with them in that way.
Read: Pakistani male celebrities and their problematic take on sexual harassment
These screenshots detail a common narrative whereby he is seen asking most of the women for 'bold pictures' and displaying an apparent disinterest in them when the women choose not to do so. They also showcase his apparent inappropriate tone in a conversation that started off being friendly/non-sexual. Some women explained that he would ask to play a game of "rapid fire questions" whereby the questions he would ask them grew more and more improper, making them feel "pressurised" and "uncomfortable."
On Thursday, Ukhano released a public announcement on his Instagram profile explaining that these are all false accusations. The video shows him saying that these women have been nothing but someone he knows or has worked with. He further added that he has evidence to demonstrate his innocence but is hesitant in releasing such proof due to the fact that he would not want to ruin someone's life. "I have visual evidence to prove my innocence," he explains.
The Internet has been divided ever since these images surfaced online with some standing in support with the victims and others claiming that they are false accusations.
Celebrities such as Anoushey Ashraf and Eva zu Beck  have spoken in favour of the 27-year old YouTuber, while celebrities such as Eman Suleman, Rehmat Ajmal, Zara Peerzada, Saheefa Jabbar Khattak, Irfan Junejo, Komal Aziz Khan have all spoken against his actions and misusing his fame. There are still screen recordings being posted by users showing the messages he has sent them on Instagram and Snapchat which people are using against him by saying that screen recordings can not be falsified or edited like screenshots can.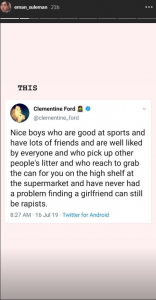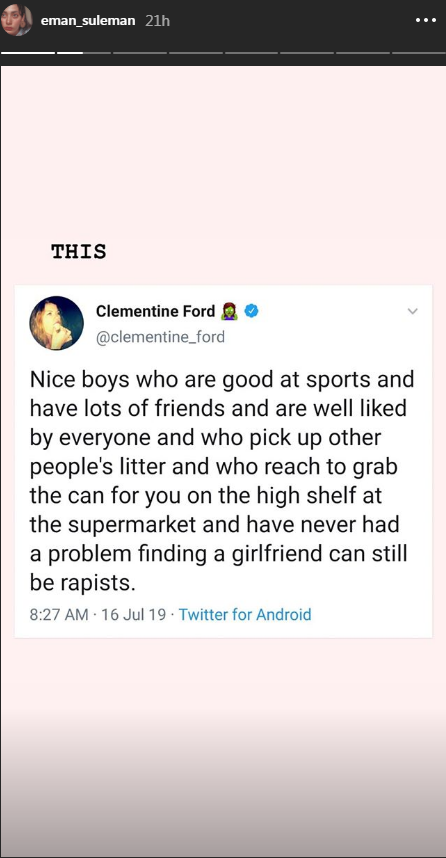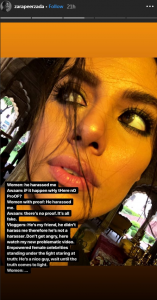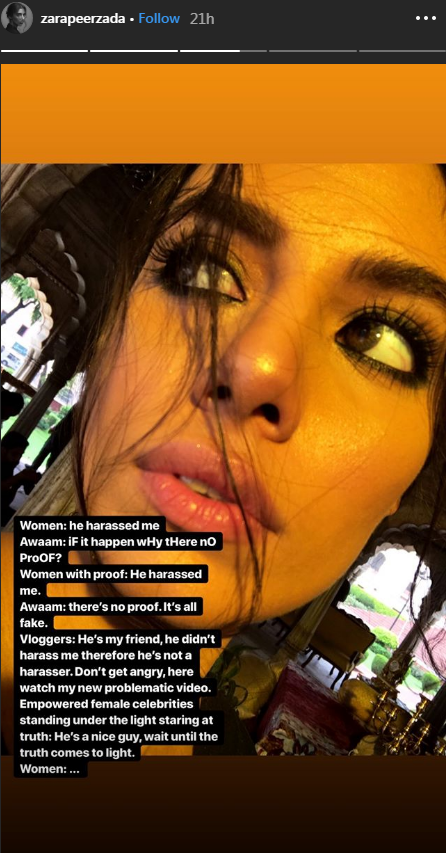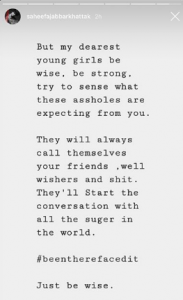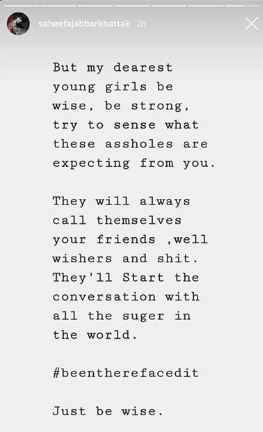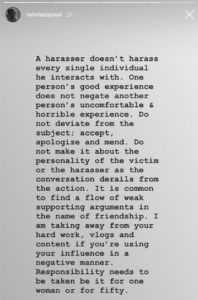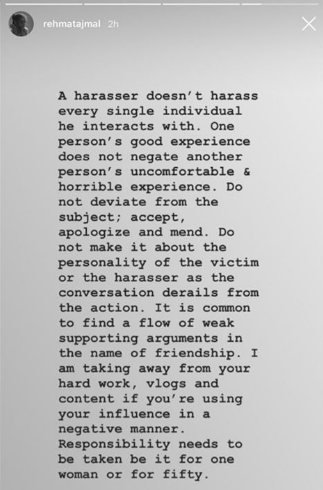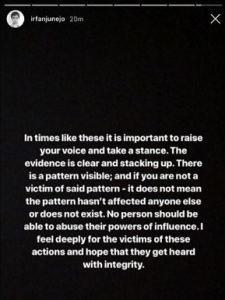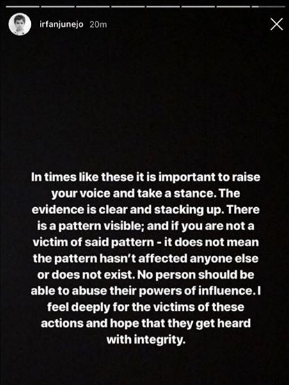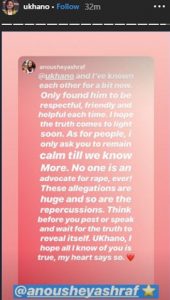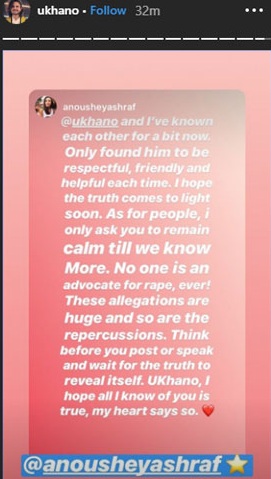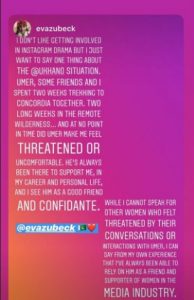 Ukhano is yet to release his side of the story for further validity of his public Instagram response. Personalities such as YouTuber Taimoor Salahuddin aka Mooroo is urging people to calmly analyse the situation once both sides of the story are revealed. His argument is that only one side has been heard of as yet and therefore no conclusions should be drawn and that they should refrain from "cancelling" someone without full evidence. However, social media is growing more and more convinced as women increasingly share their uncomfortable conversations with him online.