KARACHI: 24th February, 2022, will be remembered for the landmark decision by the courts to sentence Zahir Jaffer to death for the brutal rape and murder of Noor Mukadam. However, despite the victory, there is one question playing on everyone's minds: Why were the parents of Zahir Jaffer acquitted? Over the course of the last seven months, we learnt that the parents of Zahir Jaffer were in constant communication with their son, Zakir and yet they failed to inform the police. A decision that eventually cost Noor Mukadam her life. Here is all that we know about the Jaffers' involvement in their son's crime.
View this post on Instagram
On 21st July, 2021, Zahir Jaffer was arrested for unlawfully detaining, raping and beheading Noor Mukadam. By the 10th of August, Jaffer, along with his parents Zakir Jaffer and Asmat Adamjee, was placed on the ECL and by 29th September, details began to emerge about why his parents had been indicted.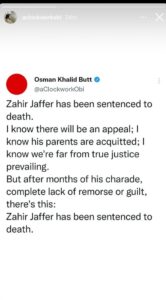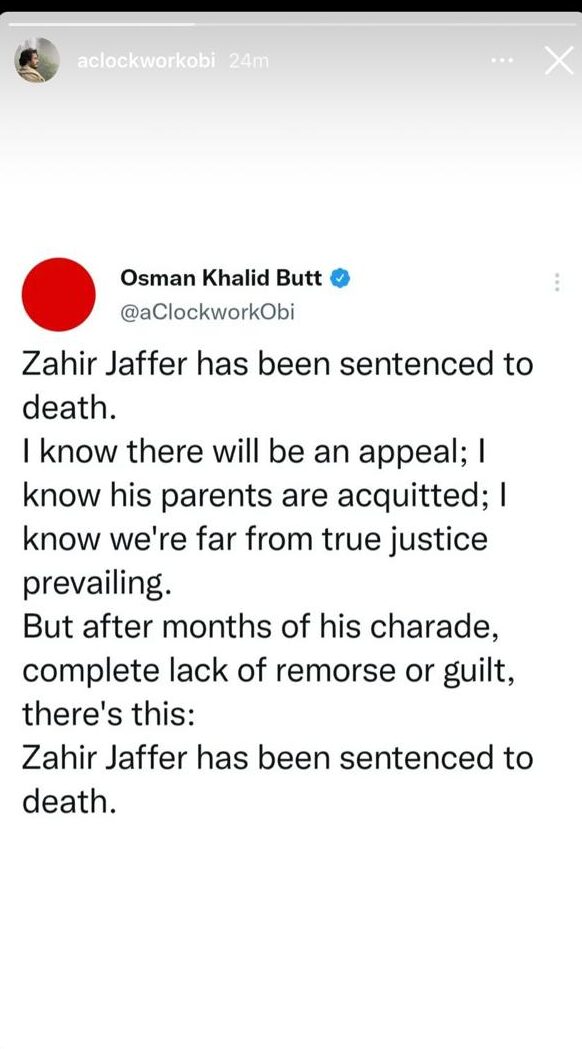 Zahir's parents and household staff were arrested over allegations of "hiding evidence and being complicit in the crime". They were made a part of the investigation since they were the ones who called Therapy Works to intervene on the day the crime was committed. Given that the family did not inform the police, who were later called by a neighbor, the Jaffers and their domestic help were arrested.
They tried to distance themselves from their son's crime by issuing a statement in a local newspaper which read, "We are devastated and grief-stricken at the brutal murder of Noor Mukaddam, daughter of H.E. and Begum Shaukat Ali Mukaddam. We strongly condemn this unimaginably heinous act. There are no words that could comfort Noor's family and loved ones at this difficult time. As parents, we cannot begin to imagine the pain that her family is going through. We stand unreservedly by Noor's family and are committed to ensuring that the law takes its natural course and that justice is served."
Zahir Jaffer's parents place a public notice in newspapers saying they stand by Noor Mukadam's family and "are committed to ensuring that the law takes it own course and that justice is served" pic.twitter.com/wV3cONcUfi

— omar r quraishi (@omar_quraishi) July 29, 2021
The Jaffer's made all possible attempts to be granted bail by the court but were denied on the grounds that the parents "not only caused abetment but also made utmost efforts to wipe off evidence." The decision was put forward by Additional Sessions Judge Sheikh Muhammad Sohail who stated, "The way the things have gone through leads me to observe that there is reasonable ground to believe that petitioners/accused have committed non-bailable offences." The judge was referring to the fact that cell phone records showed that during Noor Mukadam's entire ordeal, Zahir Jaffer had been in constant contact with his parents who had "prompt information" of the incident. Despite their information, Asmat Adamjee and Zakir Jaffer chose not to involve the police. Instead, they had Therapy Works send in personnel to handle the volatile situation.
The public prosecutor, Naseem Zia, accused the couple of trying to "save their child on the basis of dishonesty." The counsel for the Mukadams, Shah Khawar, also pointed out that, "The police station is half a kilometer away [yet] the watchman was not asked to go there."
However, in October, in a shocking twist of events, Asmat Adamjee, Zahir Jaffer's mother, was granted bail by the Supreme Court. The court had found that her role in the crime was "secondary." The judge residing over the case, Justice Umar Ata Bandial (currently the Chief Justice of Pakistan) stated that there was no evidence of Asmat Adamjee's involvement in the crime.
View this post on Instagram
Zakir Jaffer, on the other hand, was not granted bail. Not only had he been on the phone with his son throughout the detainment, his son had also confided in him about Noor rejecting his marriage proposal. According to the murderer Zahir's belated statement, he had informed his father of his crime, and upon receiving this information Zakir Jaffer allegedly told his son that he, "Need not panic as he was sending men to dispose of the body and get him out of there."
Furthermore, the watchman had also informed Zakir about what was transpiring in the house but he didn't pay heed. Zahir Jaffer himself admitted that his father knew about what he had done to Noor Mukadam. In an interview, Zahir Jaffer claimed that his father told him to "get rid of her." The owner of Therapy Works, Tahir Zahoor Ahmed, who Jaffer had called instead of the police, stated that when "However, when I informed him about the body, his reaction was strange; he simply said okay,"
Zahir confessing about his parent's role. 'Walidain keh rahay thay sab kuch theek hojayega' #JusticeforNoor
Video credits @saqibbashir156 pic.twitter.com/HGWF98FabM

— Justice for Noor (@justicefornoor) October 15, 2021
Most of the evidence presented against Zakir Jaffer revolved around the phones calls made to him and by him during the time frame of the murder. As per journalist Saqib Bashir, this was what led to the acquittal. While call data records were available to the court, they only logged the calls and not what was said during those calls. Hence, nothing was conclusive enough for Zakir Jaffer to be found guilty.
#JusticeforNoor Listen to this video on the sentences and why the parents of Zahir were acquitted. Video by @AsadAToor @saqibbashir156https://t.co/BfzHyxFxiK

— Justice for Noor (@justicefornoor) February 24, 2022
Despite his death sentence, Zahir Jaffer still has the option to appeal to the higher courts to reverse his sentencing.