KARACHI: As Noor Mukadam's murder case moves to court, Zahir Jaffer's parents Asmat Adamjee and Zakir Jaffer have been denied bail for a second time. The sessions court in Islamabad dismissed their bail application on the grounds that the parents "not only caused abetment but also made utmost efforts to wipe off evidence".
View this post on Instagram
The decision was put forward by Additional Sessions Judge Sheikh Muhammad Sohail who stated, "The way the things have gone through leads me to observe that there is reasonable ground to believe that petitioners/accused have committed non-bailable offences." The judge was referring to the fact that cell phone records showed that during Noor Mukadam's entire ordeal, Zahir Jaffer had been in constant contact with his parents who had "prompt information" of the incident. Despite their information, Asmat Adamjee and Zakif Jaffer chose not to involve the police and instead had Therapy Works send in personnel to handle the volatile situation.
A breakdown of the judge's order, dismissing Zahir's parents' bail petitions. (Thread)

— Justice for Noor (@justicefornoor) August 5, 2021
The offences that have levied on the Jaffers, as per the court, are "quite serious in nature and fall within the prohibitory clause of Section 497 (when bail may be taken in cases of non-bailable offence) of CrPC (Criminal Procedure Code) wherein the relief of bail is to be extended only in exceptional circumstances".
The Jaffer's legal team was up against the public prosecutor Naseem Zia who accused the couple of trying to "save their child on the basis of dishonesty." The counsel for the Mukadam's, Shah Khawar, also pointed out that, "The police station is half a kilometer away [yet] the watchman was not asked to go there."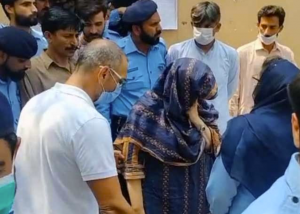 However, it is also worth noting that the decision to deny bail is a "tentative assessment" of the evidence that is currently being presented in court at the time of the bail petition hearing. Zahir Jaffer remains the key suspect in the case as it is being presented in court. The Jaffers have made it clear that they stand by Noor Mukaddam's family.