KARACHI: It should come as no surprise that where there is a grand event, controversy follows! While the Lux Style Awards 2023 were the highlight of October, it seems as though not everyone was happy. Some of the biggest names in the industry took to social media to express their frustrations with the nominations (and lack of), the winners and the event itself! Here are some scathing comments against the awards from the likes of Sajal Aly, Farhan Saeed and Mushk Kaleem.
Sajal Aly
In a surprising turn of events, Sajal Aly took to social media to call out the LSA for not recognizing good talent. In her Instagram stories, she wrote, "I request Lux Style Awards and their jury to at least nominate those who have done stellar work."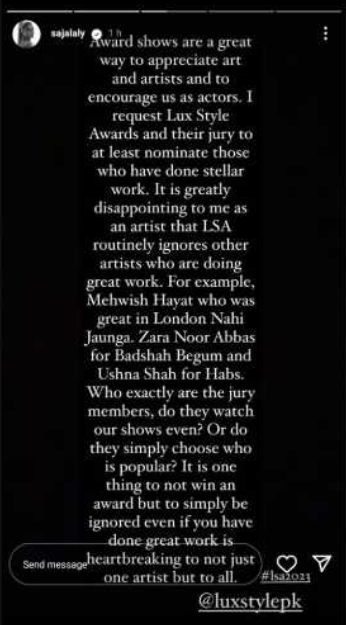 The Kuch Ankahi actor did not hold back when it came to her criticism, "It greatly disappoints me as an artist that LSA routinely ignores other artists who are doing great work." The artists in question were Mehwish Hayat for London Nahi Jaunga, Zara Noor Abbas for Badshah Begum and Ushna Shah for Habs.
Sajal Aly went on to question the credibility of the jury members for the LSAs and the criteria for selecting a winner, "Who exactly are the jury members, do they watch our shows even? Or do they simply choose who is more popular?"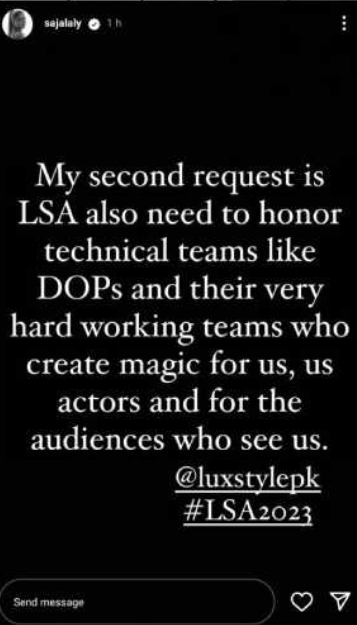 The actor also raised a valid point in requestion the award ceremony to honor the technical teams who "create magic for us, us actors and for the audiences who see us."
Farhan Saeed
Sajal Aly wasn't the only one disgruntled with the LSAs. Singer cum actor Farhan Saeed also had a bone to pick the award ceremony.

Saeed had been nominated for his role in the movie Tich Button and in drama serial Mere Humsafar but did not win in either of the two categories. In a vague caption posted on Instagram it seemed as though he was calling out the LSAs for being fixed! His caption read, "If you had to fix it , it could have been done intelligently at least #LSA2023 ! I don't say this for myself but for anyone who deserves a fair chance at winning for their hard work at any platform." As disgruntled as the Pee Jaun singer was, he did congratulate the winners!
Mushk Kaleem, Aleena Naqvi and Tapu Javeri
It seems as though there is quite a bit of discord surrounding this years nominations in the fashion industry. And one person who wasn't afraid to voice their opinion was model Mushk Kaleem.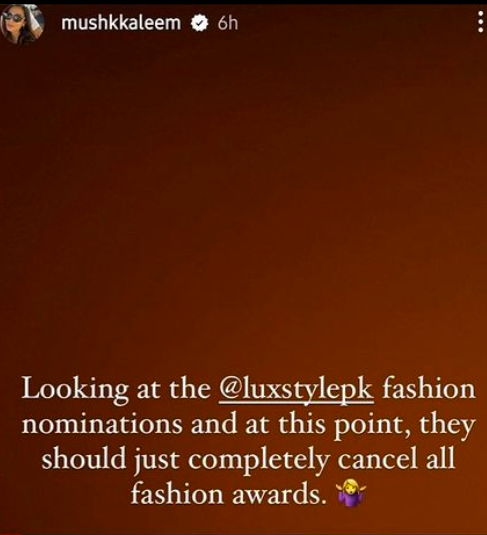 Prior to the ceremony, Kaleem took to her Instagram stories and wrote, "Looking at the Lux Style Awards fashion nominations and at this point, they should just completely cancel all fashion awards." It seems as though Mushk Kaleem isn't the only one who was unhappy with how the category played out! Award winning photographer Aleena Naqvi expressed her disappointment on behalf of those who weren't nominated, "Far too many photographers/videographers were missing from the nominations. In all honestly I agree with Mushk, these nominations make no sense. Most of our top models are missing from the list – it's not an accurate depiction of our industry at all."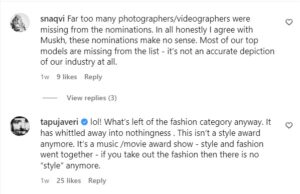 Tapu Javeri also took the opportunity to express his opinion on how the fashion category has lost its charm, "Lol! What's left of the fashion category anyway. It has whittled away into nothingness. This isn't a style award anymore. It's a music /movie award show – style and fashion went together – if you take out the fashion then there is no "style" anymore."
Fahad Hussyn
Joining in on the ranks was fashion designer Fahad Hussyn. He responded to a post made which questioned why he wasn't nominated in the Fashion Forward Brand of the Year (which went to Hussain Rehar).

In response to the post he wrote, "The acknowledgement people who follow my work give me is all I need. I did send my portfolio but maybe being a corporate entity they were looking into fast fashion only. We all know fashion is otherwise dead."
Needless to say, he was not amused by the snub!