KARACHI: All that glitters isn't always gold and if anyone can stand by that statement it is our celebrities. Despite living a glamourous life, with fame and fortune, it turns out they, too, suffer from mental health struggles. From anxiety to depression and body dysmorphia, these brave celebrities chose to speak out about their mental health struggles in hopes of educating those around them!
Saheefa Jabbar Khattak
Model Saheefa Jabbar Khattak opened up a very important conversation on mental health by talking about her own struggles. Just recently, she took to her Instagram stories to share how, "I have not been myself lately, which is very difficult for me to accept here. I may or may not know what has exactly happened but it is definitely something I can not talk about without crying my lungs out. I am in pain, I am grieving, everyday is a struggle for me."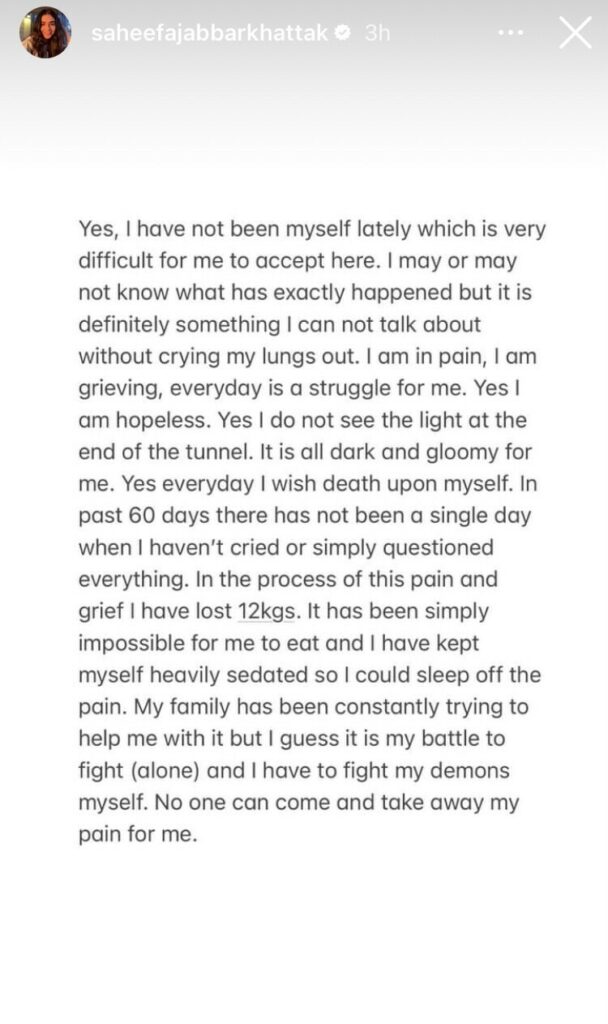 She went on to say, "I don't see the light at the end of the tunnel. It is all dark and gloomy for me. Yes everyday I wish death upon myself." The model revealed that as a result of her struggles, she's lost 12kgs and has to keep herself sedated to "sleep off the pain". Despite the fact that her family has been with her and are trying to help her, she feels, "It is my battle to fight (alone) and I have to fight my demons myself. No one can come and take away my pain of me." But while talking about her struggles, she also talked about how she does want to get better and that giving up isn't an option.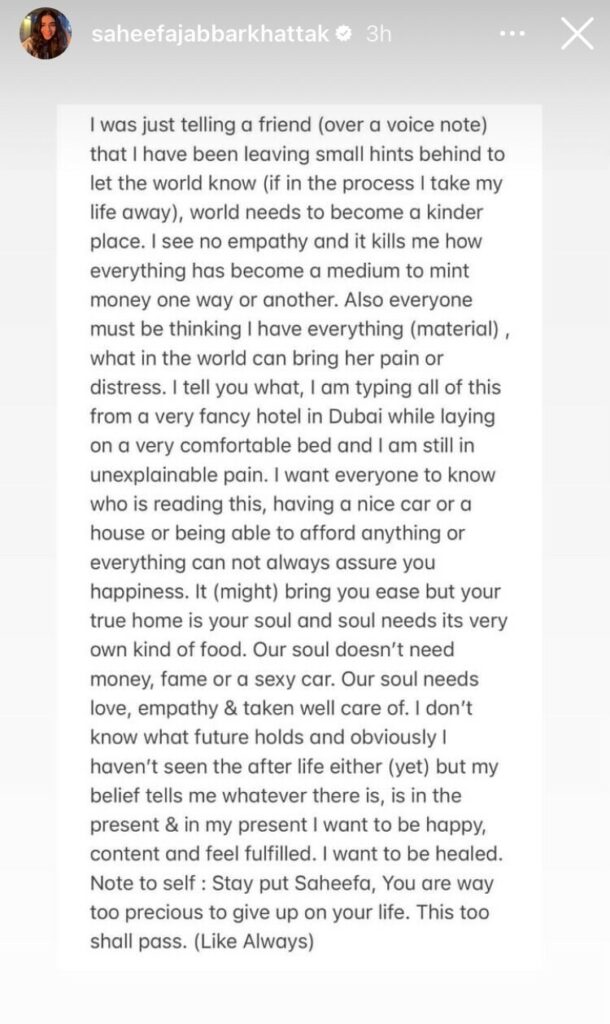 Khattak wasn't afraid to acknowledge her privilege and the fact that she has money. But she emphasized on how at the end of the no amount of money and luxury can help her. "Everyone must be thinking I have everything (material) what in the world can bring her pain or distress. I tell you what, I am typing all of this from a very fancy hotel in Dubai while laying on a very comfortable bed and I am still in unexplainable pain. I want everyone to know who is reading this, having a nice car or a house or being able to afford anything or everything can not always assure you happiness. It (might) bring you ease but your true home is your soul and soul needs its very own kind of food. Our soul doesn't need money, fame or a sexy car. Our soul needs love, empathy and (to be) taken well care of."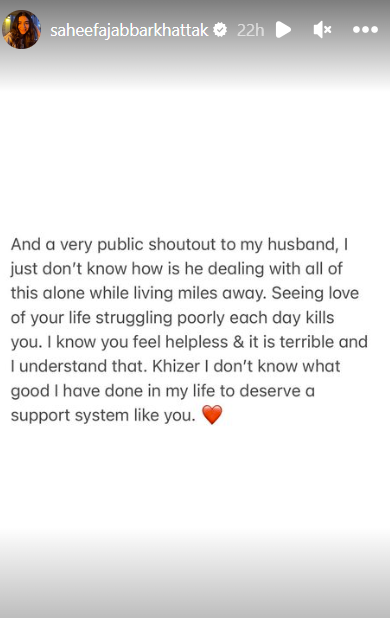 Jabbar especially thanked her husband for standing by her through her struggles, "Seeing [the] love of your life struggling poorly each day kills you. I know you feel helpless and it is terrible and I understand that. Khizer I don't know what good I have done in my life to deserve a support system like you."
Mawra Hocane
A few years ago, Mawra Hocane opened up about how she was diagnosed with anxiety and how she learnt to cope with it.
She took to Instagram to post a clip of her from her drama Daasi, and in her caption she revealed, "We all have our days of weakness & breakdowns, I am lucky my job allows me to express my grief on screen. It's been over a year since I've been diagnosed with anxiety & I'm no longer embarrassed of it. It's a part of me like the sky is blue but I'm definitely better equipped to deal with it as I'm growing with it & beginning to understand it."
 

 

View this post on Instagram

 
One of her ways of coping with her mental health struggles was to turn to friends and family for help, "I don't run away from my friends & family when I'm having a panic attack I share with them & I feel I'm stronger than my condition." She also revealed that she went to a therapist who told her how to manage her diagnosis and also shared what works for her in her struggles, "It gets worse because I'm fearful of it. I decided that day to no longer be afraid of it or hide it from anybody at all. In 2020 I can easily identify when my body starts to feel anxiety & more often than not I'm able to control it without any help. I drink a lot of water & I pray."
Mushk Kaleem
Joining in the list of celebrities who discussed their mental health struggles was model Mushk Kaleem. She opened up about her struggles with body dysmorphia.
She revealed that while she was at the peak of her career, she was the unhappiest she had ever been. "2019 was probably the most rewarding year of my career, but when I look back and think about all that I went through last year, I realize that my mental health had completely taken a back seat. I was a model, adapting to fame, success, and accolades. Of course, everyone thought I was okay, living the dream. I knew then, that to complain about anything would be unthankful."
 

 

View this post on Instagram

 
But the truth of the matter was, things were not okay for Kaleem, "I was hospitalized on my 25th birthday last year. I was almost 48 kilos and I was suffering from severe body dysmorphia. I would spend hours obsessing over my weight, about losing those few inches on my waist, about getting those perfect hips, or about just looking the part. I had started starving myself, not eating for 24 hours and more, I was abusing drugs, I was unhealthy. I was a 6ft girl suffering from severe anorexia. I would occasionally blackout. I needed help. I think it had less to do with my field of work and more to do with how I was okay with being so self-destructive. I was comfortable with being unhappy."
It took her a while to understand what she was struggling with and to get help, but she eventually did, "Now, a year later, I'm a happier person. I've been clean for more than a year. I have found support and happiness in my family, friends, and pets. I have set boundaries that I never let people cross."
Hania Aamir
Scrolling through Instagram, one can safely assume that Hania Aamir is incredibly bubbly and really does live life to the fullest. But it turns out, it hasn't always been the case for the actor. She has been open about her struggles and urged her followers to take mental health seriously.
In an Instagram post, she talked about how, "Mental health issues are real. As real as any other ailment that needs medication. In this world of vast knowledge and access to the internet, we all can look up what mental illness looks like so if a friend comes to you explaining a situation that isn't very normal for you to hear, just be patient and make them feel it is normal." 
 

 

View this post on Instagram

 
She emphasized on how important it is to educate ourselves about mental health problems so that if someone reaches out to us, they can find the support they are seeking, "Do your research and get them help because it took them a ton of courage and sleepless nights and crying and anxiety to come to this conclusion; to let somebody in on their illness hoping you could help; So do try and help! And do not brush it off saying things like "it will be okay" "you should be happy more" don't give them that. Tell them their issues are serious and that you understand! Comfort them make them feel safe and consult a psychologist/ psychiatrist if need be."
Momina Mustehsan
When Momina Mustehsan made her debut on Coke Studio, it didn't take long for her to become Pakistan's sweetheart. And it seemed like she had a lot going for her. But soon after, she joined in the list of celebrities who talked about their mental health struggles.
Sharing a picture of herself, her caption revealed, "This is a picture of me from when I was going through turmoil not very long ago. It happens to the best of us. Mental health is just as important as physical health, and we all hit points in our lives sometimes when all seems to be falling out of our control."
 

 

View this post on Instagram

 
Her post came with the death of model Anam Tanoli which urged her to speak about her problems as well, "I know how it feels when you hit a point so low that it makes you feel like giving up. We all know that feeling. Every single person is fighting their own battle from behind the face we put up for society to make it look like all is under control."
She urged her followers to understand a very important lesson in life, "Now more than ever, we need to learn to love and value ourselves, and KNOW our own selves and our own worth, so that people's opinions of us don't get to us and impact our perception of ourselves."
These Pakistani celebrities have opened up and shared their mental health struggles, which isn't an easy thing to do in a society like ours. However, it teaches us an important lesson that it's normal to not be okay. There is no shame in reaching out for help!