KARACHI: It is heartbreak central here in Pakistan. Our weekend did not go as planned and it all started with the terrible news that Joyland was declared as an uncertified film by the Ministry of Information and Broadcasting. After traveling the world and wowing audiences at some of the most prestigious film festivals, Joyland was just days away from it release at home. And then the worst happened. Here is all you need to know about Joyland and its looming ban.
Joyland travels the world
For a major chunk of the year, 2022 was being celebrated as the year of Pakistani artists with Saim Sadiq's Joyland being front and center of all those celebrations. The movie became the first Pakistani movie to win at the Cannes Film Festival. Regarded as one the most sought out after film festivals, the win in the Uncertain Regard category was phenomenal. And things only just got better from there onwards.
View this post on Instagram
Joyland then made its way to Malbourne and the Indian Film Festival, to Canada for the Toronto International Film Festival, to England for the BFI London Film Festival, to Croatia for the Zagreb Film Festival and to the Czech Republic for the Karlovy Vary International Film Festival. Everywhere the movie went, there was nothing but praise and awards for Joyland. Pakistan, it seemed, was the ultimate destination and much to the pleasure of many, director Saim Sadiq announced that it would in fact release on the 18th of November in Pakistan.
View this post on Instagram
What went wrong?
Just days away from the release, it was obvious that Joyland had passed all the tests in order to be cleared by the censor board. But then on Saturday night, a tweet changed it all. Turns out, even before audiences got a chance to watch the movie, some extremist factions claimed that the movie was "highly objectionable" and "clearly repugnant to the norms of decency and morality."
At the forefront of the claims was none other than designer Maria B whose main issue was the inclusion of a transgender in the movie. Her objection was the relationship between a transwoman and a man on the basis of "homosexual love in addition to adultry." She urged her followers to raise their voices and put pressure on the authorities to ban Joyland from releasing.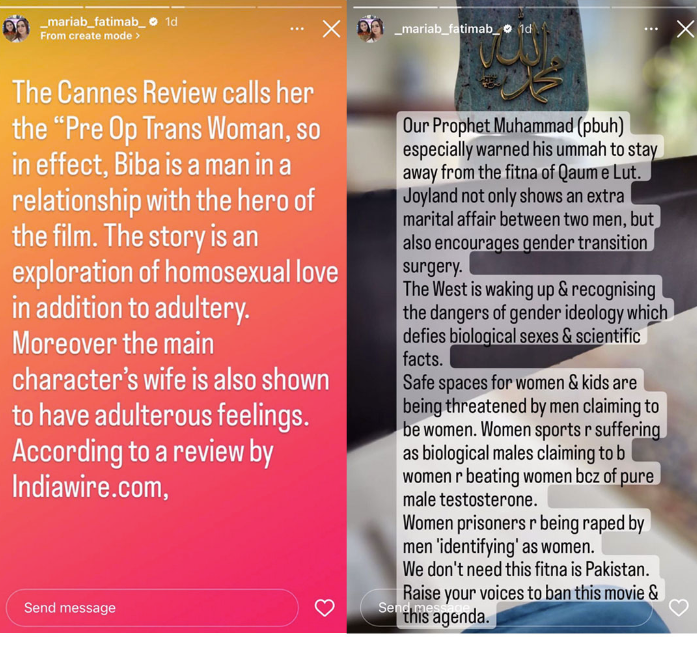 What they don't know about Joyland
While many praised Saim Sadiq for making a movie with a transwoman playing a central character, the director wasn't cashing in on that praise. In several interviews, he made it clear that the movie is an ensemble movie, which means there is no lead actor. All the stories are intertwined and they all have an important role to play.
View this post on Instagram
He also clarified that he had no intention of making a movie to make a change. His prime focus was making a movie that evoked emotions and tell a story but in no way was he trying to spread awareness through his movie. Saim Sadiq also emphasized on the fact that casting a transwoman in the movie was not an attempt at inclusivity but as normal as casting a man to play a man in a movie. Reverse inclusivity, if you may.
What Saim Sadiq had to say
Joyland has been a movie that took Saim Sadiq nearly five years to make. And he was obviously excited, as was the rest of the team, to have the movie air in Pakistan. The sudden U-turn by the Ministry of Information and Broadcasting caused a bit of anger and a whole lot of heartbreak. The director took to social media to address the possibility of a ban on Joyland and wrote, "We as a team are gutted by this development but fully intend to raise our voice against the grave injustice."'
View this post on Instagram
He went on to say, "I am compelled to point out that this sudden U-turn by the Pakistan Ministry of Information and Broadcasting is absolutely unconstitutional and illegal," and blamed them for caving into pressure from extremist fractions.
The outrage
When the news that Joyland was facing a possible ban broke, many took to social media to voice their outrage at the decision. Some pointed out that a lot worse was allowed to air in cinemas and there was no objection to that.
I love that our moral brigade didn't find a full bodied Punjabi man, smoking up scorpion dust and keeping sex slaves chained to his bed, 'socially and morally offensive', but the word 'trans' puts their knickers in a twist. #ReleaseJoyland #letcinemabreath

— AHI (@aamnaisani) November 13, 2022
Others were just angry.
Shameful that a Pakistani film made by 200 Pakistanis over 6 years that got standing ovations from Toronto to Cairo to Cannes is being hindered in its own country. Don't take away this moment of pride and joy from our people! #ReleaseJoyland @MoIB_Official @GovtofPakistan

— sarwat gilani (@sarwatgilani) November 12, 2022
Banning a film that features a love story about a trans person in a country that recognizes & gives rights to trans people makes no sense. There's so much fear, confusion & hypocrisy in a decision like this #ReleaseJoyland

— adnanmalik (@adnanmalik) November 13, 2022
Just found out that Joyland isn't being released in Pakistan—a film that has been winning high praise from international audiences. Our decision makers are still treating Pakistani audiences like children, depriving us of art & culture under the guise of morality. #ReleaseJoyland pic.twitter.com/XYul2M2qth

— Nida Kirmani (@NidaKirmani) November 13, 2022
Why does this man decide for me & my right to watch a movie in this country? Will one man single-handedly get away with banning a film that talks about pivotal issues in our society? Does he decide now that these issues aren't imp enough & need to be censored? #ReleaseJoyland https://t.co/tl2DBP0mqS

— Seerat Khan (@seeratkhan92) November 12, 2022
What can we do to help?
The good news is that while the threat of a ban looms over Joyland, it hasn't been banned yet. Cast member Rasti Farooq shared how we can fight against the injustice.
View this post on Instagram
Here is to hoping for the tables to turn and for our cinemas to be blessed with Joyland!