KARACHI: The Met Gala is considered one of "fashion's biggest nights out" and is a fundraising benefit for the Metropolitan Museum of Art in New York City. One of the most sought out events of the year, there is always a considerable hype surrounding the theme of the event. The theme for the Met Gala 2023 was recently revealed and people are not happy. Here is why.
The theme for the next Met Gala was announced to be Karl Lagerfeld: A Line of Beauty, which will see around 150 pieces paired with Lagerfeld's original sketches. For those who do not know who Karl Lagerfeld is, he was the creative director of high-end brands such as Chanel and Fendi, as well as his own fashion brand.
 

 

View this post on Instagram

 
However, not everyone was excited about the theme because as actor Jameela Jamil put it, "This man…was indeed, supremely talented, but used his platform in such a distinctly hateful way, mostly towards women." Her Instagram post went on to highlight all the times the fashion designer proved to be problematic.
Fat Shaming
The German designer was very explicit about his disdain towards women who were not stick thin. His statements came in response to the magazine Brigitte's announcement that it will in future use "ordinary, realistic" women rather than professional models in its photoshoots. Karl Lagerfeld called the decision by Germany's most popular woman's magazine absurd and that the criticism came from, "Fat mummies sitting with their bags of crisps in front of the television, saying that thin models are ugly" and that no one wants to "see round women."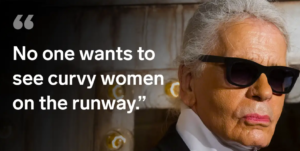 He even made cruel remarks about Adele who he called "a little too fat," Heidi Klum "too heavy," and that compared to Kate Middleton, he did not like Pippa Middleton's face and that she "should only show her back." He also claimed that that Coco Chanel wasn't a feminist because she "was never ugly enough for that."
Rape Apologist
The Met Gala 2023 theme comes as a surprise for many in the industry considering Lagerfeld's murky stance on sexual assault. 
Several models had accused stylist Karl Templer of inappropriate touching and of pulling off their underwear without their consent. Lagerfeld chose to defend the stylist, not by denying that he did what he was accused of but by saying, "If you don't want your pants pulled about, don't become a model! Join a nunnery, there'll always be a place for you in the convent."
He also defended Dominique Strauss-Kahn, the director of the International Monetary Fund in 2011, when a hotel maid in New York accused him of rape. Not only did he send Kahn flowers after the accusations but also claimed that the sex was consensual.
Islamophobe and Racist
During an appearance on a French talk show in 2017, the designer made a baffling rebuke of his native country's acceptance of refugees from Muslim majority countries on the behalf of Jewish people even though Lagerfeld was not Jewish. He said, "You cannot kill millions of Jews and then take in millions of their worst enemies afterwards, even if there are decades [between the two events]."
Lagerfeld also used both blackface and yellowface on the runway despite how racist the concept was.
Shout out to Karl Lagerfeld putting Claudia Schiffer in blackface AND yellowface in 2010. Do continue with your memorial posts. https://t.co/c5pmZla8JX pic.twitter.com/Ezt8gIGpj4

— Saeed Jones (@theferocity) February 19, 2019
The outrage
Jamila Jamil raised the important question that many had in mind as well and that was, "Why is THIS who we celebrate when there are so many AMAZING designers out there who aren't bigoted white men? What happened to everyone's principles and "advocacy." You don't get to stand for justice in these areas, and then attend the celebration of someone who reveled in his own public disdain for marginalized people." And she wasn't the only one.
Karl Lagerfeld defended the sexual assault of models and contributed to the stigma around coming forward years after an assault. He will be rewarded next year as the theme of "fashion's biggest night," because there is no consequence for defending sexual assault. pic.twitter.com/M64C1RtqAk

— Kat Tenbarge (@kattenbarge) September 30, 2022
Karl Lagerfeld is responsible for more body image issues than the Kardashians. And that's saying A LOT.

Fuck that guy and fuck the Met Gala theme.#MetGala #MetGala2023 #2023MetGala #KarlLagerfeld

— MomIsAlwaysWrite (@MaIsAlwaysWrite) October 2, 2022
He was greatly talented but man, what an asshole.#metgala2023 https://t.co/4QwreTA9a6

— nancyaghafoor (@nancyaghafoor) October 4, 2022