KARACHI: Pakistan has been hit by one of the worst natural disasters which has left millions of people displaced. Across the country, citizens are pitching in with donations to help the affectees while volunteers brave through terrible conditions in search and rescue efforts. And so, it came as a shock when HUM Tv announced the HUM Awards 2022 in the midst of a crisis. Afzar Rehman released a statement withdrawing from the awards while other celebrities such as Usha Shah and Ahmad Ali Butt defended the upcoming show.
Sharing his decision on Instagram, Afzar Rehman wrote, "Withdrawn by choice with due respect to the coveted event." Apologizing to his fans for the disappointment that might be caused by his decision he wrote, "I shall not be attending the HUM Awards this year even though I'm nominated in the best actor in a negative role category." He explained his decision was because, "I stand in solidarity with my brothers and sisters drowning in the floods." Afzar Rehman also requested the management to "Donate my ticket and stay money to the flood relief."
 

 

View this post on Instagram

 
However, celebrities such as Ushna Shah and Ahmad Ali Butt were quick to jump to the defense of the HUM Awards 2022. Shah who was been nominated for Best Actor Female for her role in Aakhir Kab Tak responded to the backlash by writing, "It's quite disconcerting to read the criticism for those of us who have come to Toronto to attend the award show." 
She explained, "I can speak for myself and I am sure many other artists when I say that we have contributed to the relief funds (privately) and continue to do so. As far as being here is concerned, 50% of the revenue of this sold out show goes to the families affected by the floods, we are also partaking in auctions and fundraisers here for the victims." Shah later corrected that 50% is not the right percentage being donated, but a portion of ticket sales is still going towards flood relief.
Ahmed Ali Butt was not amused by the criticism the event was receiving and shot back with a scathing statement, "Since everyone is in Aww of Angi baji [Angelina Jolie] visiting for 3 days, and how dare us Pakistani celebrities flew to Toronto to PARTY? By party you mean doing a fundraising dinner for flood relief and by doing a SOLD OUT award show in advance, of which a percentage will go the flood victims again." Butt went on to take a shot at Angelina Jolie and Sharmila Farooqi, who had criticized the HUM Awards 2022.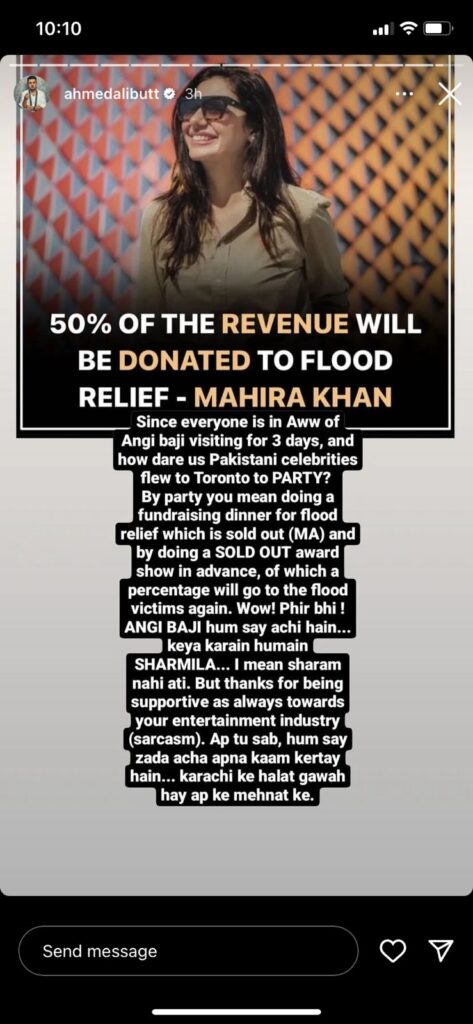 While public figures continue to play their part in any capacity they can, let us remember to continue donation towards the flood relief efforts as individuals as well.