KARACHI: There are good dramas and then there are bad dramas. And then there are dramas such as Aye Musht-e-Khaak that make us wonder how the show got the green signal to go on air in the first place? For the duration of 36 episodes, the drama went from cringe worthy to hilarious to becoming one of the most overused storylines that could exist. But alas the show finally came to an end as the last episode of Aye Musht-e-Khaak aired on April 12, leaving audiences divided over the ending.
As it would turn out, there are quite a few people who thoroughly enjoyed the drama. They were all praises for Feroze Khan and his "wide range of emotions." They were in awe of how he went from brooding, mumbling Bobby to good boy, serene and emotional Mustajab.
The range of emotions portrayed by Feroze in the character was extremely brilliant&praiseworthy
From an egoistic,arrogant non-believer to a gentle,modest&humble believer
Each&every phase of Mustajab's journey was depicted Outstandingly by Feroze
WOW👏#FerozeKhan #AyeMushtEKhaak pic.twitter.com/DWQBEAE2Sa

— Orthee (@ortheeorthee) April 12, 2022
Some people were in awe of Feroze Khan portraying an ashiest despite being so religious in his personal life (basically praising him for doing his job as an actor).
Others were emotional about Feroze Khan finally getting the girl i.e Sana Javed (because in their previous drama, Mir Hadi could not manage to get the girl whose brother he killed and then proceeded to stalk, threaten and kidnap. The grief!).
I can't stop crying after this 😭😭🤧🤧 bohut rulaya iss dramay ne
Mustajab ko Dua aur pehli bar Feroze Khan ko uski mohabbat mil hi gyi.I just can't describe my happiness🤧
But what an amazing drama it was.. will surely miss the drama.😭😭#AyeMushtEKhaak #FerozeKhan #SanaJaved pic.twitter.com/mHTQlgglJr

— ✵.𝓡𝓾𝓼𝓱𝓲𝓲𝓲.✵║S♥H♥I♥V♥I║🎶 (@_Justgotohelll_) April 12, 2022
If YouTube comments are anything to go by, the drama even managed to convert a fan to Islam. 


However, others were not too impressed with Aye Musht-e-Khaak and its last episode. Some could not stand the "wholesome" joining of hands in prayer image.
Aye Musht e Khaak last episode: Feroze Khan did teach us two things. First was that in sajda we have to raise our bottom high. Second was if husband and wife are in dua mode sitting side by side, praying individually isn't necessary. One hand of each joined in prayer is enough.

— Asrar Masud (@masud_asrar) April 12, 2022
Others pointed out how overdone the storyline was, especially for the actors in the drama.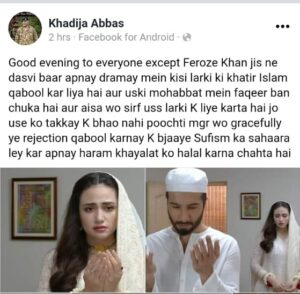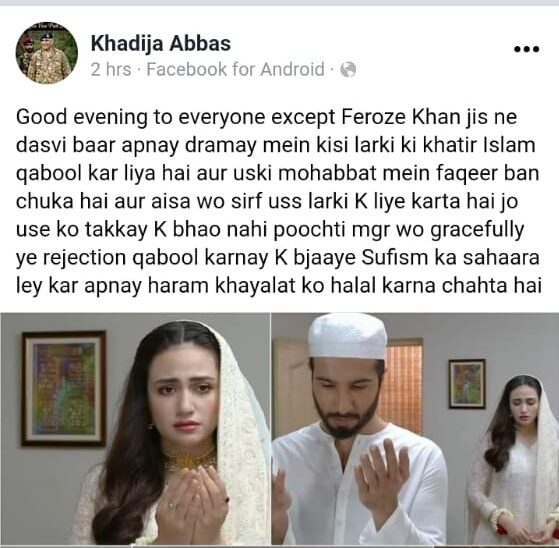 Aye Musht-e-Khaak and its last episode evoked some intense feelings of lost loves.
Aye Musht e Khaak (current paki drama) is making me miss my non existent ex bf who I had to cut off bc we were different religions and then found out he converted years later after I settled to marry someone else

— SB (@alinos15) April 11, 2022
Some also pointed out that the drama strengthened friendships (and possibly weakened relationships).
Me thinking mustajab is like my ex, my friend thinking mustajab is like her husband, then me thinking my friend's husband is like my ex. Then we found out about how we felt about all three of them and just laughed.

— 萨那 (@friesandflowers) April 12, 2022
It is always fascinating to see just how diverse our audience's tastes are for entertainment!