KARACHI: Over the past week, the Pakistani media industry went into a frenzy. Allegations of misbehavior, shocking revelations and an exchange of legal notices made headlines. So, what is the whole Sana Javed situation really about and what do the legal notices say? Here is a breakdown of all that has happened.
View this post on Instagram
It all began with a story being put up on Instagram by model Manal Saleem where she requested, "All the clients to not ask me to shoot with with any actress/celebrity ever again. With their self entitled attitudes they think we are 'do takkay ki model.'" While Manal refrained from naming the celebrity, many of her colleagues immediately knew who she was talking about and offered her their support. Models Mushk Kaleem and Mydah Raza wrote about how, "This actress is notorious for being unpleasant on set," and how this is "not the first time someone shamed her for being nasty."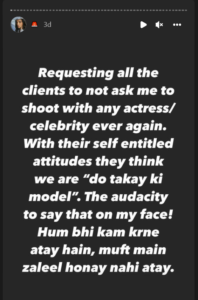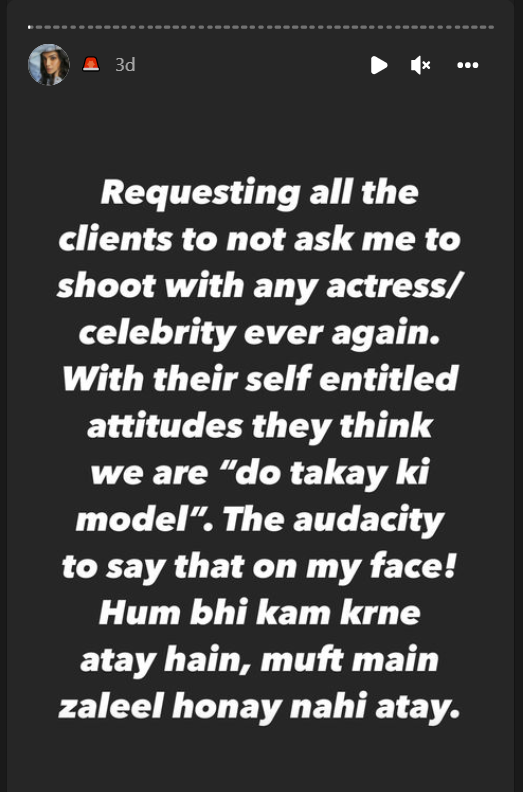 Make-up artist Omayr Waqar also weighed in on the situation without naming the actor and wrote, "Guess who is she (Manal) talking about? P.S it's just one person, not all actresses are the same." While Saleem and Waqar were careful to not name and shame, others who had similar experiences with the unnamed actor, soon began to take her name.
The first person to point fingers at Sana Javed was stylist Aneela Murtaza. She shared a screenshot of the allegations against Javed and posted a thought bubble with the name Sana written in it.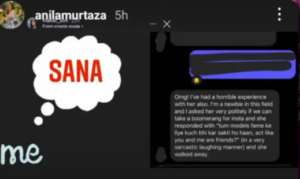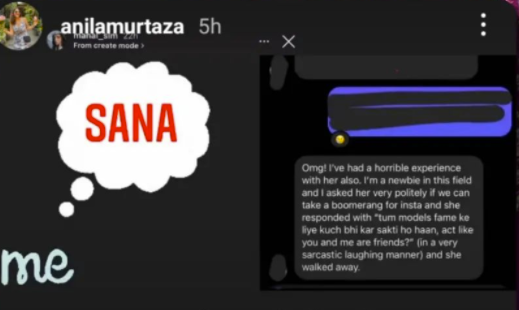 Following in Murtaza's footsteps was makeup artist Ikram Gohar, who dedicated an entire post to detail his traumatic experience with the accused. ""I know she is Sana Javed. Such a horrible and unprofessional actress," he wrote. He then went on to recall how Javed has, "Called me at her shady place somewhere in DHA in a banglow for her Nikah trial makeup as she discussed with me that I wanna get done my nikah bridal final look just by you." But things took a turn for the worst when, "She removed her eye makeup 10 times and treated me like a shit, and duration of 4 hours when I needed to go to the washroom and I requested her to allow me to use the washroom then she told me that you can't go to the washroom." Javed when accused Gohar of being unprofessional and told him, "You dont know how to work and you don't know how to do makeup and called me unprofessional." He ended his post with a message for Javed saying that she should be banned from the industry as a whole.
View this post on Instagram
While many were trying to process the allegations by Gohar, another set of allegations came into light by another makeup artist Rhyan Thomas. He detailed how Sana Javed made sure to sabotage Sadaf Kanwal's look at the PISA Awards. He had made it known to both actors that he was going to do their makeup and allotted them time frames. But Javed made sure to waste Thomas's time and all but "kidnapped" him and held him captive in her room to prevent him from going to Kanwal. The icing on the cake was when, "She constantly bugged me that I don't know how to apply eyeline and I suck at doing hair." And after his 8-hour-long ordeal, he revealed that she had the audacity to tell him he took longer to get her ready than he committed." Thomas claims that she did all of this out of a place of insecurity and attempts to sabotage Sadaf Kanwal's look.
View this post on Instagram
Others who spoke up against the Aye Musht-e-Khaak actor included Fareeha Sheikh and Wajid Khan.
View this post on Instagram
While all these allegations were making their way to the internet, the actor in question remained silent. Until news broke that Sana Javed was sending out legal notices to those who came up and spoke against her including Manal Saleem, Omayr Waqar and Aneela Murtaza. She took to Instagram and wrote, "In the past 72 hours I've been subjected to all sorts of lies and fabricated stories, bullying, hate speech and threats." She went on to say that the whole event caused her and her family severe distress, "A proper planned smear campaign has been initiated against me by a group of individuals, that has caused severe trauma not only to me but to my family. I'm shocked to see how toxic people can be and how quickly everyone jumps on a bandwagon without knowing all the facts."
View this post on Instagram
In the legal notice sent to Saleem, Javed claimed that as the lead model of the brand shoot she had been assigned a separate dressing room and makeup artist. The legal notice claimed that Saleem had barged her way in while Javed "did not object at all notwithstanding your unauthorized presence." The defamation notice accused Saleem of breaching COVID protocols and created a "ruckus" by ordering around Javed's makeup artist instead of using the one assigned to her. The notice also accused Manal Saleem and all the other people who spoke up against Sana Javed, of making false accusations about a conversation that never happened and is nothing but a "figment of your imagination." It also accused Saleem of making these claims as part of a publicity stunt and to "increase (her) following."
In response to the legal notices sent out to them, Anila Murtaza and Omayr Waqar sent Sana Javed legal notices of their own. Murtaza's notice stated that the events relayed by Javed were "unsubstantiated and fallacious" and that Javed was under strict obligation to provide proof for her claims.
View this post on Instagram
Omayr Waqar's notice was along the same lines.
View this post on Instagram
If things were not messy enough, in the midst of the legal notices, makeup Artist Syed Hussain gave his side of the story and it turned out to be damning for Sana Javed. He revealed that he was the makeup artist in question (from the legal notice) and wrote, "I stand with the truth which is that there was only one makeup artist and only one room for their makeup and during the shoot. Manal came to the shoot first and I was doing her make up when Sana arrived and asked Manal to be removed from the room. Manal left and my assistant completed her look. In the middle of the shoot Sana interrupted Manal's shots upon which Manal protested and Sana responded with harsh words. And YES I heard Sana called her manager on the call "MAT BULAYA KARO MUJHE DO TAKKAY KI MODELS K SATH SHOOT KARNE (Don't call me to work with these two bit models for shoots)."
View this post on Instagram
It seemed as though things could not get worse for Sana Javed. Until they did. The fashion brand Rang Rasiya released a statement where they identified their brand as the one for whom the photoshoot in question was taking place and revealed that they are dropping Sana Javed as the face of their campaign.
View this post on Instagram
Javed is yet to respond to the new wave of accusations made against her.