KARACHI: Over the past few days models, stylists and makeup artists have created quite the stir over social media with their accusations against actor Sava Javed and her questionable behaviour. Now, Sana Javed has finally broken her silence and revealed that she has sent out a legal notice to Manal Saleem, the model who initiated the whole matter, on grounds of defamation. Makeup artist Omayr Waqar and stylist Aneela Murtaza have also been sent legal notices.
View this post on Instagram
In her caption, the Aye Musht-e-Khak actor wrote, "In the past 72 hours I've been subjected to all sorts of lies and fabricated stories, bullying, hate speech and threats." She went on to say that the whole event caused her and her family severe distress, "A proper planned smear campaign has been initiated against me by a group of individuals, that has caused severe trauma not only to me but to my family. I'm shocked to see how toxic people can be and how quickly everyone jumps on a bandwagon without knowing all the facts."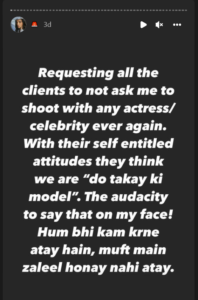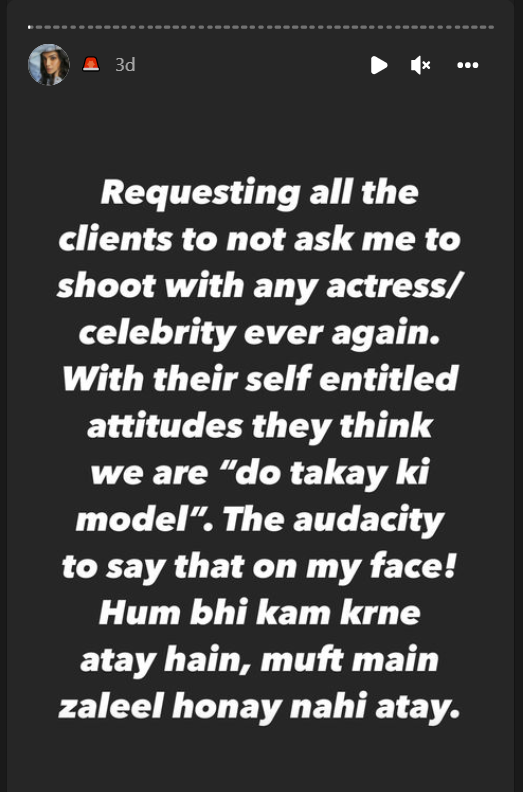 However, Sana Javed has refused to elaborate on her side of the story in regards to her interaction with Manal Saleem which she dubbed as "disgusting" and "disgraceful", " I refuse to comment and discuss what was said and done by the other party as its beyond disgusting and disgraceful to even mention here."
The legal document that was shared alongside the caption, does however, shed some light on what may have transpired. It detailed how Javed, the lead model of a campaign had been assigned a separate room to get ready in but Saleem had barged her way in while Javed "did not object at all notwithstanding your unauthorized presence." The defamation notice accused Saleem of breaching COVID protocols and created a "ruckus" by ordering around Javed's makeup artist instead of using the one assigned to her.
The notice accused Manal Saleem and all the other people who spoke up against Sana Javed, of making false accusations about a conversation that never happened and is nothing but a "figment of your imagination." It also accused Saleem of making these claims as part of a publicity stunt and to "increase (her) following."
View this post on Instagram
While the legal notice did not acknowledge the numerous other claims made by different people against Sana Javed, it did demand that Manal Saleem pay "Rs.100 million as damages for the loss and damage to our client's reputation, mental agony, torture and suffering."