KARACHI: The media industry is usually pretty tight lipped when it comes to personal grudges and so when someone decides to go public about it, things blow up. That is exactly what happened over the past few days. It all began with a model named Manal Saleem requesting "All the clients to not ask me to shoot with with any actress/celebrity ever again. With their self entitled attitudes they think we are 'do takkay ki model.'" While Manal refrained from naming the celebrity, it did not stop people from making guesses about who she was talking about. Soon enough, it was revealed that the Instagram post was, in fact, directed towards Sana Javed.
Over the last couple of days, various models and makeup artists have spoken up against the same celebrity. Mushk Kaleem lent her support to Saleem, "Thank you for saying this. More strength to you." She went on to say that she was not surprised to hear about the behavior and that this was "not the first time someone shamed her for being nasty."


Mydah Raza also took to Instagram to call out Sana Javed and wrote, "This actress is notorious for being unpleasant on set."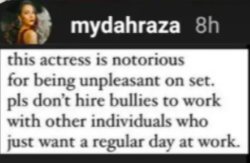 Another model, who chose not to reveal her identity, reached out to Saleem to share her own experience with the celebrity and explained how she is a newbie in the field and so "I asked her very politely if we can take a boomerang for Insta." Much to the model's shock, the actor chose to mock her and belittle her for trying to fake a friendship just for fame.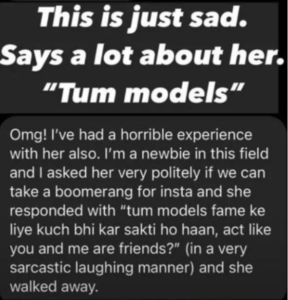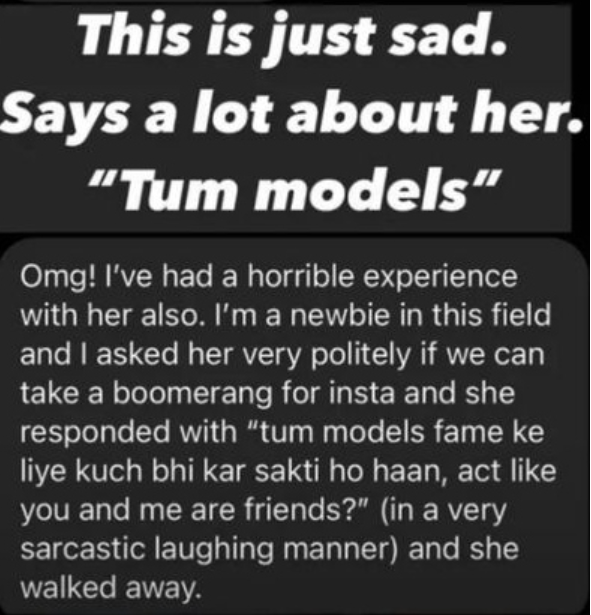 It was not just models who shared their personal experiences with the unnamed celebrity (at least until that point in time). Makeup artist Rhyan Thomas claimed to "have had the worst experience of my life with her."
However, soon enough the celebrity behind Manal Saleem's Instagram story was revealed to be none other than Sana Javed. It began with stylist Anila Murtaza's story where she responded to the allegations of bad behavior with a bubble cloud with the name Sana plastered over it.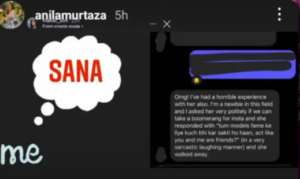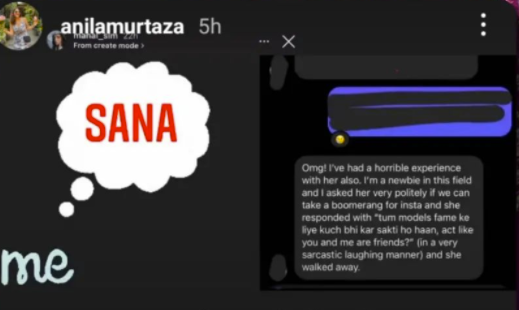 Soon to follow was makeup artist Ikram Gohar. Initially all he said was "I know she is Sana Javed. Such a horrible and unprofessional actress." However, he then went on to detail his terrible experience with the actor and dedicated an entire Instagram post about his ordeal. On his Instagram post he recalled how Sana Javed had, "Called me at her shady place somewhere in DHA in a banglow for her Nikah trial makeup as she discussed with me that I wanna get done my nikah bridal final look just by you." He went on to explain how, "She removed her eye makeup 10 times and treated me like a shit, and duration of 4 hours when I needed to go to the washroom and I requested her to allow me to use the washroom then she told me that you can't go to the washroom and she didn't allow me and said to me that just go out n use the washroom of a restaurant which was right infront of her shady place." To top it off, he says the actor called him up to tell him, "You dont know how to work and you don't know how to do makeup and called me unprofessional."He ended his post with a message for Javed saying that she should be banned from the industry as a whole.
View this post on Instagram
If you thought that experience was horrible, you will be even more appalled by what Rhyan Thomas had to go through. He also took to Instagram to call Sana Javed out for her behavior and explained that, during the PISA Awards, he had been approached by both Sadaf Kanwal and Sana Javed to do their makeup. He made sure they both knew he was doing the other's makeup in order to "set the timings accordingly (2 hours each) to avoid an issues."
View this post on Instagram
However, he says that Javed kept coming up with reasons to delay getting ready. From claiming to have a migraine and needing an hour long hot shower to wanting to hang out with other celebrities over Hookah. He was also in constant contact with Sadaf Kanwal who wanted to know when he would be available to dress her up.
Once they finally made it to the room to get ready, he claims Javed "Threw a fit that she's already gotten late for the red carpet as if that was my fault." Thomas says that, "Since Sadaf was calling me she (Sana Javed) CONFISCATED my phone and put the hotel's landline on hold." He summed up how she all but "kidnapped" him and expressed his shock considering he had never been in a similar situation. To add to his ordeal, "She constantly bugged me that I don't know how to apply eyeline and I suck at doing hair." And after his 8-hour-long ordeal, he revealed that she had the audacity to tell him he took longer to get her ready than he committed." Thomas claims that she did all of this out of a place of insecurity and attempts to sabotage Sadaf Kanwal's look.
View this post on Instagram
In his Instagram post, the makeup artist told Sana Javed to "Learn some ethics and have the decency to respect other's time and efforts." Thomas explains how he felt "used and abused" and did not even confide in his family out of fear of them forming the cliched mindset of makeup artists being treated badly.
Sana Javed, on her part has chosen to remain silent about the allegations. Cutacut reached out to the actor for a comment but we are yet to hear from her on the matter.
View this post on Instagram