KARACHI: It seems as though the Pakistani media industry is moving towards a positive change and voices are being heard. Earlier this year,  actors put up a united front and demanded that they be paid royalties for their work. Following the movement, Senator Faisal Javed Khan addressed their concerns and promised to introduce a bill in the senate. Following suit, notable writers from the industry joined forces and began working to form an association that would safeguard their rights. To top it off, the Screenwriters Association Pakistan recently got recognized beyond borders by its counterpart in India.
The executive committee headed by Vasay Chaudhry as the President, Umera Ahmed as the Vice President, and  Saji Gul who will serve as the General Secretary, were all addressed in an email sent out by the SWA India.  In the email, Zaman Habib, the General Secretary of SWA India wrote "we cannot tell you how excited all of us are with the news that Pakistani screenwriters have now formally come together to form a guild for themselves."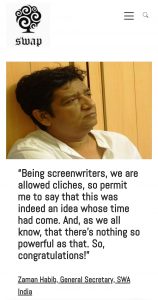 Speaking on behalf of the "executive committee and all of the members of the Screenwriters Association in India," Habib went on to "extend its warm solidarity to SWAP and looks forward to vigorous interactions, collaborations, and joint solidarity initiatives." This comes while there is still a blanket ban on Pakistani artists to work in India by the All Indian Cine Workers Association (AICWA) following the Pulwama attack in 2019. Owing to that, Umera Ahmed also came under intense scrutiny recently for her wartime series Dhoop Ki Deewar that is soon to launch on the Indian Streaming service Zee5.
All India Cine Workers Association announce a total ban on Pakistani actors and artists working in the film industry. #PulwamaAttack pic.twitter.com/QpSMUg9r8b

— ANI (@ANI) February 18, 2019
While political rifts continue to impact ties between Pakistan and India, cultural exchanges can never be banned completely. In fact, it is an exchange that gives hope for better opportunities and dialogue between the two states. For instance, the aforementioned email comes across as an olive branch being extended between India and Pakistan.