KARACHI: It was delightful to learn that Pakistani content is making it to Zee5 that is accessible in around 190 countries. The platform is not only showcasing old Pakistani dramas but also made room for newer, original content. Five Pakistani series have been made under the initiative and are launching one by one. However, first, Churails was removed from ZEE5 for the Pakistani audience and now there is a recent development. The State Bank of Pakistan has blocked payments for Zee5 subscription in Pakistan.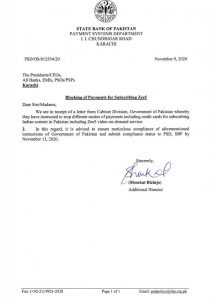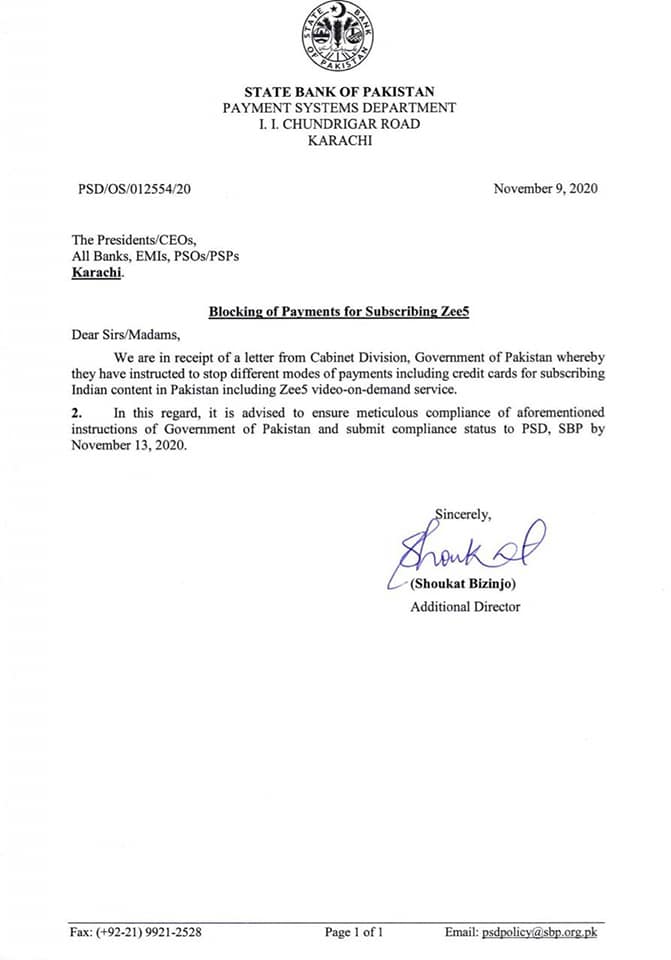 "We are in receipt of a letter from the Cabinet Division, Government of Pakistan whereby they have instructed to stop different modes of payments including credit cards for subscribing India's content in Pakistan including Zee5 video-on-demand service." – states the letter issued by the State Bank of Pakistan.
Cutacut reached out to creators of the five Pakistani series that have been made for the platform. Two, including Churails and Ek Jhooti Love Story, have been released while three are scheduled to launch in the coming months. Speaking of the recent notice, Mehreen Jabbar, who has directed the recently released Ek Jhooti Love Story, shared that it is an extremely disappointing, short-sighted and ridiculous decision. "It will only affect our Pakistani artists. I don't know why suddenly there is this rush to make it difficult for people to watch Zee5 at a time when Pakistani content is being shown on it. Zee5 has been around for two years in Pakistan. Just now that our own work has started getting exposure, there is a rush to make it inaccessible. Pakistan does not have a platform of its own right now and it takes a while to develop one."
She furthered: "Zee5 is an opportunity for Pakistani content to have exposure in markets which are not just Pakistanis. It expands the canvas for our own artists. These five projects were made in Pakistan, using Pakistani talent and created a ton of jobs for Pakistani technicians and artists. So, it's just detrimental to mostly us and not Zee5 because it is in 190 countries. We don't have that avenue; our artists are starving for other kinds of work and other platforms. All of us have put a couple of years, at least two years each, in this project. It is very discouraging not to have it shown to our own audiences."
View this post on Instagram
Director Anjum Shahzad, whose series Abdullahpur Ka Devdas is yet to make it to Zee5, feels that the decision-makers should be visionary. He observed, "Inexperienced stupid advisor has no vision and experience of that particular job is the main issue of this government. How can they make policy for the entertainment industry whether it is film, TV or a digital platform? The entertainment industry is an easy target because no politician has a stake in it, unlike other industries. They want to ban everything, that's it. Stupid decision!"
View this post on Instagram
Saji Gul, writer of another upcoming series, Mann Jogi, featuring Saba Qamar and Noman Ijaz, is also upset regarding the recent notice. He extensively spoke to us about the matter. "They ask us why don't we go for Netflix or Amazon Prime instead of an Indian platform. The issue is, the agent who takes care of this segment at Netflix or Amazon is also an Indian. They don't look at us. In all these years, there are hardly 1 lac subscribers from Pakistan. Why would they invest so much for such a small chunk of audience? Even when we try to reach them, we don't have a portfolio to present. We can't show them our drama due to its production value that is not up to the mark. Now that our productions are capable of heading to web through Zee5, we might get access to Netflix or Amazon if they do well. So, if an opportunity is opening up, why are you stopping it?"
He went on to say that OTT is meant to create parallel medium as opposed to mainstream media. No opportunities are being created for that since the governing bodies dictate the process just like television. Our television is already crashing; first because of government policies and now due to censorship issues. I feel, we are dumbing down our artists. People like me would also want to run away from Pakistan in that case. We are always stuck in ethical, moral and religious debates. When we are not generating money, where will we take ethics and moral?
View this post on Instagram
"They ban and then unban," he furthered. "But, what happens is, when they ban, they bring everyone towards bashing. Even when the ban is removed, the bashing continues as they sort of get the license to it. Why are you not letting the opportunity create? Are they going to ban Netflix and Amazon too as they also have Indian content available? After Zee5, Eros and other platforms are also showing confidence in Pakistani content and talent. Is Pakistan not going to get the revenue? Pakistani is only interested in watching local content on Zee5, not anything else. They are not at a loss, we are! Just to keep the narrative of political conflict up, they don't want people from both sides of border to be on the same page."
Asim Abbasi, who made waves with Churails, the first series to launch on Zee5, is super upset about it too. He said it is so sad that he doesn't even have words.
However, Haseeb Hasan, who has directed Dhoop Ki Deewar for Zee5, gave his two cents on the matter. "These things won't help as those who really want to subscribe will find a way out," he asserted. "I think it's a very stupid thing to do as far as art is concerned. Zee5 is in fact gaining more popularity in Pakistan due to it. I feel the ban against Indian films should also be removed to generate more revenue for Pakistani cinemas. Banning isn't a solution. We stand in solidarity with the Pakistan Army, considering what's happening on the borders. However, cultural exchanges shouldn't be bound. We need more mature decisions in this regard."
Dhoop Ki Deewar features Ahad Raza Mir and Sajal Aly in addition to an ensemble cast including Manzar Sehbai and Samina Ahmed.
View this post on Instagram