KARACHI: If you are an artist from Pakistan with an uncommon vision for content, chances are, you may be scared to publicize your work. If you somehow muster up the courage to do so, you will be bracing yourself for heavy criticism by people who haven't yet accessed your content. These very people might then be the reason behind the removal of your work. Similar to the aforementioned scenario has been the fate of Churails, Asim Abbasi's recent web-series. The series has reportedly been taken down from ZEE5 for Pakistani audiences, resulting in the series available to watch internationally but not in Pakistan. However, it is still unclear as to who ordered the removal of the show because ZEE5 has not given an official statement as of yet.
The problem started when people reported not being able to access Churails on ZEE5.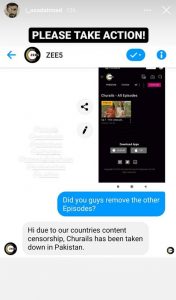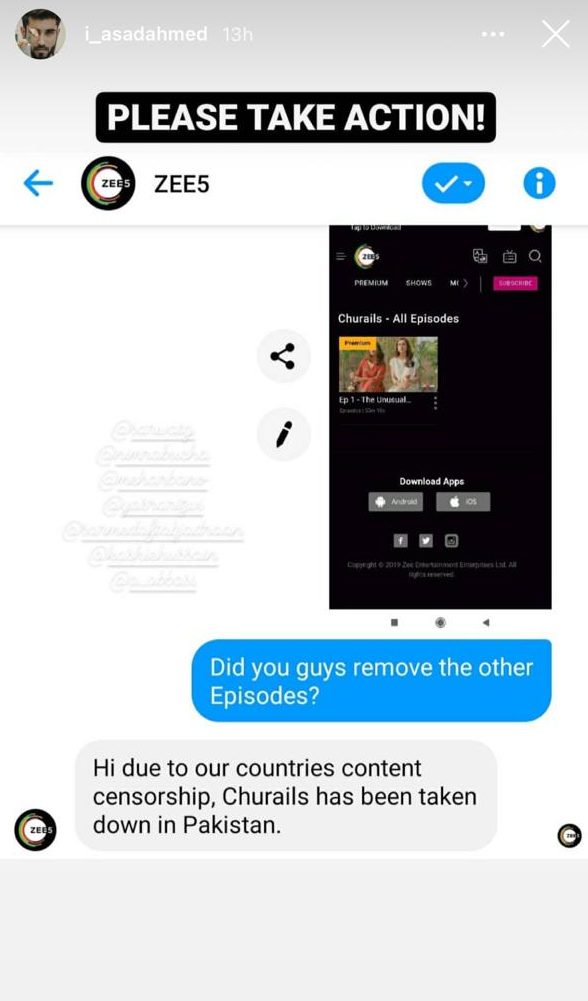 Fans are not happy with the removal of  Churails at all and have vocalized their opinions on Twitter.
The context of the former tweet aligns with a clip from Churails which had recently been circulating on social media. The clip is from the scene where Sherry (played by Hina Khawaja Bayat) tells Jugnu (played by Yasra Rizvi) about how she had to be sexually exploited by men to get where she stands today. The clip, without prior knowledge of the context, was circulated around, the caption highlighting it as vulgar.
Another fan pointed out how the societal issues addressed in Churails have been addressed before, however, what triggered the ban is a woman-centric, female-led narrative of the show.
Soon afterward, Nimra Bucha shared another fan's story on her Instagram which also mentioned Churails' removal on ZEE5 for viewing in Pakistan.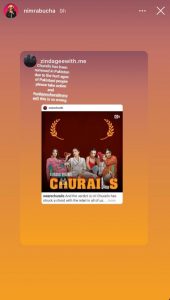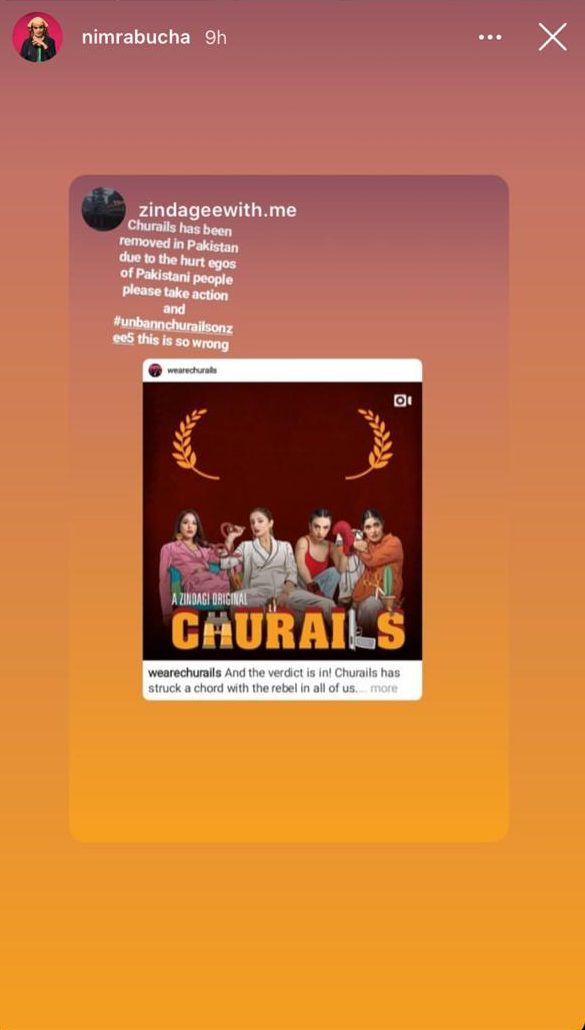 Many Twitteratis have seized the opportunity to call out the ironies in this case.
Asim Abbasi took to his Twitter to speak on the matter. He wrote, "How strange for #Churails to be lauded internationally, and now be shut down in its country of origin. In the very country where hundreds of artists came together to create something that could initiate dialogue and open doors for new narratives." The tweet not only confirmed the removal of Churails but also showcased the utter disappointment a filmmaker in Pakistan feels about his hard work falling prey to extreme censorship in his/her home country, after garnering international attention.
"Artistic freedom squashed because it is wrongly perceived by some as a moral threat. Predictable, and yet, still disappointing. For this is not just my loss. This is a loss for women and marginalized communities that this show meant to re-represent, " he added.
In conclusion, Asim Abbasi regarded the ban as a loss for all actors, writers, directors, and technicians across Pakistan, who hoped that OTT platforms could still save the day when it came to their art. Finally, he said, "It's a home-run for all the misogynists who have once again proven that they are the only voice that matters."
Soon afterward, Kashif Hussain, who plays Shams in Churails, expressed his disappointment with the following statement on Facebook regarding the removal.
"We never met great revolutionaries to ask them about their fears but ALL OF THEM, yes all of them felt fear to the extent, where all of them were very FAITHFUL towards their DREAMS! DO YOU THINK WE ARE AFRAID?? Lines from "POWER OF NARRATIVE" a play that still resonates in my thoughts when I think of freedom! #churails #morepowertochurails", the actor wrote, with words that may sound angry but are still not ready to give up on their cause.
Shehzad Ghias Shaikh, a prominent comedian who also makes a guest appearance in one of the episodes of Churails, wrote how the banning culture will never allow foreign OTT platforms to invest in Pakistan, and rightfully so.
The removal of Churails might not be successful in abstaining people from viewing the series. It might, however, encourage piracy, while ensuring Pakistani artists do not earn from their content in their motherland.