KARACHI: It's been a a heartbreaking last ten days as the world watched in shock the events unfolding in Palestine. To add to the shock was the fact that seemingly educated personalities, who had a platform that could be used for good, chose to side with the aggressors. From Justin Bieber to Justin Trudeau to Kylie Jenner, numerous celebrities and leaders chose to ignore the war crimes and the killing of innocent people. While many were incredibly disappointed, it turns out, there is still some good left in this world. These celebrities chose to speak up for the people of Gaza and used their platform to advocate for them!
Huda Kattan
The owner of the Huda Beauty empire stood firm in her support for the people of Palestine. The beauty mogul's pictures were edited in an attempt to include her in the list of celebrities supporting Israel in their genocide in Gaza. However, she was having none of it! She was quick to take to social media to label the posts as fake and called it "media manipulation."
However, the Zionist trolls did not stop there. In a comment, she was told, "Israelis from all over the world love you and your products. With most of their money, and you chose Gaza." Kattan's reply was one we'll never forget, "I don't want blood money," she said. What better way to stand by your stance! 
Gigi Hadid
Gigi Hadid's paternal side of the family is Palestinian and she and her sister Bella have been vocal about their support for the people of Palestine. Naturally, Gigi Hadid was one of the first celebrities to speak up in favor of the people of Gaza. She took to Instagram and wrote, "I have deep empathy and heartbreak for the Palestinian struggle and life under occupation, it's a responsibility I hold daily." From the get go, the model clarified that while she supports Palestine, her wants did not "include the harm of a Jewish person." 
She also took to her stories to share a post which read, "There is nothing Jewish about the Israeli government's treatment of Palestinians. Condemning the Israeli government is not antisemitic and supporting Palestinians is not supporting Hamas." Ironically enough, the story share seemed to have angered Israeli sentiment causing the official Israeli Instagram account to post against Hadid.
Mark Ruffalo
The Hulk star has been known to side with the Palestinians in their plight against Israel. He took to social media to express how "grief stricken" he was and called for the "horrific violence to end." 
While his tweet might have been ambiguous about who he was supporting in the war, his activity of X made it clear. Since his tweet, he has reposted posts in favor of Palestine and against the Israeli government.
`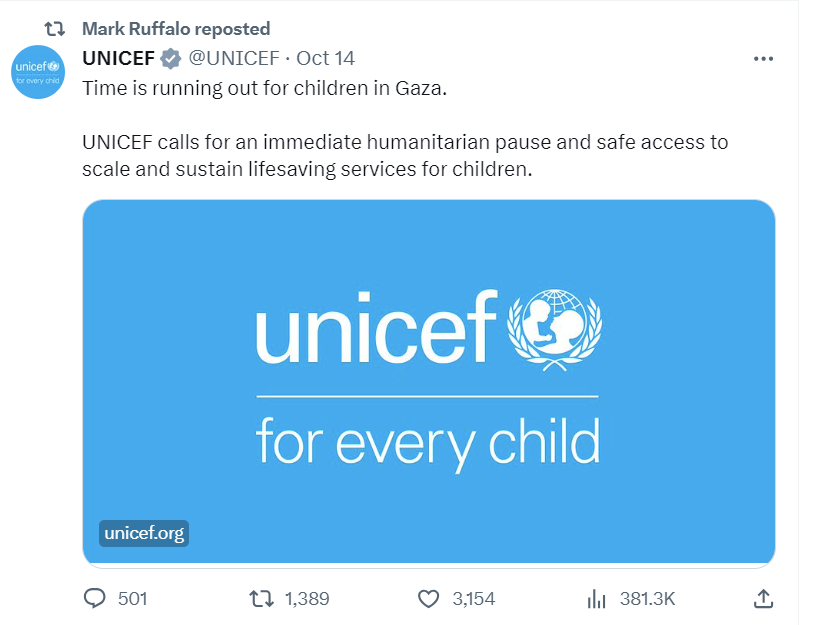 Riz Ahmed
The British actor and rapper took to social media to express his solidarity with the people of Gaza. In his post he wrote, "We are told there are two sides to what is happening in Israel and Palestine. But in my heart, I know there is only one – the side of humanity."
Ahmed, whose family originates from Pakistan, went on to say, "What happened to Israel last week was horrific and wrong." However, he also pointed out that, "What's happening in Gaza now, and has been happening in Palestine under the Occupation for decades, is horrific and wrong. The depth and reality of this suffering cannot be ignored."
The post also read, "No words can encompass the pain, heal the rifts, or do justice to all these injustices. Whatever you say will be too much for some and not enough for others. But what matters is that we speak up."
Sonam Kapoor
India has been vocal in its stance to support Israel in their crimes against Gaza and so it came as a pleasant surprise when Sonam Kapoor spoke up in favor of Palestine.
In one of her Instagram stories, she shared a post that highlighted that half of the victims in Gaza are children. In another story, it was stressed upon that the children of Palestine were as important as the children of Israel. She also shared a post about how the doctors in Gaza refused to evacuate the hospital and leave their patients behind.
Fatima Bhutto
While Fatima Bhutto might not count as a celebrity in the traditional sense, the writer and columnist has quite the social media presence. And she used that presence to good use. 
She had constantly been sharing information about what has been going on in Gaza. From the scenes from the ground to who is standing with the people of Gaza. Her feed and stories have been dedicated to being a voice for the innocent lives under attack from the apartheid regime.
Ushna Shah
Much to the dismay of many, Pakistani celebrities have been relatively quiet when it comes to standing up for the people of Gaza. However, that does not include Ushna Shah.
The actor has been unashamedly vocal in her fight against injustice, going so far as to calling out her peers and encouraging them to speak up and also naming and shaming people on the wrong side of the fight. Needless to say, we could all use a bit of her bravery!
It's fair to say, these people have made good use of their influence and gives us a slight bit of hope in these dark times.