KARACHI: Despite being a rampant issue in Pakistani society, domestic abuse is hardly talked about. Victims suffer at the hands of their abusers for years and when they do try to speak up, they are often silenced. However, a few years ago, our media industry surprised us when they all took a stand against one of their own. When actor Mohsin Abbas Haider was accused by his wife of domestic abuse many actors took to social media to bear witness to the allegations and amongst them was Humaima Malick. Until recently, that is. How did Humaima Malick go from supporting his now ex-wife to backtracking on her allegations against Moshin Abbas Haider and apologizing to him?
It was only four years ago when , in a detailed post, the actor's then wife Fatema Sohail wrote of her experiences being married to him and how he laid a hand on her countless times, including while she was pregnant with their son. In response to the allegations, the actor not only denied the allegations but took it one step further when he held a press conference where in essence he called his marriage a wrong decision and claimed the "woman card" was being used against him. However, many of his peers took to social media to not just express their shock but also bear witness to the abuse. Amongst those supporting the allegations against Mohsin Abbas Haider were Gohar Rasheed as well as Humaima and Dua Malik.
July 21, 2019
Humaina Malick claimed that her sister would tell her how Fatema would call her crying and in pain. She named Mohsin Abbas Haider in her tweets and shamed him for beating his pregnant wife. She had even taken the oppertunity to talk about her own abusive marriage and lamented about how she did not have the courage to step out of the toxic relationship,  "I am shameful of myself today. I didn't do anything for myself in 3 years of abusive marriage, 7 years of another abusive relationship and it repeated again."
I'm a witness ! @DuaMalikk use to call me and tell me how painful it was for her to listen to Fatima sohail and her suffering from pain it's been 3 years … I wish Fatima did this before what she did now

— HUMAIMA MALICK (@HumaimaMalick) July 21, 2019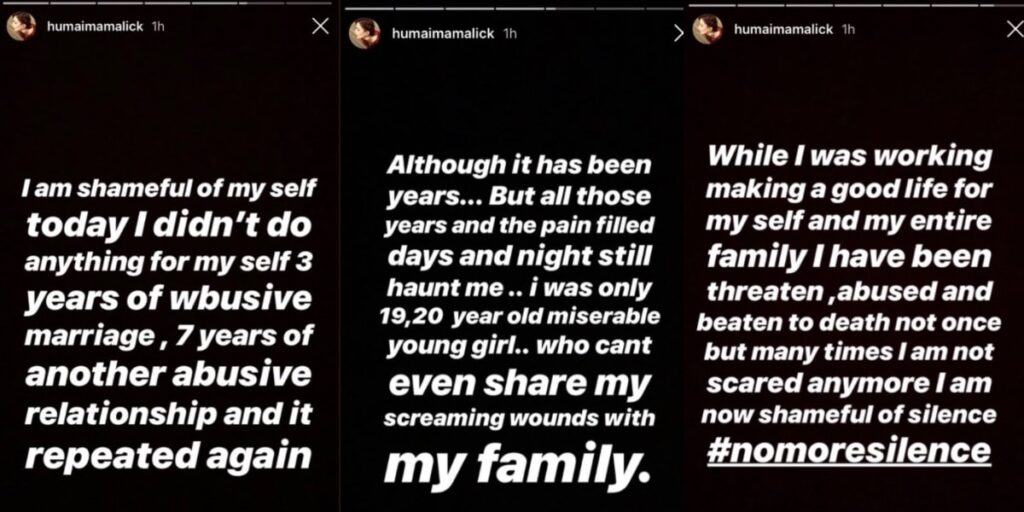 However, in a strange turn of events, Humaima Malick seemingly backtracked on her statements and apologized to Mohsin Abbas Haider. The Maula Jatt star was a guest appearance on Haider's talk show Public Demand and towards the end of the show she thanked the host for having her. Then she went on to apologize to the once disgraced actor and said, "If I have ever in my life have said anything about you, I would like to say, on-screen, that times change, people change, and the way they express themselves also change." The two then embraced and all seemed to be settled between the two.
Twitter was not amused with Malick changing sides and supporting the man she once called out. Some even theorized it had to do with the allegations against her own brother.
Just as #HumaimaMalik realised her brother too is a wife-beater, she's apologised to #MohsinAbbasHaider on screen for previously calling him out on domestic abuse. The kind of people we've put up on a celebrity status to spew absolute garbage on national television is beyond me🤮

— Yusra Habib (@YusraH95) August 8, 2023
Humaima darling you are such a great actor but you are constantly going low for a brother who claims to be the reason for your success. #HumaimaMalik pic.twitter.com/uJzM7PxPDL

— Blunt (@uselessnakara) August 7, 2023
This is funny af😂wasn't she the one who witnessed him beating his pregnant wife? Now her brother is in his shoes so it's ok now? Never believe or take these celebs statements seriously now. They all could be lying to pull eo down😏 #HumaimaMalick #MohsinAbbasHaider #FerozeKhan https://t.co/w2WVGc2HJn

— Mehvish Khan (@MevKhan1) August 7, 2023
Her doing this on screen in front of millions make me very uncomfortable. Why was this needed so publicly? #HumaimaMalick https://t.co/TNZ84VGtMw

— HiyaD (@DanniiHi) August 7, 2023
Needless to say, people are not amused with the sudden change in narrative and in sides.