KARACHI: Amidst the chaos in Lahore over the news of the impending arrest of PTI leader Imran Khan, Pakistani celebrities have come forward in support of the former Prime Minister of Pakistan. The operation in Zaman Park went on for over 20 hours during which tear gas and gunshots were released at PTI supporters. The police and rangers have now reportedly withdrawn from the area. Here's what our celebrities had to say in support of Imran Khan and against his arrest.
Farhan Saeed
Singer Farhan Saeed tweeted how the people would always stand in support of their favorite leader, no matter how hard forces tried to keep them away.
Qaum ke sabse pasnadeeda aur maqbool leader ko apni qaum se door rakhne wale sun lein, aisa kurne se app is qaum ko hamesha ke liye ek hajoom bana deinge !
Woh aur baat hai ager app chahte hi ye hein , lekin Allah ne is qaum ka muqadar kuch aur likha hai iA ! #ImranKhanRally

— Farhan Saeed (@farhan_saeed) March 14, 2023
Mahira Khan
With news of clashes between the police and PTI supporters, Mahira Khan stood in solidarity with Imran Khan against his arrest warrant.
This is absolutely ridiculous! Praying for everyone's safety and for some sanity to prevail! https://t.co/lGmrT2gWoN

— Mahira Khan (@TheMahiraKhan) March 15, 2023
Adnan Siddiqui
The actor was in awe of the number of people who came out in support for their leader.
It's incredible to witness people from all walks of life coming together with a shared sense of purpose, fueled by their passion and dedication. Such an outpouring of support for a leader is unprecedented in the history of our country #PeoplePower #PTIfamily

— Adnan Siddiqui (@adnanactor) March 15, 2023
Maya Ali
The actor took to Instagram to lend her support for Imran Khan.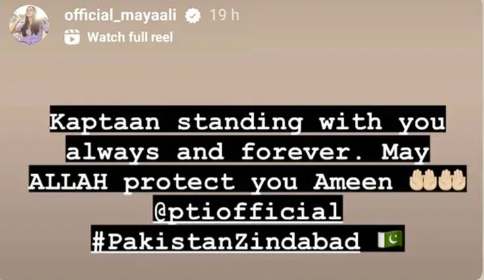 Sanam Saeed
Sanam Saeed rightly pointed out, that the amount of energy spent on political wars, could easily be utilized elsewhere in a more productive manner.
Where is the humanity? Where is the sanity ? These selfish ego wars need to end ! Our Country is disintegrating day by day. All this energy and time needs to be spent else where ! Putting innocent lives at risk is unacceptable! https://t.co/dKCQd7J8sz

— Sanam Saeed (@sanammodysaeed) March 15, 2023
Asim Azhar
Asim Azhar didn't hold back either in pointing out how the arrest warrant against Imran Khan and the subsequent chaos is detrimental for the country as a whole.
Arresting or hurting a leader like Imran Khan will do nothing but create a civil war & damage the country even more. Establishment should be smart enough to avoid this damage & respectfully hold elections. Vote se naa darain.

— Asim Azhar (@AsimAzharr) March 15, 2023