KARACHI: Regardless of how much one might try to deny it or work towards civil relationships, everyone knows that Pakistan and India aren't exactly best friends. We're worse than arch enemies when it comes to cricket, for sure. But outside of the pitch, artists and athletes from both countries seem to share mutual respect for one another. Which is why Bollywood's inability to move on from the events of 1971 and the years to follow makes little sense. Sure, history books from the two sides might narrate different stories but making entire films about the 1970s is a little overdone. Naturally, when the trailer for Sidharth Malhotra's latest film released, Pakistanis and Muslims could only laugh at their representation. But if you thought the trailer for Mission Majnu was ridiculous, wait until you watch the full movie that is now streaming on Netflix.
View this post on Instagram
Now, we didn't exactly watch the movie with high hopes. It was very obvious that Pakistan was going to be portrayed as the 'bad guys' yet again. But watching the movie is actually a more entertaining process for Pakistani and Muslims than one would expect. Here's why.
Janab's topi, taaweez and surma
You need someone to play a Pakistani Muslim? Make the guy wear a white namaz ki topi even when he is not praying, a taaweez around his neck and kajal in his eyes at all times. And of course, throw in an 'adaab' every time he greets a human being.
But Mission Majnu takes the whole deal one notch up with all male Muslim characters using 'janab' to greet one another. In one particular scene, Sidharth Malhotra's character says 'janab' seven times within 60 seconds (yes, we were counting). If that doesn't give his disguise away, we don't know what else will.
Lack of research and poor translations
Forget the script, Mission Majnu gets the basics of Pakistan and Islam wrong from the very beginning of the film. Of course, Muslim characters in the film are introduced through a scene in the Mosque. Except that the wordings of the Azaan do no match the translation on screen at all. Even with the subtitles off, you will be forced to see 'Ishwar' written on screen every time the audio says 'Allah'. Now, everyone regardless of their religion knows that Allah is strictly used by Muslims while Ishwar is who Hindus believe in. Perhaps 'God' might have been a more neutral translation but the Azaan for Muslims most definitely does not acknowledge Ishwar. Was this an oversight during translation or an intentional act by Islamophobes to make an entire movie about Pakistanis and Muslims but not acknowledge their religion?
As if the Arabic errors were not enough, the team's inability or lack of motivation to translate text into Urdu was just downright comic. In one particular scene, a signboard outside a Mosque translates 'Keep your shoes here' to….'keep your shoos here'…in Urdu.
Not to forget the lack of research that went into Pakistan's monuments.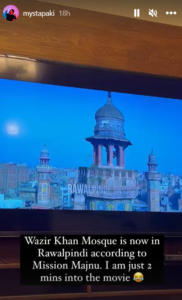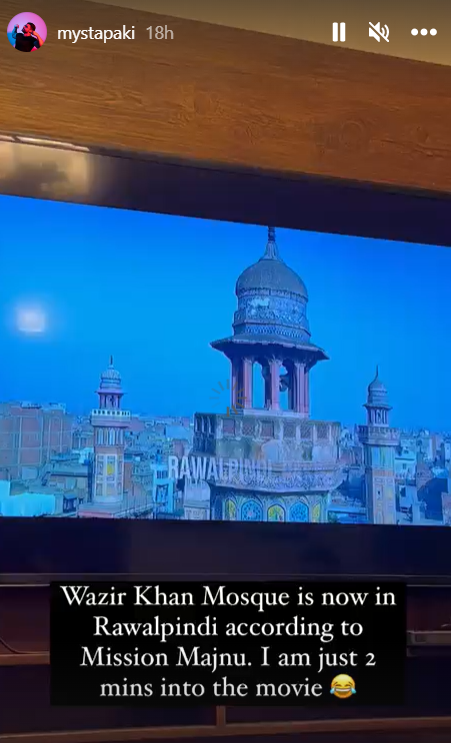 Okay but where can we find a tailor like Tariq?
The first thing most people made fun of when the trailer for Mission Majnu came out was the fact that Sidharth Malhotra, who disguises as a tailor, was convincing someone of his craft. Clearly Bollywood has no idea how much sass Pakistani tailors have and just how hard they are to get hold of. But once you watch the movie, you start wondering: Where can we find a tailor like Tariq who comes over to our house and fixes our shirt on the spot simply because a couple of buttons were missing?
Moreover, why is he SO close to the female lead when taking her measurements, which, by the way, very few Pakistani women would volunteer to get done by a man?
Sidharth Malhotra's saviour complex
Most of us have grown used to seeing Pakistan being portrayed as the evil and less capable nation in Indian movies. But if Mission Majnu lay special emphasis on the fact that not only is Pakistan up to no good, India is hell bent on being the good guys. From Sidharth Malhotra's character being named Tariq when he disguises as a Pakistan to Aman, that literally translates into peace, when playing an Indian intelligence officer shows exactly what the filmmakers wanted viewers to believe through the film.
View this post on Instagram
One particular dialogue highlights the irony of it all. "Ham India hain, ham nafrat pe nahi, pyar pe paltay hain (we are India, we thrive on love, not hatred)" says Aman towards the end of a film that is anti-Pakistan for the most part. India's desperation to be perceived as the peaceful nation brings us to the popular choice for male lead for films like these. Sidharth Malhotra seems to be falling into the archetype of the hero who sacrifices for his nation.
View this post on Instagram
From Shershah to Mission Majnu, the actor has been playing roles that end in similar ways: The nation wins even if the hero dies. What do we do with Malhotra's newly found patriotism? Is it a place he is getting comfortable in? Or is the idea of a handsome officer who sacrifices his life for his loved ones and his country just easy to sell?
View this post on Instagram