KARACHI: Is it even awards season unless there is a little bit of controversy involved? This year, the most sought out awards show in Pakistan, the Lux Style Awards, made a comeback after a two year hiatus. But the welcome back was plagued with debate. It came as a shock to learn that the event was choosing to honor men with quite the sordid past. And even more shocking was the fact that actors like Osman Khalid Butt attended the Lux Style Awards despite their feminist stance. But not everyone disappointed. Fashion designer Maheen Khan and award winning filmmaker Sharmeen Obaid Chinoy took the stance we wished their peers had taken. Here is a summary of all that has happened this awards season.
When the LSA 2022 announced their nominations, it came as a nasty shock to see two particular men being included in the list. Ali Zafar was nominated for two major categories, Singer and Song of the Year, despite the fact he has been accused of sexual harassment. To add insult to injury was the fact that Feroze Khan was nominated for the Best Tv Actor (Viewers' Choice) even after recently being accused of domestic abuse by his ex-wife. Despite being called out for honoring the two men, the team behind the event stood by their stance to include them in the show under the guise of, "Respecting the freedom and diversity of the audience views."
 

 

View this post on Instagram

 
But that was not the only shocker for fans and audiences. There was a wave of disappointment when Osman Khalid Butt took part in the Lux Style Awards. The actor is a known feminist and is quite vocal in his stance against violence against women. So then why did he choose to share the stage with two men who have disrespected women?
So when a woman in this country is brave enough to break her silence and share the pain, suffering and humiliation she endured:

The least you can do is show her some empathy. https://t.co/srF9upDelM

— Osman Khalid Butt (@aClockworkObi) October 24, 2022
In his initial statement, the actor claimed to be oblivious to the nominations in other categories and also claimed to be contractually obligated to attend. However, that was not enough for fans and so Osman Khalid Butt was prompted to give yet another justification for his attendance of the Lux Style Awards.
The Chupke Chupke star explained that when he had been contacted by the LSA's to perform and co-host, the nominations had not been announced and when it became clear who was also a part of the ceremony, he laid down certain conditions. "My only reservation, which I made clear before agreeing, was that I could not attend, let alone perform at the ceremony if Feroze was present there." He went on to further justify his choices by claiming, "I did my job to the best of my abilities, ensured my hosting segment was free of any controversial nominations." He called it "Unfortunate that the moment was eclipsed by controversy."
In response to those who still have questions, and those who passed judgment.
Here's what happened. pic.twitter.com/0rjwkHtHkd

— Osman Khalid Butt (@aClockworkObi) November 27, 2022
However, not everyone shared the same views on the Lux Style Awards as Osman Khalid Butt. Two prominent women in the industry proved how to fearlessly stand by victims who have had to suffer at the hands of men. Fashion designer Maheen Khan took to social media to voice her disappointment with the event, "It is a sad day as I had hopes that Lux Style Awards would be not just a champion of style but a platform that nurtured justice." She went on to say, "In a world where one in three women worldwide experience physical or sexual assault, where rape and domestic abuse remains unaddressed, it is imperative that those who have a voice must use it." And to prover her point, she decided to return her Lux Style Award, "In all conscience I can no longer associate my self with a event that disregards their plight. I will be returning my Lux style awards in solidarity with those who continue to suffer the infringement of their basic human right to live free from violence."
 

 

View this post on Instagram

 
Maheen Khan was not the only woman to stand in solidarity with the victims. In fact, celebrated filmmaker Sharmeen Obaid Chinoy was the first to announce that she would be returning her award. She started off with calling out the double standards of the company Unilever as a whole. She pointed out that, globally, campaigns against domestic violence are part of the United Nations SDG on gender equality. However, "Its offices in Pakistan however do not appear to share the same values," because, "It has chosen to allow the nomination of a man known to violently abused his ex-wife."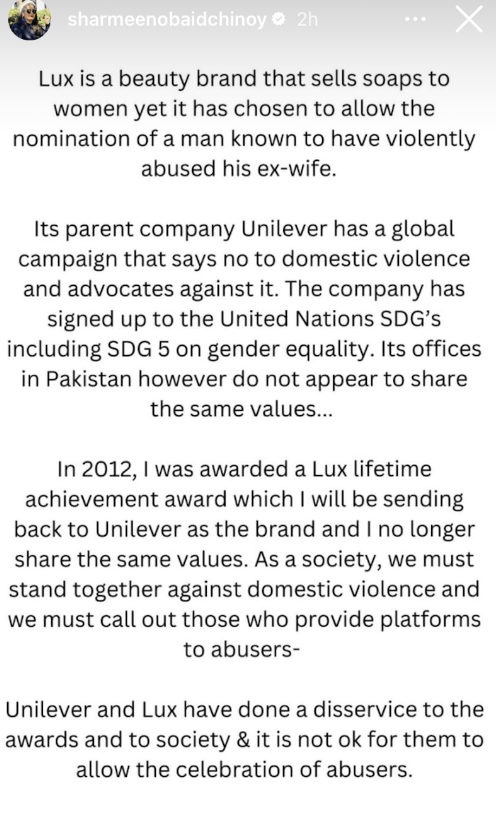 Chinoy announced that she would also be returning her Lux Lifetime Achievement Award because, "Unilever and Lux have done a disservice to the awards and to the society."