KARACHI: Over the years, Feroze Khan has come to be known to take up extremely problematic characters in dramas. Violent, aggressive and very unlikable. However, no one expected that the same characteristics would end up translating into his real persona. That is until Feroze Khan was accused of domestic abuse by his now ex-wife Aliza Sultan. The details are harrowing, to say the least.
It began with a statement put out by Sultan which claimed, "Our marriage of four years was an utter chaos. In addition to continuous physical and psychological violence during this period, I had to endure infidelity, blackmail and degradation at my husband's hands." She also wrote, "The welfare and wellbeing of my children have played a significant role in this decision."
 

 

View this post on Instagram

 
Feroze Khan posted a response to his ex-wife's claims which read, "As a law abiding citizen of Pakistan, I have full confidence in the justice of the court." He also wrote, "I am afraid I am not in the position to further discuss the matter as the case is pending before the court."
 

 

View this post on Instagram

 
In a shocking revelation, pictures began circulating online of the abuse Aliza Sultan actually had to face at the hands of Feroze Khan, as well as a medical reports which backed her claims of physical abuse. Battered and bruises, the photos span across two years and the medical reports confirm that the bruises are a result of assault.
 

 

View this post on Instagram

 
After the pictures began to circulate, celebrities from the industry took to social media to lend their support to Aliza Sultan in her stand against Feroze Khan. Mariyam Nafees sent out a series of tweets directed to the trolls who did not take Sultan's accusations seriously.
• I'm sorry people attacked you when you spoke your truth.
I'm sorry people knowingly stayed quiet.
I'm sorry you had to go through this.
Stay strong 🫂
We're with you.
Allah is with you.

Details: https://t.co/3bhJXcIrZ7#JusticeForAliza pic.twitter.com/KexPmav2Ov

— Mariyam Nafees Amaan (@MariyamNafeees) October 24, 2022
Osman Khalid Butt also sent out his support to Sultan.
Trigger Warning.

I hope and pray you get the justice you deserve, Aliza. https://t.co/XvNRH6ORO5

— Osman Khalid Butt (@aClockworkObi) October 24, 2022
Mansha Pasha called out people who offered blind support to Feroze Khan and wrote, "There is no excuse, no fandom, no friendship and no idolization so important that it allows us to ignore violence and/or make excuses."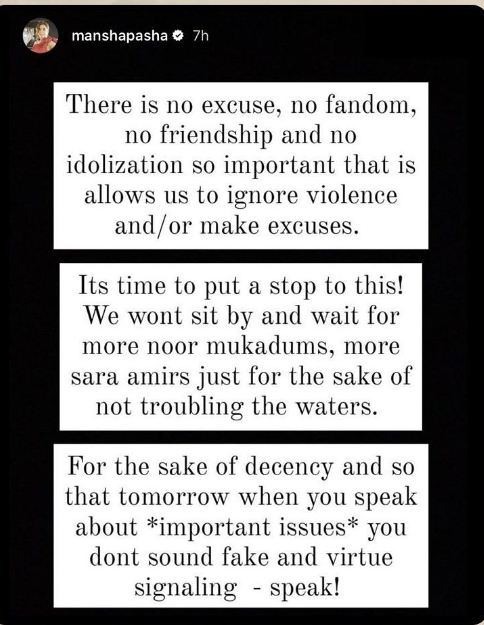 Model Mushk Kaleem also expressed her disgust at the situation and wrote, "These celebrities with God complexes because of their families and their influence, need to be cancelled, they need to be held accountable. They need to be named and shamed."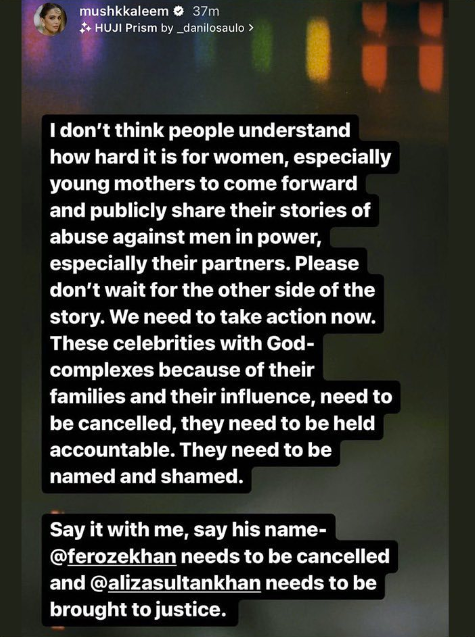 Feroze Khan is yet to respond to the pictures.