KARACHI: In a country like Pakistan, speaking up against domestic abuse is rare. Women are often silenced and bystanders choose to not get involved in domestic spats. But then there's Rabia Anum, a shining example of how one should deal with a situation when they come face to face with someone who has been accused of domestic abuse. In case you missed it, this is why Rabia Anum walked out of the Nida Yasir show in solidarity against Mohsin Abbas Haider.
 

 

View this post on Instagram

 
For a quick recap, Mohsin Abbas Haider was accused of gross domestic abuse by his ex-wife. The allegations were graphic and the disgraced actor made things messier when he tried to play the victim in the situation. While his career took a temporary setback, the actor is back. And that is how Mohsin Haider Abbas and Rabia Anum ended up on the same morning show. But things did not go as per plan when Anum decided she wasn't going to share the stage with a man with a sordid past and she decided to walk out, "When I came to the show today, I knew that Fiza was invited because Salman bhai had told me. But I did not know about the other guests. There is a thing that I have taken a stand for and that is domestic abuse. And I have taken a huge stand for it. So I feel like if a small part played by me can create even a drop of a difference and save my daughter or friend tomorrow, I have to do it. For this reason, I don't want to be a part of this show."
While Rabia Anum gained a lot of praise for taking a stand against Mohsin Haider Abbas, some naysayers questioned her decision. Actor Mishi Khan called it a "cringe move" while Mathira criticized Anum for "humiliating" Abbas. Some even questioned why Anum waited until they were filming to walk out and why she did not simply refuse to show up.
Cringe move by #RabiaAnum. It's great to stand up for something you believe in but this is not the way to embarrass & humiliate people in a live show . You had ample time to walk out before going on Live rather this awful move #leaked pic.twitter.com/jcRhH39pEU

— Mishi khan (@mishilicious) November 9, 2022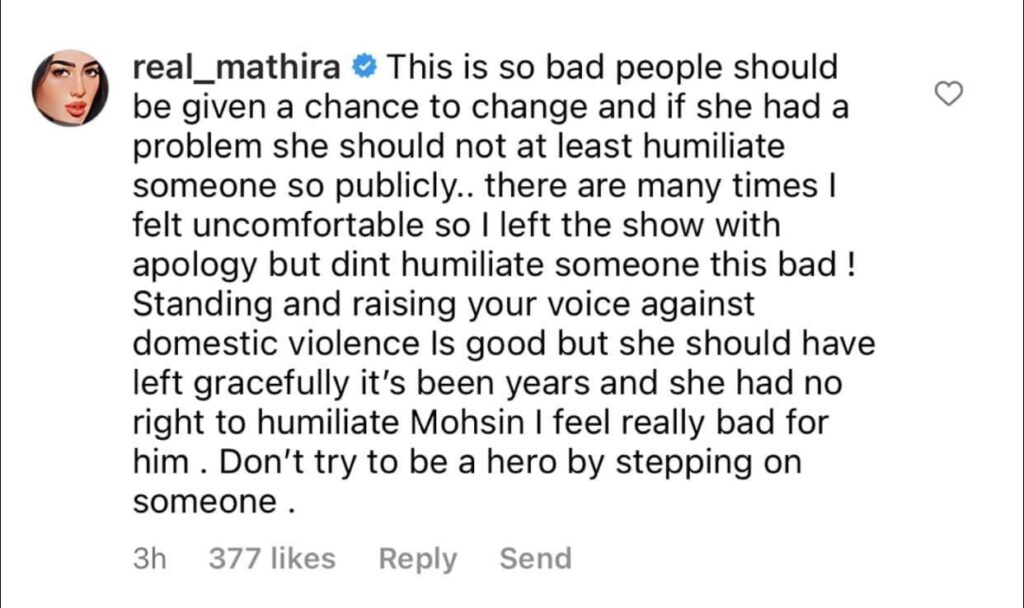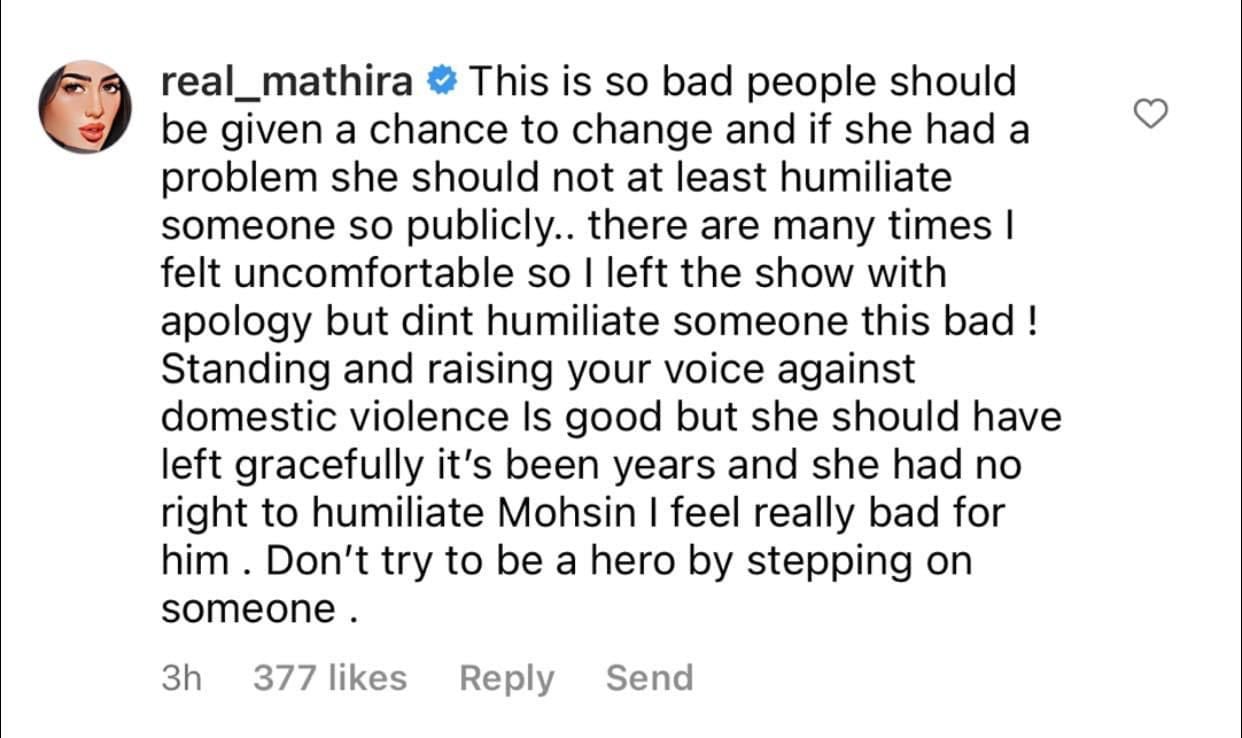 Not that Rabia Anum had to but she clarified her decision to walk off rather than sit and chat with Mohsin Haider Abbas. While on call during an Aaj TV transmission the actor and salon owner explained that she is a regular on the Nida Yasir show and this was the first time she wasn't made aware of the guest list. Mohsin Haider Abbas was a last minute shoo in when the original guest cancelled. She only found out five minutes before her segment.
The minute she found out, Anum informed the crew that she wouldn't be a part of the show. But perhaps in the hustle bustle of the show, her stance against Abbas did not register and they assured her that they wouldn't be talking about domestic abuse. Rabia Anum maintains that she kept insisting she could not ignore the domestic abuse allegation against Mohsin Haider Abbas but by then it was too late.
View this post on Instagram
Anum had made up her mind then and there that she wanted no part in the show irrespective of how anyone might feel, "I did not care about what Mohsin was going to say or do or feel. Because I know what his wife has felt. I have seen her bruises. She has come to my salon with her bruises so I have seen her in that situation. He said salam to me on the set and I did not reply…I wanted to run away from there."
Rabia Anum also revealed that while Nida Yasir is upset at her for walking out of the show, she hopes that other women will be able to take a similar stand as she did.