KARACHI: The past two Sundays have been occupied by two of the most intense games of cricket. Long time rivals, Pakistan and India battled it out on the cricket pitch for a chance to win the Asia Cup 2022 and both teams gave it their all. As Pakistan emerged as the winner of the nail biting match, everyone celebrated the win including our celebrities! Here are some of their wholesome reactions to Pakistan beating India at the super four match of the Asia Cup 2022.
Shahid Afridi
No better praise than that from former captain of the cricket team, Boom Boom Afridi!
Outstanding win!! Great contributions by Rizwan, Nawaz and finishing by Asif. India-Pakistan cricket once again at it's absolute best. The greatest sporting event in the world.🇵🇰 https://t.co/nrQ1JoESKw

— Shahid Afridi (@SAfridiOfficial) September 4, 2022
Kubra Khan
Kubra Khan could not contain her excitement during the Pakistan and India Asia Cup super four match. She was a range of emotions and called the team, "absolute gems," specially Muhammad Rizwan!
Meri bakayida kaampe tang rahi thi but @iMRizwanPak WHAT A BLOODY CHAMP YOU ARE. Pakistan team… take a bow. You absolute Gems #PAKISTANZINDABAAD !!!! *Goes back to dancing around* 💃🏻🕺🏻🥹😭❤️❤️

— Kubra Khan Official (@KubraMKhan) September 4, 2022
She also shared a meme of herself showing how she was reacting to the match.
Hahaha literally me! https://t.co/A8wIZhWxxv

— Kubra Khan Official (@KubraMKhan) September 4, 2022
Gohar Rasheed
The Maula Jatt star was also in awe of our opening batsman. However, he also did not hold back on gloating about the win against our arch nemesis!
What a nail biting match 🎉 Well played #india 👏🏼 par Kiya karay "Baap, baap Hota hai" 😉 #PAKvIND #congratulationteamPakistan 🇵🇰
P.S. A true saviour #MuhammadRizwan 🌟

— Mirza Gohar (@GoharRsd) September 4, 2022
Asim Azhar
The singer has never held back when it comes to showing his excitement whenever Pakistan takes the field and it has been no different during the Asia Cup. He shared a wholesome clip of celebrations as the team hit the winning runs with a rendition of 'Dil Dil Pakistan'.
 

 

View this post on Instagram

 
Azhar also tweeted his appreciation for the team alongside his own analysis of the match, he also reminded cricket fans to be humble in their victory.
This is the new era of Pakistan Cricket. Highest successful run chase against India in T20i's. Fearless & calculated!!! 🔥🇵🇰

Bas iss liye kehte hain na 'Be humble in victory & gracious in defeat' 🙏🏽😌 #indvpak #asiacup2022

— Asim Azhar (@AsimAzharr) September 4, 2022
Also, please remember my fellow Pakistani's, we must stay humble in victory 🙏🏽🇵🇰 humara imaan yehi kehta hai. Do not be disrespectful but enjoy the victory!!! 🥳🥳🥳 #indvpak

— Asim Azhar (@AsimAzharr) September 4, 2022
Saba Qamar
While celebrating the win, the Kamli star also reminded viewers to not forget the flood victims and encouraged everyone to keep donating!
Congratulations team Green! 💚🇵🇰

What a wonderful match! ✌️👌🏻 @iMRizwanPak @mnawaz94 👏

Let's all not forget our flood victim's and help them as much as we can, keeping them in your prayers also matters a lot. #INDvsPAK2022 #INDvsPAK #pakvsindia #PAKvIND

— Saba Qamar (@s_qamarzaman) September 4, 2022
Bilal Ashraf
While most of us needed time to recover from the intense game, Bilal Ashraf was of the opinion we need more Pakistan and India matches!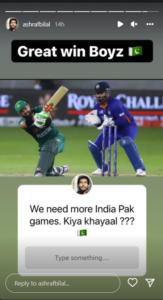 Arslan Naseer
Arsalan Naseer and his complete 180 on whether we were going to win or lose was all basically every Pakistani watching the match!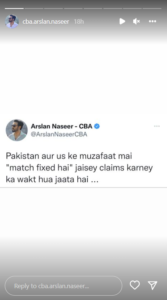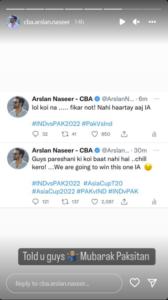 Mansha Pasha
Mansha Pasha, just like all of us, was feeling the heat of the Pakistan vs India match.
Needless to say, we will be reliving this match for quite some time!