KARACHI: When the genocide in Palestine was at its peak back in May 2021, one thing we learnt was just how powerful social media is. With the help of key players like the El Kurd siblings and Subhi Taha, we watched events unfold in real time. We also learnt just how biased news channels actually are. Major western news outlets such as BBC chose to pick and choose what to report, ignoring the Israeli brutality like the storming of the Al Aqsa mosque. Instead, they chose to focus on Hammas' retaliation to the brutality. It was made to seem as though Israel was being attacked, unprovoked. Now, in 2022, as we watch in horror how Russia has stormed into Ukraine, we have come to learn just how racist major news outlets can be.
While reporting the situation in Ukraine, CBS correspondent Charlie D'Agata all but said that a war in a European country is terrible as opposed to a war in, let's say, Iraq or Afghanistan. Mainly because Middle Eastern countries have "seen conflict raging for decades," while Ukraine, a European country is, "relatively civilized, relatively European." As per D'Agata, because Ukraine is a country of white men, "You wouldn't expect that, or hope that it [war] would happen."
"Civilized"
pic.twitter.com/AiU7uVmjMr

— Imraan Siddiqi (@imraansiddiqi) February 26, 2022
As it would turn out, CBS and Charlie D'Agata aren't the only racist reporters. Danial Hannan from The Telegraph wrote, "They seem so like us. That's what makes it so shocking. War is no longer something visited upon impoverished and remote populations."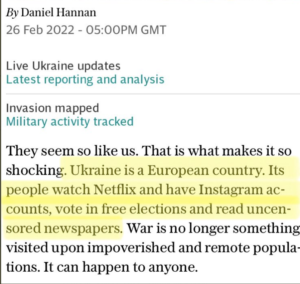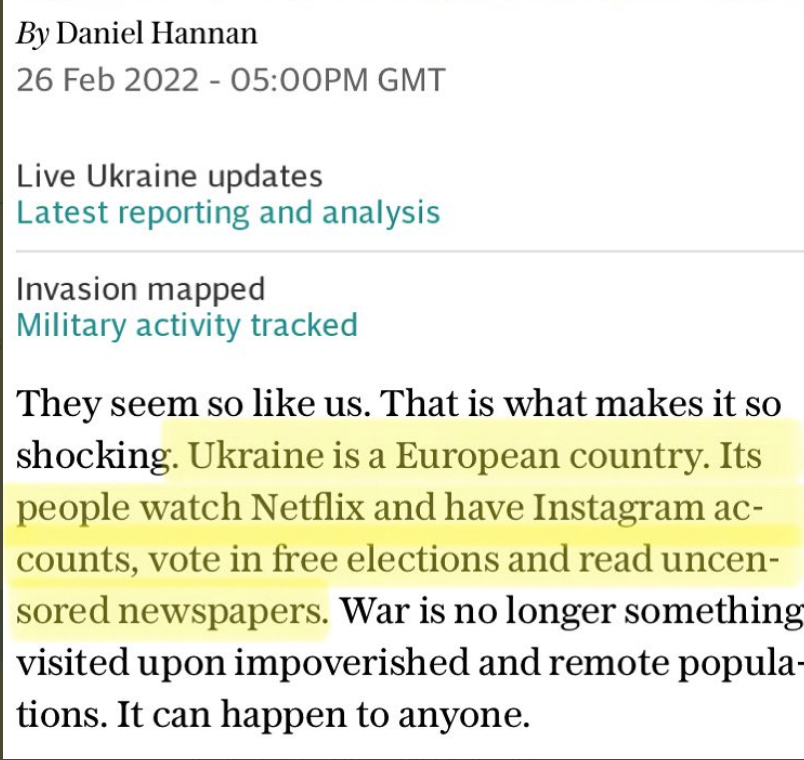 David Sakvarelidze, Ukraine's former deputy general prosecutor, spoke to BBC, suggesting that it was harder for him to watch white people fleeing conflict between Ukraine and Russia, "It's very emotional for me because I see European people with blue eyes and blonde hair being killed."
"It's very emotional for me because I see European people with blue eyes and blonde hair being killed"pic.twitter.com/mKVtEY4IBC

— Petty Is Praxis (@rtyson82) February 26, 2022
Al Jazeera English wasn't too far behind in explaining why the conflict is so difficult to watch, "What's compelling is, just looking at them, the way they dress, these are prosperous, middle-class people. These are not obviously refugees trying to get away from areas in the Middle East that are still in a big state of war. These are not people trying to get away from areas in North Africa. They look like any European families that you would live next door to."
Add Al Jazeera to the list… The Supremacy around the media coverage of this isn't even subtle. pic.twitter.com/ZuZtJ70K69

— TᕼE GᕼOᔕT Oᖴ ᗪᗩᑎ (@DocRobotnivik) February 27, 2022
The racism within these news channels got to a point where The Arab and Middle Eastern Journalist Association (AMEJA) had to release a statement pointing out why what was being said was so wrong. They demanded, "All news organizations to be mindful and implicit and explicit bias in their coverage of the war in Ukraine." They also had to remind these news outlets that they shouldn't "imply justification of one conflict over another."
NEW: AMEJA's full statement on the comments about "civilized" countries, people that don't "look like refugees" and the like in recent coverage of the war in Ukraine. pic.twitter.com/e9DpmyJT4S

— AMEJA (@AMEJA) February 27, 2022
Let's break down what this all means. Journalists from countries that have been aggressors in wars that have raged on in the Middle East are saying that war only happens in poor countries. It seems as though the white man has forgotten that it was only after their invasions that these countries suffered from impoverishment. These countries were progressive, they are the reason for advancements in the fields of Science, Mathematics, Astrology and Medicine. These countries are "uncivilized" out of no fault of their own. And they continue to be berated till this day, simply for not being able to recover from the atrocities that the white man committed.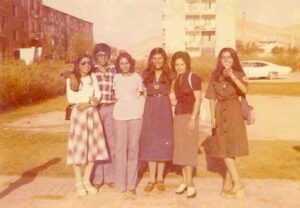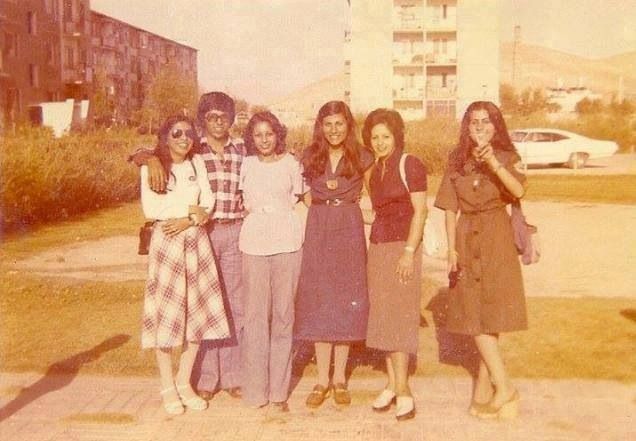 View this post on Instagram

 
But this isn't the first time the white man has questioned the sufferings of "others." Just last year, when the refugee crisis was a point of focus, they questioned why the refugees had smartphones. They couldn't fathom the fact that refugees need smartphones to be able to communicate with their loved ones and it is the one thing that could keep them connected. But the usage of smartphones for a white person and that for a non white Middle Eastern are widely different, or so it seems.
An @AJEnglish presenter made unfair comparisons between Ukrainians fleeing the war and refugees from the MENA region. The presenter's comments were insensitive and irresponsible. We apologize to our audiences worldwide and the breach of professionalism is being dealt with.

— Al Jazeera PR (@AlJazeera) February 27, 2022
While Al Jazeera issued an apology for their insensitivity, the fact remains': the so called "progressive" news outlets are inherently biased and inherently racist. What's more jarring is the possibility that they are echoing the same thoughts of the countries they belong to.