KARACHI: Instagram is a great place for celebrities to be able to connect with their fans and no one knows that better than Hania Aamir. The actor recently took to the social media app to host a question and answer session with her fans which led to some interesting revelations. Here's all that we learnt from Hania Aamir and her Instagram session:
1. She wasn't a huge fan of Squid Game
A fan took the opportunity to find out what Hania Aamir thought about the top trending Netflix show Squid Game. The question simply read, "red light green light" referring to one of the games featured on the show. Hania Aamir responded by posting what she dubbed as an "unpopular opinion" and said that she, "didn't enjoy it that much."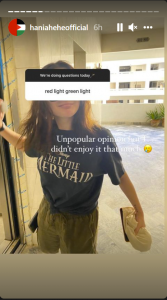 2. She has two projects underway
Hania Aamir dropped some great news for her fans during her question and answer session and revealed that she has two projects underway! A fan asked, "Is there next drama of u?" Aamir's last drama was Dil Ruba which aired back in 2020 so naturally fans wondered when she would be back on screen. She responded to the question letting fans know that she has two dramas that are currently being shot and wrote, "Ehem, two, ehem…shooting right now."
Hania Aamir to play an unconventional role in Mere Humsafar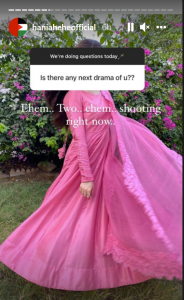 3. She's single and happy
Hania Aamir had a very public falling out with her ex-boyfriend that had left the Pakistani media industry divided on which side to take but it seems as though she's moved past that and is enjoying being single. The question about her love life read, "Are you single. If you are are you looking for someone?" The Ishqiya actor responded, "Haha single yes. And not looking for anything. Just spending some quality time with people that are closest to me." She aslo explained that currently her job was her priority, "Focusing on my craft and working really really hard."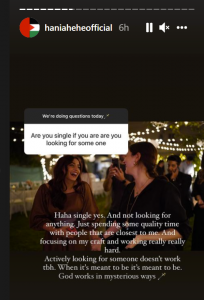 Hania Aamir also shared some insight on dating during her Instagram Q&A and wrote, "Actively looking for someone doesn't work out tbh. When it's meant to be it's meant to be. God works in mysterious ways."
4. She has been keeping a low profile on social media
Aamir had a rough time a few months back with controversy and a public spat taking place all at once. Following all of this, the actor who would actively post on social media, began to hold back, something which her fans picked up on. A fan asked her, "Why u are not active as u used to be on insta?"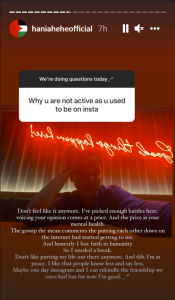 Hania Aamir didn't shy away from answering the question about her low profile on Instagram and answered, "Don't feel like it anymore. I've picked enough battles here, voicing your opinion comes at a price. And the price is your mental health. The gossip, the mean comments, the putting each other down had started getting to me. And honestly I lost faith in humanity. So I needed a break."
Yasir Hussain urges industry fellows to stand united against cyber bullying
She also said she no longer enjoys keeping a socially active profile anymore and it seems to be working for her since she says, "I'm at peace. I like that people know less and say less." However, she didn't completely close the door on the chapter and gave fans a bit of hope by saying, "Maybe one day Instagram and I can rekindle the friendship we once had."
5. She revealed her favorite couple
While on the question of love, a fan asked Aamir, "Favorite couple from Pakistan industry?" As it would turn out, Sarah Khan and her husband are Aamir's OTP.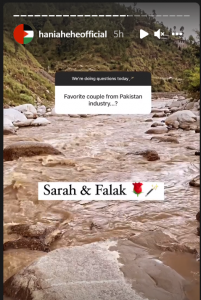 And there you have it. Hania Aamir gave her fans lessons on love, keeping their mental health as a priority and  gave tidbits about her upcoming projects – all in the span of an Instagram Q&A session.