KARACHI: Over the past weekend, the media industry went into a frenzy. From feuding exes and live sessions gone wrong, to shocking revelations about co-stars and, older and younger generation of celebrities battling it out, it was nothing short of chaos. However, while most people chose to take sides, Yasir Hussain has so far the best advice for fellow artists. Though always at the heart of a controversy, generating mixed reactions on his stances, Yasir Hussain rightly points out what is needed to be done – via his Instagram story.
Before we take you through what went down over the weekend (in case you missed something), here is what Yasir Hussain shared.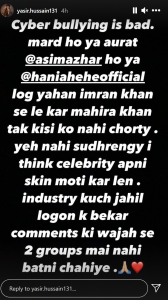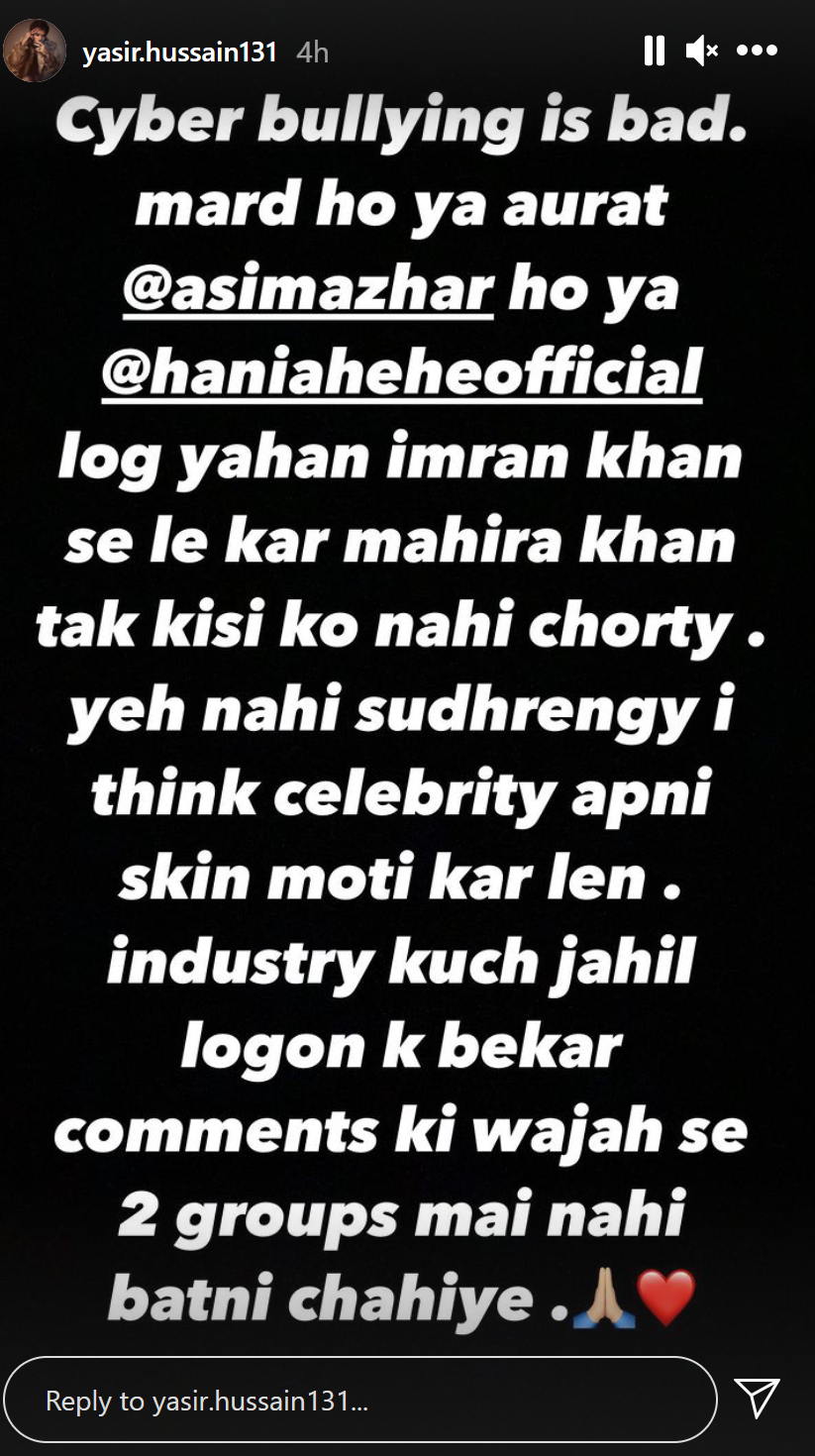 He rightly emphasized that the industry should not be divided over issues caused by bullies on the internet. More and more celebrities taking sides is only making the situation worse as the entire situation blew up the way it did just because of the online trolls.
To start off, Hania Aamir became an unfortunate victim of online harassment of the worst sort. In a live session that went terribly wrong, a part of the session was edited to include a picture of a man who seemed to be ejaculating on her picture. If that wasn't bad enough, the video was uploaded and spread like wildfire. This came after the online flack she was already facing for her close friendship with Wajahat Rauf's son Aashir Wajahat.
View this post on Instagram
In the midst of all of this, Asim Azhar, Aamir's ex, sent out some cryptic tweets which seemed to hint that he was glad to get out of the relationship when he did.
Alhamdulillah 🙏🏽😂 pic.twitter.com/7fvfBjJ2dr

— Asim Azhar (@AsimAzharr) June 5, 2021
This resulted in a bitter back and forth between the two, fueled by trolls who kept adding fire to the flames. Aamr hit back with a statement saying "You can either be a celebrity, or a bitter ex with no dignity," while Azhar finally broke his silence over the breakup and what followed after that.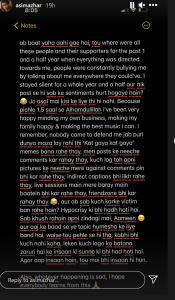 Moreover, in a recent episode of Time Out with Ahsan Khan, Yasir Nawaz revealed that he didn't like working with Alizeh Shah – so much so that he wanted to cut down the number of episodes just to avoid working with her. Alizeh Shah too has been subjected to online bullying lately. With the ongoing bullying, Nawaz's comments only add to the insensitivity around. Speaking of taking sides, Feroze Khan came to Alizeh's rescue, asserting that he had a good experience working with her and he would like to do it again.
View this post on Instagram
Last but not least, we also witnessed the Bushra Ansari and Jannat Mirza saga. This one is a messy one because the two women began bullying each other in the worst of ways. Mirza, a TikTok star, faced criticism for a video where she was seen wearing a cross as a fashion statement that people found offensive. Mirza removed the video later. This was followed by Bushra Ansari making remarks about Mirza and her religious beliefs, which we all know is something that should not be commented on.


To which Mirza responded: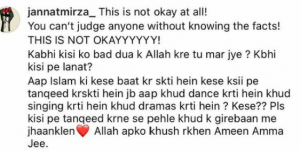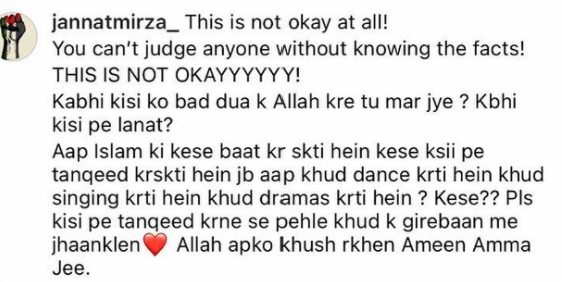 And it kept going on…
If this weekend should teach our celebrities anything it is that they need to mind their own business, keep their personal lives off social media, and stick together in times where they feel threatened by trolls and bullies and not each other. Whatever bad blood they might have between themselves, whatever differences there are at work and whatever criticism they have of each other, they shouldn't be airing it out for trolls to get a whiff off. The media industry is always under scrutiny and so celebrities need to be united rather than falling victim to the bullies.