KARACHI: On the occasion of the country's 74th Independence Day, the Government of Pakistan announced recipients of civil awards such as Presidential Pride of Performance, Nishan-e-Imtiaz, Tamgha-e-Imtiaz, Hilal-e-Imtiaz and Sitara-e-Pakistan. Amongst this year's recipients of honors are the late Durdana Butt, late Muhammad Ali Sadpara, Sajid Hasan, Momina Duraid, Rohail Hyatt and Darren Sammy. Filmmaker Nabeel Qureshi, however, was not entirely happy with the State's role in appreciating artists as he took to Instagram to notice that many of the nominees are no longer alive.
View this post on Instagram

Commenting under Cutacut's post on Instagram, Nabeel Qureshi wrote, "It's really sad that half of them are not even alive. Why state never acknowledges their efforts in their lifetime. Afsos."
The director also took to his Instagram stories to express his disappointment. Sharing a post that talked about Durdana Butt receiving the Presidential Pride of Performance, Qureshi wished, "State acknowledges artists and other deserving people during their lifetime, artists get their state awards on merit when they are dead! Very sad and unfortunate. Remember she was 83 years old when she died."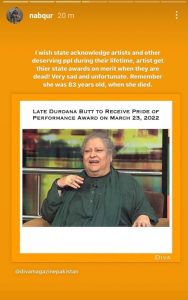 He further recognized filmstar Neelo, recipient of Sitarah-e-Imtiaz and poet Noon Meem Rashid, recipient of Nishan-e-Imtiaz, as artists who were going to be awarded posthumously.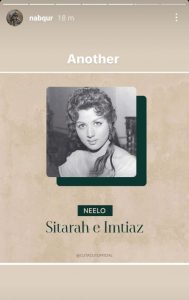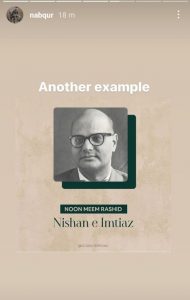 This is not the first time that an artist has highlighted room for improvement in the civil awards. Earlier this year, Sakina Samo suggested ways in which the annual honors could be improved as she received her Pride of Performance after being in the industry for 40 years. Samo also wished the State rewards its people with financial rewards. Artists from the entertainment industry also came together to start the #GiveRoyaltiesToArtists movement after Nayla Jaffri requested the State to financially assist her for her cancer treatment. Jaffri passed away soon after but the role of the State in appreciating and rewarding artists in their lifetime remains questionable.