KARACHI: World Press Freedom Day is organized to highlight the importance of the role of the media and the press in all democratic societies. Freedom of expression is something signature to most democracies, however, that is a milestone Pakistan has yet to achieve when it comes to the freedom of its press. SOC Films organized a webinar to address what problems there are that face Pakistani Press.
Journalist Munizae Jahangir served as the moderator for the panel, while several featured speakers from diverse backgrounds were a part of the discussion too. This included the Canadian High Commissioner to Pakistan Wendy Gilmour, who also gave the opening remarks; lawyer, activist, and founder of Digital Rights Foundation Nighat Dad; journalist and Director of the Center for Excellence in Journalism at the Institute of Business Administration Kamal Siddiqui; activist, columnist; Director at Bolo Bhi, advocacy, policy, and research organization focused on digital rights and internet policy Usama Khilji and two-time Academy Award-winning filmmaker, journalist, and a Knight International Journalist Award recipient Sharmeen Obaid-Chinoy.
In her opening remarks, Wendy Gilmour said, "We've seen some very disturbing events here in our own location, in Pakistan over the course of the last, not weeks, months but years, where there is a real sense that media freedom could be curtailed by actions of officials, by extremist views by others, by a whole variety of pressures that encourage or force journalists to conform to a particular view or to exercise, in some cases outright censorship, in some other cases, self-censorship. And so reinforcing the idea that media freedom is important. It's in all of our benefits."
View this post on Instagram
She also said, that while print media might have its own set of issues, a lot of responsible outlets have researched information put out. However as media moves towards more digital platforms, it becomes harder to validate. "From my perspective, the questions of media freedoms in the established traditional print and electronic media press have one sole set of issues around them. One of the critical components behind our society's collective use of the media is the idea that the information provided by professional and responsible media is researched, unbiased, or at least where there is bias, it is presented as such, as editorial opinion or others. In digital platforms, we do not have that same sense of being able to validate the information that is being provided. Therefore, separating the really credible voices, informed and accurate information from material that can be provided, which is outright disinformation and others means that there is even more scope for those that want to curtail the media to point to problems."
A film was then shown which highlighted how the Ahmedis have been represented through Pakistani media. The film looks at the role of media in the weaponization of religion following the Daulatana Government in 1953, and how Pakistan's "assumed" national identity was used as a tool to alienate certain groups. During this time the government used the media, by paying newspapers to publish content against the Ahmediyya community. Zamindar newspaper, owned by Maulana Zafar Ali Khan was one of these newspapers which led to chaos against the community. Urdu media played a vital role in shaping the narrative to where it has been led today. Contributions made by the heroes of this community are also being erased from the pages of Pakistan's history. The same has been done against Hindus and Christians. With suggestive content and leading questions against the two communities, media effectively molds the impressionable minds of the people consuming it.
The films look at how privatization of the media has turned it into a capitalist money-making scheme, instead of staying focused on its primary purpose: information. Another film shown during the webinar highlights how the freedom of the press has been compromised to push a certain agenda. This time, against women. According to the International Federation of Journalists, almost one in two female journalists in Pakistan have experienced gender-based violence in the course of their work.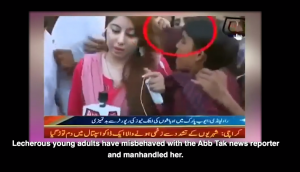 The harassment these women face is not limited to their places of work either, some are harassed on online platforms as well. All of this because they chose to step out of their homes and work in the field.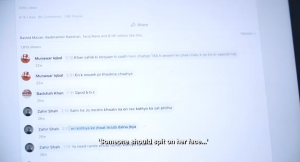 Character assassination to downplay her credibility, creating hurdles in her path are just some ways to silence women. Some women such as Shaheena Shaheen Baloch and Arooj Iqbal were killed, while Zeenat Shahzadi has been missing since 2017.
View this post on Instagram
During the panel discussion, Sharmeen Obaid-Chinoy said, "SOC Films decided that we wanted to document the experience of what it means to be a minority in Pakistan, and what it means to report on minorities in Pakistan. Unfortunately, the condition of the county has become such that some topics are completely taboo, and people are very afraid of talking about them. But I think it is very important to not only talk about them but as a society to educate ourselves."
The Oscar winner and her team have created their own platform i.e., whiteintheflag.com and in the last three years, they have gone across the country, documenting every community that is considered a minority in Pakistan. From their women to their children, their men, and their legal systems. The team has also looked into whether or not their legal systems empower them, or disenfranchises them. "The experience of documenting Ahmadis, in particular, was terrifying for many of us. Because of the way that you can even report, the words that you associate with the Ahmedi community, many of them are problematic for journalists to use," said Sharmeen Obaid-Chinoy.
View this post on Instagram
PMDA Ordinance of 2021 was also discussed which is now being called "A Media Martial Law" by the Pakistani Union of Journalists. Usama Khilji explained how the Ordinance was not introduced as an Act from the parliament but an ordinance that cannot be debated. "No stakeholder confrontations have been held but what we are seeing in a draconian draft." He explained what the ordinance is trying to do is put the government as the regulatory body for all media i.e., print, television, and digital. Nighat Dad pointed at how different regulatory frameworks have been initiated and redefined under previous and current governments. Khilji also stated, "It is trying to set up tribunals that are headed by government officials that can impose fines and even jail terms if any of the quotes that they're coming up with are broken. And what they are also trying to do is issue licenses and No Objection Certificates to all media organizations and digital media startups that have to be renewed annually."
Nighat Dad stated, "I think PMDA is another attempt to centralize the regulation when it comes to mainstream media and then digital media."
The debate continues on what should freedom really look like for the press and the people associated. With the affiliated bodies arguing for more freedom, and the regulatory bodies suggesting that the freedom 'given' to the press is more than enough. Through their webinar, SOC Films has urged people to look at journalism and freedom of speech and whether the 'allowances' granted justify our proclamation of being a democracy.