KARACHI: Only a few hours ago, multiple artists from the entertainment industry came together to start a campaign on social media. The hashtag #GiveRoyaltiesToArtists was posted all over Instagram and Twitter as actors, musicians, models and others stood together to demand royalties for artists. Following the feedback which some artists got on their posts, along with some hate comments, Ayesha Omar and Faysal Quraishi took to their respective Instagram accounts to explain what royalties are and what is it that artists are asking for.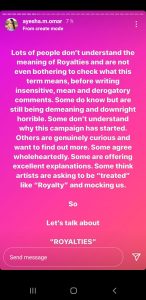 "Lots of people don't understand the meaning of Royalties and are not even bothering to check what this term means, before writing insensitive, mean and derogatory comments," Ayesha Omar wrote in her Instagram story. "Some do know but are still being demeaning and downright horrible. Some don't understand why this campaign has started. Others are genuinely curious and want to find out more. Some agree wholeheartedly. Some are offering excellent explanations. Some think artists are asking to be 'treated' like 'Royalty' and mocking us. So, let's talk about royalties."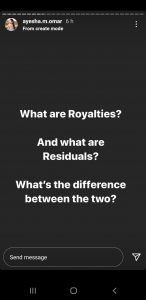 Omar went on to address the difference between royalties and residuals, as some tend to confuse the two terms. Sharing definitions of each term, Omar shared a screenshot highlighting the difference between the two. "Royalties are payments made to you by a one to one contract between you and the licensor or publisher" while "Residuals are payments made to you because of a UNION collective bargaining contract Union representing Actors, Writer or Directors and Producers and Studios covering reuse (reruns) and new use" read the slide. According to the same, "residuals tend to scale down over time while royalties always remain the same percentage."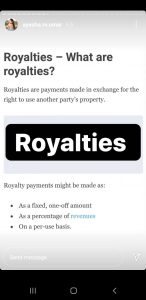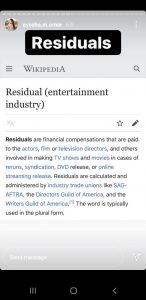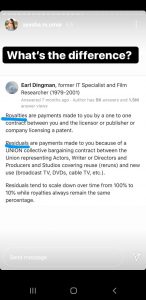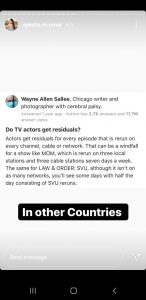 While Omar also shared some comments which were made under her post regarding royalties for artists, Faysal Quraishi chose to address the matter through a video. Speaking directly to his followers, Quraishi explained how the whole movement began as a result of Nayla Jaffri's plea for royalties. Referring to artists around the world, Quraishi mentioned how writers get royalties for each book sold and the same applies to actors and painters for their services. However, more than actors, it is the producer who usually suffers more. After paying off the team and investing in a project, producers in Pakistan tend to face delays in their payments. Quraishi mentioned how independent producers like him even tend to give up on the profession due to these problems.
View this post on Instagram
Coming to 'royalties' and what they mean, the actor provided quite a simple definition. Quraishi explained how royalties are much like pension which is received by an individual after they have retired and have reached the end of their career. The same way, artists are also entitled to receive a certain amount even after they have stopped providing their serviced.
Quraishi also explained how the campaign is not just for actors, but everyone involved in creating projects for the entertainment industry. Elaborating on the number of people employed for a single production, Quraishi emphasised on how royalties are meant to benefit everyone, and not just actors and are essential in keeping the cycle going.