KARACHI: PSL 6 is ready to begin on February 20th. Prior to the tournament, PSL released its official anthem 'Groove Mera' featuring Naseebo Lal, Aima Baig and Young Stunners. The first women-led anthem met with criticism soon after, with many unimpressed by the composition and lyrics. A few others criticized the choice of singers and their accents in the song. Shoaib Akhtar was one cricketer to spark controversy over the song with his harsh opinion. While the anthem continued to receive mixed reviews, videos of Naseebo Lal sharing her emotions regarding the song and the honour which she had been given made rounds on social media. Recently, Xulfi shared a BTS video where Naseebo Lal can be seen shooting for the song.
View this post on Instagram
"This was a special moment. Witnessing Naseebo Lal belt her performance out while I gave her cues for her vocal parts. As you can see, I was enjoying this as much as her! Will never forget this moment and this transfer of energies," he wrote in the caption.
Sharing the same video on her Instagram story, singer Meesha Shafi shared her thoughts regarding the song.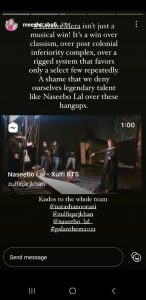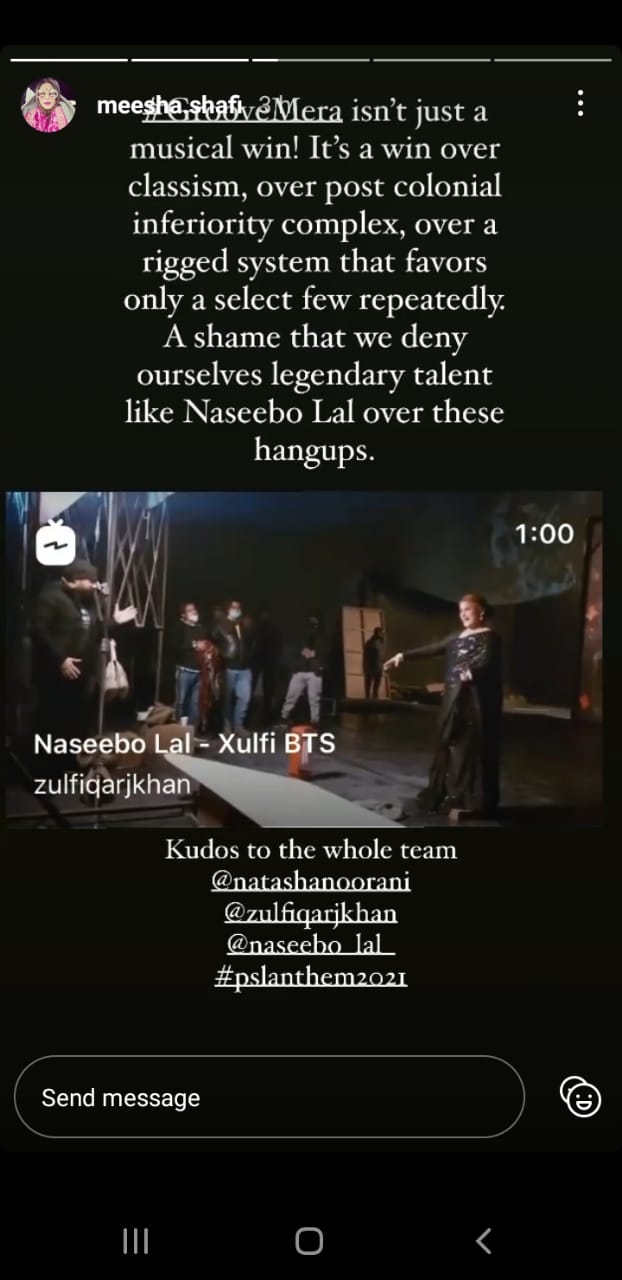 "'Groove Mera' isn't just a musical win! It's a win over classism, over post-colonial inferiority complex, over a rigged system that favours only a select few repeatedly," wrote Shafi. "A shame that we deny ourselves legendary talent like Naseebo Lal over these hangups."
Shafi was probably referring to the criticism and mockery that had been thrown Naseebo Lal's way over her pronunciation of the word 'crowd' in the anthem. Earlier, Shahzad Ghias had also shed light on the hypocrisy of Pakistanis as he drew a comparison over the anthem and the recent Cannoli incident.
Other celebrities have also been appreciating the song and encouraging audiences to be respectful towards our artists.