KARACHI: PSL released its anthem 'Groove Mera', on the 6th of February. The song has since been in the eye of criticism, with a number of people suggesting that it was below par. However, what has drawn more ire than the song itself, is the criticism offered by Shoaib Akhtar to the PSL 2021 anthem.
The song itself encompasses the essence of 90s Punjabi music, blended with hip-hop and rap of today's day and age. The song has been appreciated for its distinct approach, using terminologies like "Groove" and "Crowd" that sit well with cricket fans that are primarily youngsters. Animation and vivid colours keep one hooked to the video, while the trumpets bring back the feels of the stadium that housed fans watching the performance live, physically present.
Shoaib Akhtar, however, has expressed his disappointment to the song stating that he might sue the company, for his children have gotten scared and haven't been speaking to him for the past three days. "Aren't you ashamed?" he asks, "My kid hasn't spoken in three days because of this song."
He also asks what 'Crode' means, while the official video begins with the lyrics for its chorus and we see "Crowd" flashing on television sets as Naseebo Lal sings the word in its more localized pronunciation.
During the entire social media fiasco, the legendary Naseebo Lal's interview, where she is seen hurt by the backlash goes viral. Several people have talked about how the backlash has become more about bullying and less about encouraging artists to do better.
Twitter has quickly taken over the situation and criticism on Akhtar's remarks is dominating social media.
Shoaib Akhtar took his resentment to his Instagram too, where he shared his disappointment over the PSL 2021 anthem.
View this post on Instagram
Among many calling the cricketer out was Anoushey Ashraf, who wrote, "Oh dear, this is in bad taste. One thing to not like a song, another thing to run down artists, musicians this way," she commented on a video of Akhtar shared by Hello! Pakistan. "Big fan of Shoaib Akhtar but not the way he's bashing the new anthem. Some people, including many of your friends, fans, and family, like the track."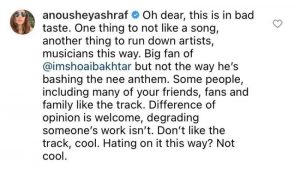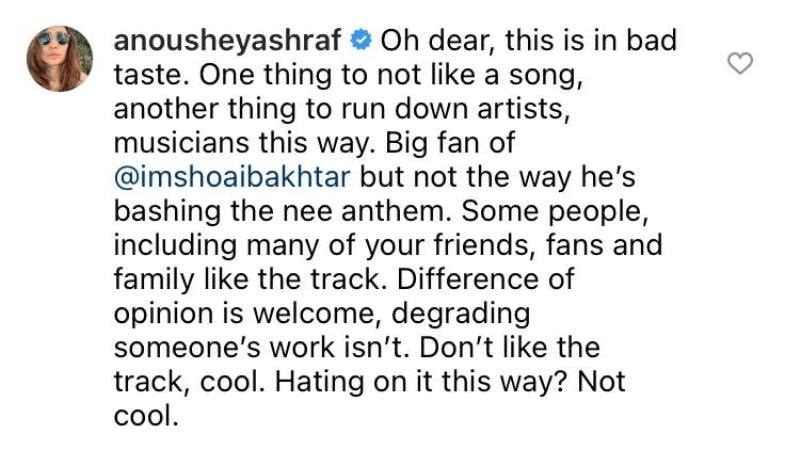 "Difference of opinion is welcome, degrading someone's work isn't," she broke it down further. "Don't like the track, cool. Hating on it this way? Not cool."
Farhan Saeed also took a stand for the anthem and praised Zulfiqar Jabbar Khan (Xulfi) for putting it together in his comment under the same post: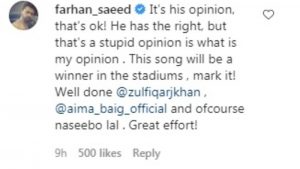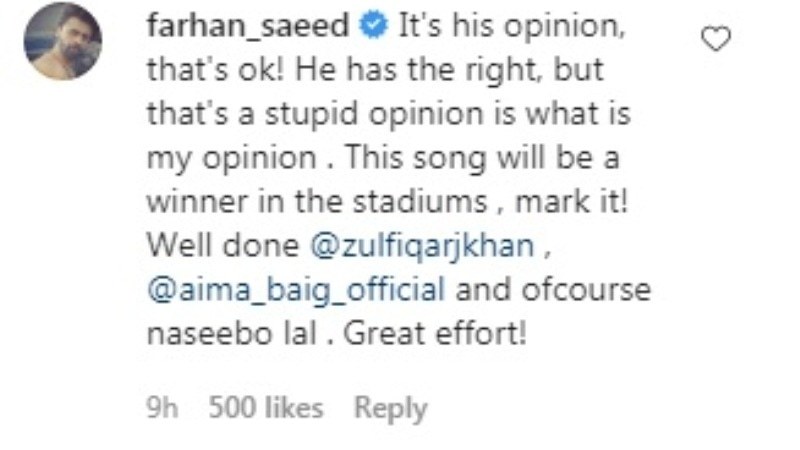 "It's his opinion, that's okay! He has the right, but that's a stupid opinion is what is my opinion. This song will be a winner in the stadiums, mark it! Well done Zulfiqar J Khan, Aima Baig, and of course Naseebo Lal. Great effort!"
While the PSL anthem has largely received mixed reviews, people with a fan following like Shoaib Akhtar need to realize that their actions can be replicated by a number of people who look up to the cricketer. By being more accepting of newer, more experimental content we allow our art to evolve. However, even in cases where it falls below our expectations, while it can be easy to hate on a song, critically and sincerely analyzing it while being motivating of our artists can only help them produce better content.