KARACHI: With multiple new drama serials set to launch in the coming weeks, those dominating the small screen lately are coming to an end. Amidst cliche plots and characters, there are some that stand out due to their unique storylines/portrayals. One of them was Faysal Qureshi-starrer Muqaddar that caught our attention due to its unusual narrative and treatment. The last episode of the drama aired Monday night and Muqaddar certainly had a promising end. After the recently concluded Kashf, Muqaddar's end was justified as well without any abrupt transitions in the final episode. What was building up in the preceding episodes, found closure last night.
As far as the story goes, feudal lord Sardar Saif ur Rehman (Faysal Qureshi) kidnaps and forcefully marries a young RJ, Raema, played convincingly by Madiha Imam. Naturally, it was unfair and painful to Raema as it took her away from family and love interest Haris (Ali Ansari). However, with time, Raema fell in love with Saif ur Rehman after he repeatedly apologized and took very good care of her. The latter's first wife conspired to kill her but the bullet hit Sardar Saif ur Rehman instead. Unfortunately, before Raema could express her love, she lost him.
There is no justification to marry someone forcefully. The drama did highlight how feudal lords get away with their wrongdoings owing to their influence. Raema's family could not do anything about it despite knowing the culprit. We clearly witnessed Saif ur Rehman's sexist statements and chauvinism in the initial episodes. As the story progressed, he did evolve and learnt to become a better person in Raema's company. However, his public affairs cannot be justified.
Having brilliantly played the part and winning hearts throughout the run of Muqaddar, Faysal Qureshi took to social media to thank fans after the last episode. He once again played a character that fans love to see him as. A lot of them also compared it to Bashar Momin that also picked up a lot of hype. Faysal Qureshi is certainly one actor who mostly opts for unconventional roles despite lack of them on the small screen.
Raema, on the other hand, remained very vocal about things though helpless at times. She never feared speaking her mind in front of Sardar Saif ur Rehman and that's what made her different from female protagonists of other drama serials. She eventually accepted her fate but as the bond with her husband got better, she did use her position to help others.
Back at Raema's uncle's house where she grew up, things did not make sense after Haris got married and his mother passed away. There were a few loopholes but it started making sense towards the end of the serial. Nothing was left open to interpretation. Unlike popular notion, Raema did not necessarily have to end up with a man after she lost her husband. With her strength and intellect, she was capable of taking care of family and business after him.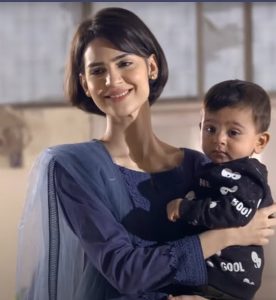 Madiha carried the role of Begum Sarkar with grace. The short hair look paired with jhumkis and semi-traditional attires complemented well and caught viewers attention. She pulled it off with ease. Currently, you can catch her playing an integral role in Mehreen Jabbar's web series, Ek Jhooti Love Story on Zee5.
In addition to Faysal Qureshi and Madiha Imam, the entire cast was very promising in their performances. From Saifi Hasan, Ayesha Gul and Fazila Qazi to Haroon Shahid, Ali Ansari and Sabeena Farooq, all of them did justice to their roles.