KARACHI: "Don't worry, at least there's Katrina. We'll enjoy her item number!"
You know that sinking feeling you get when despite nearing the end of your packet of crisps you can't help scouring the depths of the packet in the hope that they are a couple more to munch on? And when you rummage desperately inside, all you come up with is blank oily plastic which makes you want to scream in frustration? The last slender hope offered by my friend during Thugs of Hindostan vanished when Katrina hissed into the frame, the music struck up and her shimmery abdomen flexed. It was then she broke out into a Zumba routine, contorting her arms and legs into pretzel shapes while a blonde Aamir Khan jumped up and down like a Jumping Jack. That is when I knew we were marooned in Hell with padlocked gates.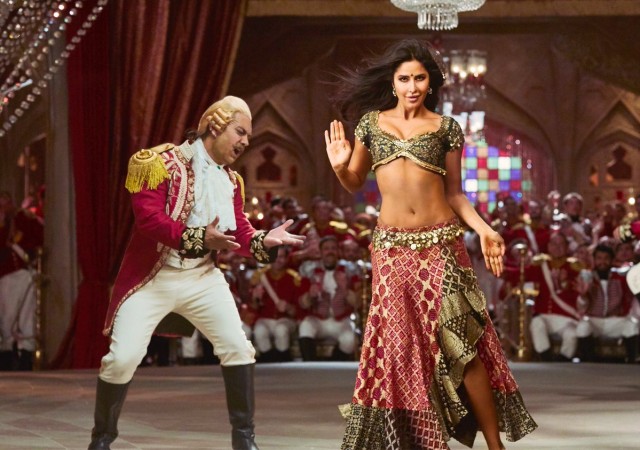 Thugs of Hindostan. Yash Raj banner, superstars like Amitabh Bachchan and Aamir Khan, humongous budget, Diwali release and yet it went downhill faster than a jet ski.
Let me count the ways.
Amitabh Bachchan plays the role of the revolutionary leader Azaad who is a thorn-in-the-flesh of the British. Poor Mr Bachchan is not only weighed down with body armour and heavy makeup but is also expected to vanquish the evil British by flying through the air, engaging in fierce hand-on-hand combat and slicing enemies with swords while seated on galloping, whinnying horses. There is also a cawing eagle that accompanies our hero every time he steps out stiffly. Mostly, Azaad just gazes pitifully into the camera like a puppy who has been kicked repeatedly. I could empathise with Mr Bachchan here because we were both captives. But at least he got paid millions while my Rs700 went down the drain.
I could empathise with Mr Bachchan here because we were both captives
The VFX stunts were so fake that audiences were laughing during the action sequences which displayed little concern for the principles of aerodynamics or physics. "Abay Aamir ko kunda lag gaya," sniggered one guy during an intense fight sequence on board a ship. Fatima Sana Sheikh as Zafira looked fierce and perplexed which was but natural because she was stuck in the quicksand of Thugs of Hindostan.
On to Katrina of fab ab fame. A spectacular case of miscasting as the courtesan Suraiyya with bee stung Botox-ed lips encased in shimmery gloss and a hipster ghagra choli, with a silver nose ring thrown in for good measure. The story is set during the time of the British Raj although historical accuracy is given short shrift in this blockbuster. Katrina walks in with a swagger befitting Jack Sparrow except that was not the role she was playing. The Pirates of the Caribbean Jack Sparrow was essayed by the kohl-eyed, wisecracking Aamir Khan as the rascal Firangi Mallah sporting a bad perm and a perma grin, who is shown as Katrina's love interest. Incidentally Katrina's Urdu is enough to make Umrao Jaan commit hara-kiri.
Katrina walks in with a swagger befitting Jack Sparrow except that was not the role she was playing.
Firangi Mallah is hired by the British to nab Azaad and decimate his army but predictably Firangi undergoes a character transformation and switches loyalties. What events transpire to make him undergo this change were missed by me because it happened after the interval. I had staggered out for some water to corral my haphazard neurons smashed in to smithereens by the film. After a chat with the manager and ushers about marketing challenges, I walked back in with leaden steps to the thugs.
Read: We have a few questions about 'Thugs of Hindostan'
During the grand finale, where Azaad's army is out to assassinate the pompous Clive, not only does Firangi turn up in a man bun but also joins Suraiyya in an item number in front of the British army. Bear in mind that Clive and his army are in search of Firangi and Co and here they are in full glory. But there are no arrests because the song has to be danced to pirouetting puppets gone berserk. Katrina wears glitzy silver shorts for this song, the time frame being the 19th century. The British officers speak fluent Hindi when they are not being cardboard cutouts. The songs are an abomination with perhaps the one that provided the most comic relief being the one Zafira breaks out into in the finale when she is supposed to be keeping her identity a secret from enemies.
The song is sung in homage to the chained Rip Van Winkle aka Azaad and she sounds like a bleating sheep while crying out, "Ba..Ba..". Since the British are not only dumb but also deaf, there is zero reaction from them as Azaad and Zafira gaze at each other mournfully. At this point, one looks desperately at the time but since it is a nearly three-hour-long film, there is no escape.
One has to marvel at the qismet of writer-director Vijay Krishna Acharya who keeps getting hired by Aditya Chopra to turn people into zombies.
Watch the trailer below:
Read: Review: Reading 'Headscarves and Hymens' should be essential for everyone … especially men