KARACHI: There is rarely an occasion celebrated on a global scale that doesn't have a controversy attached to it. Over the years, there has been discord over whether countries like Pakistan should even be celebrating Halloween considering it is a pagan tradition. However, that isn't something new. Instead, the problem in 2022 was not whether Halloween should be celebrated in Pakistan or not but was rather a questionable choice of costume. And the controversy wasn't just in our part of the world, but extended onto Hollywood as well.
This spooky season, one particular Halloween costume made waves in Pakistan. Pictures began to circulate of Yawar Iqbal who chose to dress up as former first lady Bushra Bibi. The pictures were from a private party and Tabesh Khoja and Areeba Habib, amongst others, shared pictures of the costume commending the creativity. However, netizens were left unimpressed and interpreted the costume as being disrespectful towards a woman who chooses to cover herself. They felt that Iqbal was making a mockery out of the niqab and abaya which are religious symbols. Others also pointed out the hypocrisy that while there is a cry for allowing women the freedom to choose what they wear, that freedom isn't extended to choosing to cover.
 

 

View this post on Instagram

 
Amidst the controversy, actor Areeba Habib who had appreciated the look posted an apology on social media. She wrote, "I did not know what the post was related to. Human error." She also apologized, "I want to sincerely apologize for my oversight. Will make sure I am careful with my postings here on."
However, as it turns out Halloween costumes aren't causing a stir just in Pakistan. Across the world, many took to social media to criticize a Hollywood couple for their costume which was perceived to be offensive to Christians.
Megan Fox and Machine Gun Kelly are known to cause quite a bit of shock with their behavior. They claims to drink each other's blood and they have rings designed with thorns to cause pain. While most people are a bit uncomfortable with their stories, they don't dwell on these things because it is their private life. But it seems as though the couple might have taken it too far with their Halloween costume. Kelly chose to dress like a priest, complete with the robes and crosses. And Fox chose a more scantily dressed attire, dressed as a submissive with a collar and chain around her neck.
 

 

View this post on Instagram

 
Naturally, people were appalled and they took to comment section to express their distaste. One comment read, "Unacceptable. No one should ever mock someone else's religion." Another comment said, "Absolutely despicable and in such poor taste. The height of hypocrisy. Simply unnecessary, the provocation for sake of provocation while disrespecting billions should not go unchecked. To disrespect something neither understand is the summit of ignorance. They require urgent education on the subject. Lord have mercy but I also pray that the Lord be just."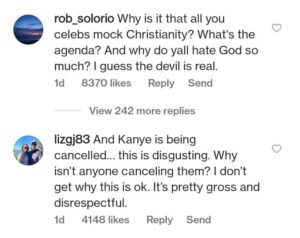 Some even blatantly called them out for being a bad example especially for their kids, "Jesus Christ died for what you are doing right now. You have children. Where is the example? The respect? Christianity is not a costume. It's not a religion. It's a relationship with God."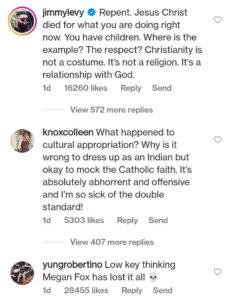 And so the debate on whether religious attire should be used as a costume continues.