KARACHI: Breakups are never easy. Especially if they involve money and infidelity. Just ask British model Taloulah Mair who took to social media to document her breakup with Pakistani filmmaker Qes Ahmed and part of the saga was the fact that her boyfriend cheated on her with Pakistan's pop princess Aima Baig, who was engaged to Shahbaz Shigri at the time. If your head is spinning, do not worry. Here is the entire breakdown of what happened.
Taloulah vs Qes Ahmed
The whole saga began when the model took to Instagram to talk about her relationship with Pakistani filmmaker Qes Ahmed. In her now deleted stories and highlights, she explained that the two had been dating for three years and their relationship was littered with infidelity on his part. Mair claimed that Ahmed would boast about his charity work around the world, but would also borrow money from her and other women he was talking to.
Things got messy when Mair asked Ahmed to return £10,000 (Rs. 2,691,788) and he refused. Mair was forced to call his mother and demand that her money be returned, which it eventually was by Mrs. Ahmed. In her stories, Mair often compared her ex boyfriend to the infamous Tinder Swindler.
Qes Ahmed responds
It did not take long for Qes Ahmed to respond to Taloulah Mair's accusation against him. He posted a note on his Instagram stories and rejected all the accusations made against him. Instead he wrote, "This woman has not had a job ever. She's lived off sugar daddies for the last few years, even whilst we were together, and prostituted on a few occasions." He also went on to say Mair "Suffers from extreme mental health issues."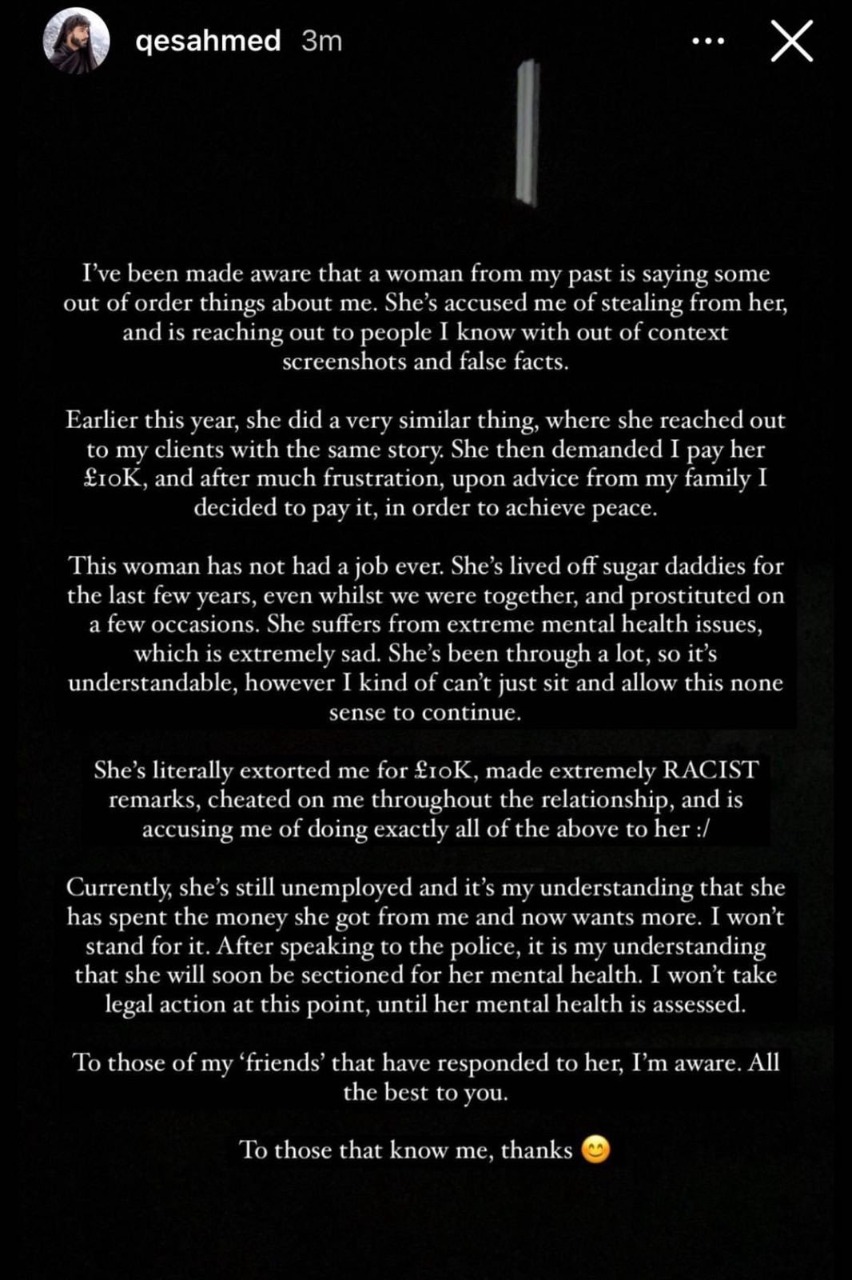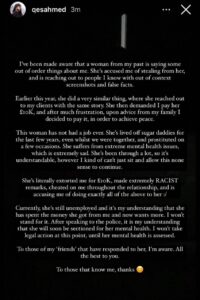 Ahmed claimed that Mair was extorting him for his money and was racist and all that she was accusing him of doing is what she did to him.
Naturally, Taloulah rejected all of Ahmed's accusations.
Taloulah vs Aima Baig
After Taloulah Mair was done with telling Qes Ahmed's story, she moved on to Aima Baig and her role in the huge mess. For context, Aima Baig was, up until recently, engaged to Shahbaz Shigiri. Mair claimed that Baig and Ahmed had dated previously and despite knowing Ahmed was with Mair, Baig perused a relationship with him.
Heavily criticized for her decision to, Mair shared explicit screenshots between Baig and Ahmed to prove that the relationship did actually take place. Adding to the receipts, Mair also shared a picture of a message from Shigri who, it seemed, wanted to give his then fiancé the benefit of doubt.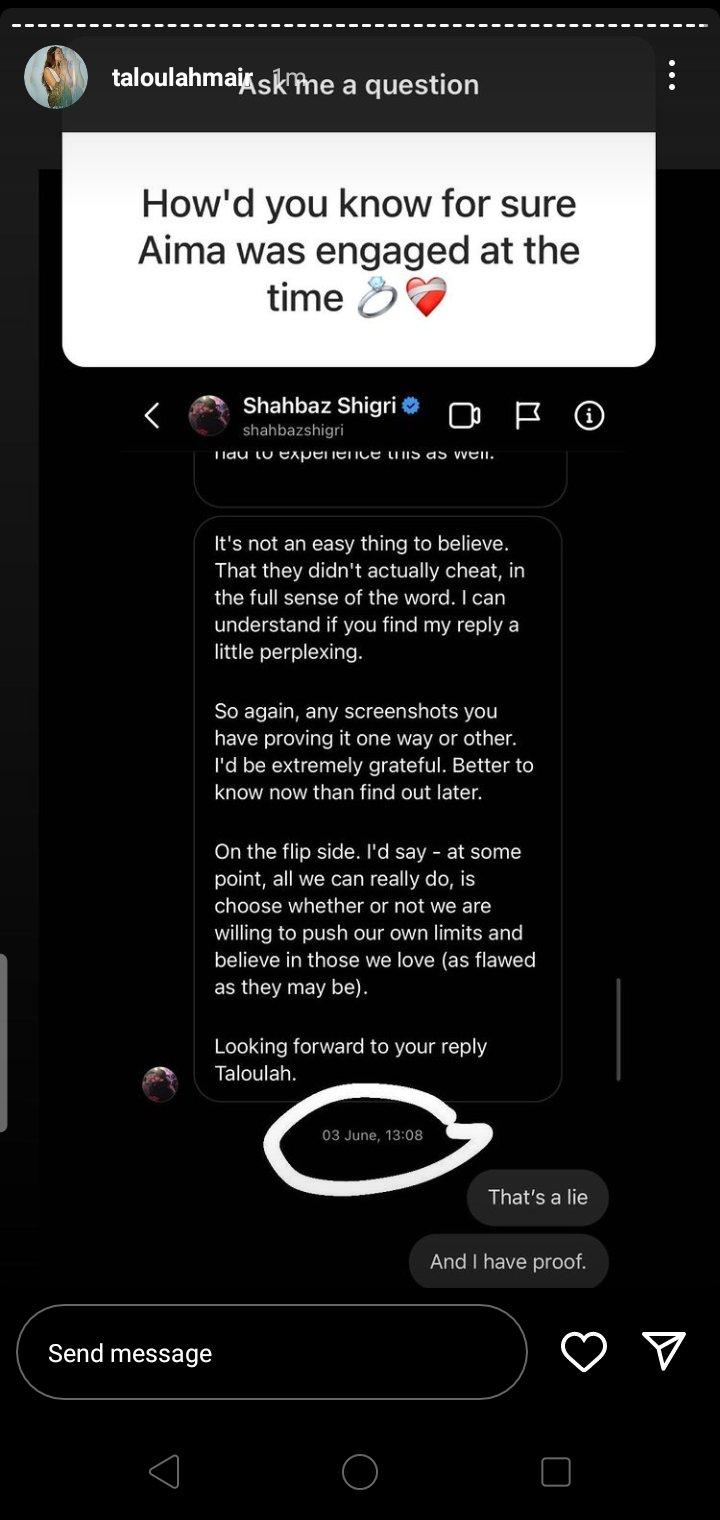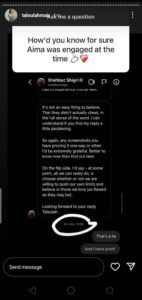 Taloulah Mair also shared call logs which showed that Aima Baig was trying to call her after the stories went viral. And then she sent Mair threatening voice notes. And then sent in a scathing message which read, "Just for the sake of some money are making fake edits." She went on to call Mair "the devil in disguise" and accused her of being racist.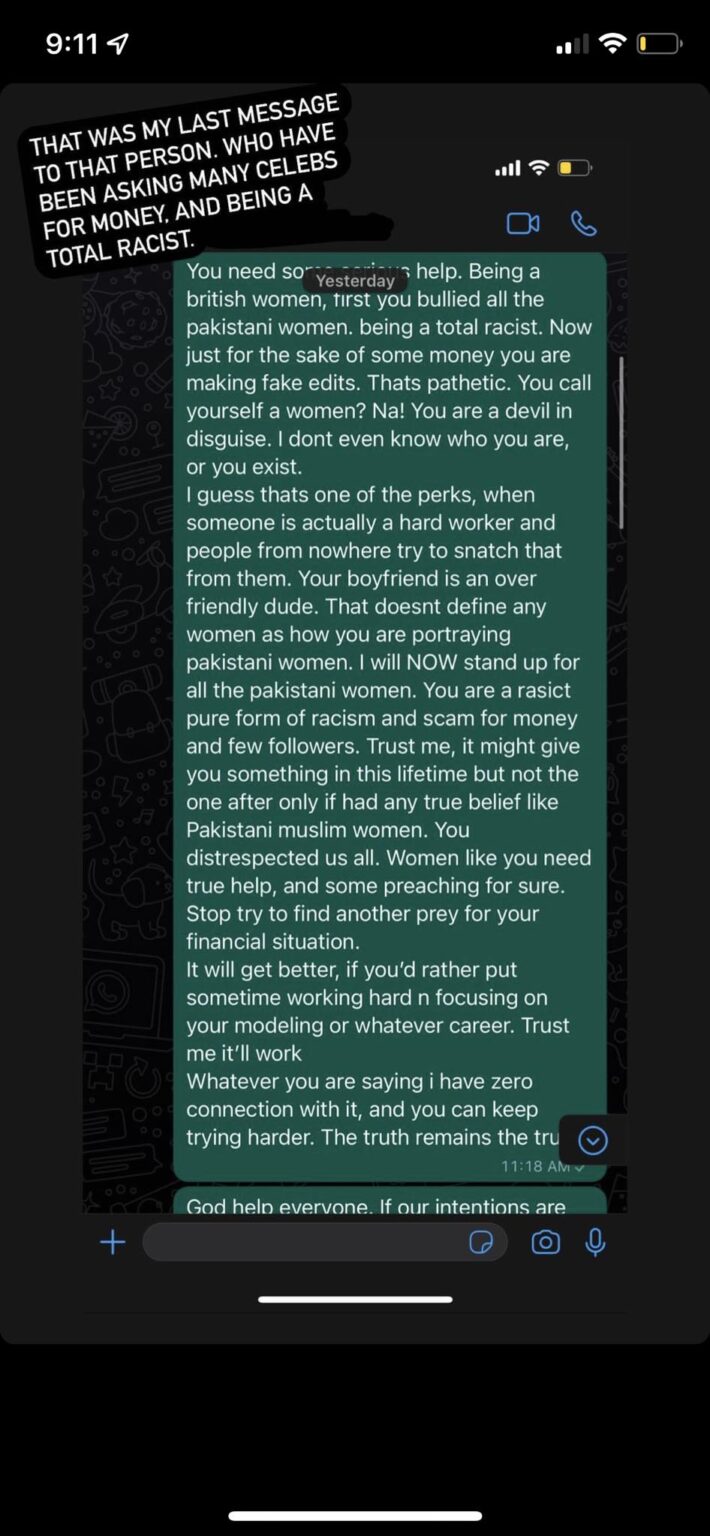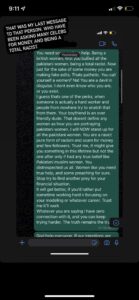 Mair hit back with the claim that Baig accused Ahmed of rape when as per Mair, that definitely wasn't the case. And it seems like in a leaked call, Baig accepts it was consensual.
Taloulah spilling the tea 😂 #aima #AimaBaig #qesahmed pic.twitter.com/TjXUOMVgTv

— 🐝 (@bkhtawargul) September 20, 2022
It's tea time. ☕️ #aima #AimaBaig #qesahmed qes ahmed aima baig pic.twitter.com/SxXBLtK6oW

— 🐝 (@bkhtawargul) September 20, 2022
Aima Baig breaks her silence
After all was said and done, Aima Baig finally decided to speak up against the claims being made by Taloulah Mair. She began her note by calling out all the trolls and said, "Bol liya aap sab nay? Karlia bully ya abhi bhi or thora rehta ha to wo bhi karlain (Are you all done speaking and bullying or is there something left to say or do?) Without even knowing the entire truth. Ab main thora sa kuch boloun (Now can I speak)?"
 

 

View this post on Instagram

 
Aima Baig claimed that during the whole ordeal she is going through "Some major trauma, depression right now." She went on to write, "The beautiful pictures and happy faces we put for the world to see isn't really the truth. A lot goes behind these pictures, maybe a way to say sorry, or to make our partner feel better after a mistake."
Aima Baig ended her notes by reassuring her fans that her version of the truth will come out in a day or two. What more can possibly be said or done? Only time will tell!