KARACHI: While the Cannes Film Festival is one of the most prestigious events for movies, it is also all about the glitz and glam. Stars step out on the red carpet dressed to impress. This year, the festival proved to be that much more exciting. Pakistan gained recognition at the Cannes Film Festival with Joyland. And so did our fashion! Our stars opted to wear Pakistani designers on the red carpet and boy did they look good! Here is a look into who wore what at Cannes.
Sania Maskatiya
Sarwat Gilani made her Cannes debut in a while Sania Makatiya ensemble. The white dress with a pussy bow was wrapped together with a pair of black and golden heels.
 

 

View this post on Instagram

 
Elan
Sarwat Gilani and Elan went hand in hand during the actor's appearance for Joyland at the Cannes Film Festival. She wore a sequenced green kameez complete with a dupatta during her red carpet walk. Sharing a picture of her outfit, Gilani wrote, "The flag is monumental it represents me, my land, my struggles & my culture. It is the embodiment of what I am as an artist and to represent it at @festivaldecannes is a dream come true."
 

 

View this post on Instagram

 
Her second Elan outfit was a blush pink saree. Paired with a gorgeous embroidered top and embellishments on the pallu, Sarwat Gillani completed her look with a pair of dangling earrings from Anayah Jewelry.
 

 

View this post on Instagram

 
Umar Sayeed Couture
In another appearance, Sarwat Gillani opted for a more retro look. She repped Umar Sayeed Couture in a lace white top paired with a color patterned pair of bell bottom pants!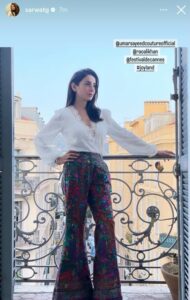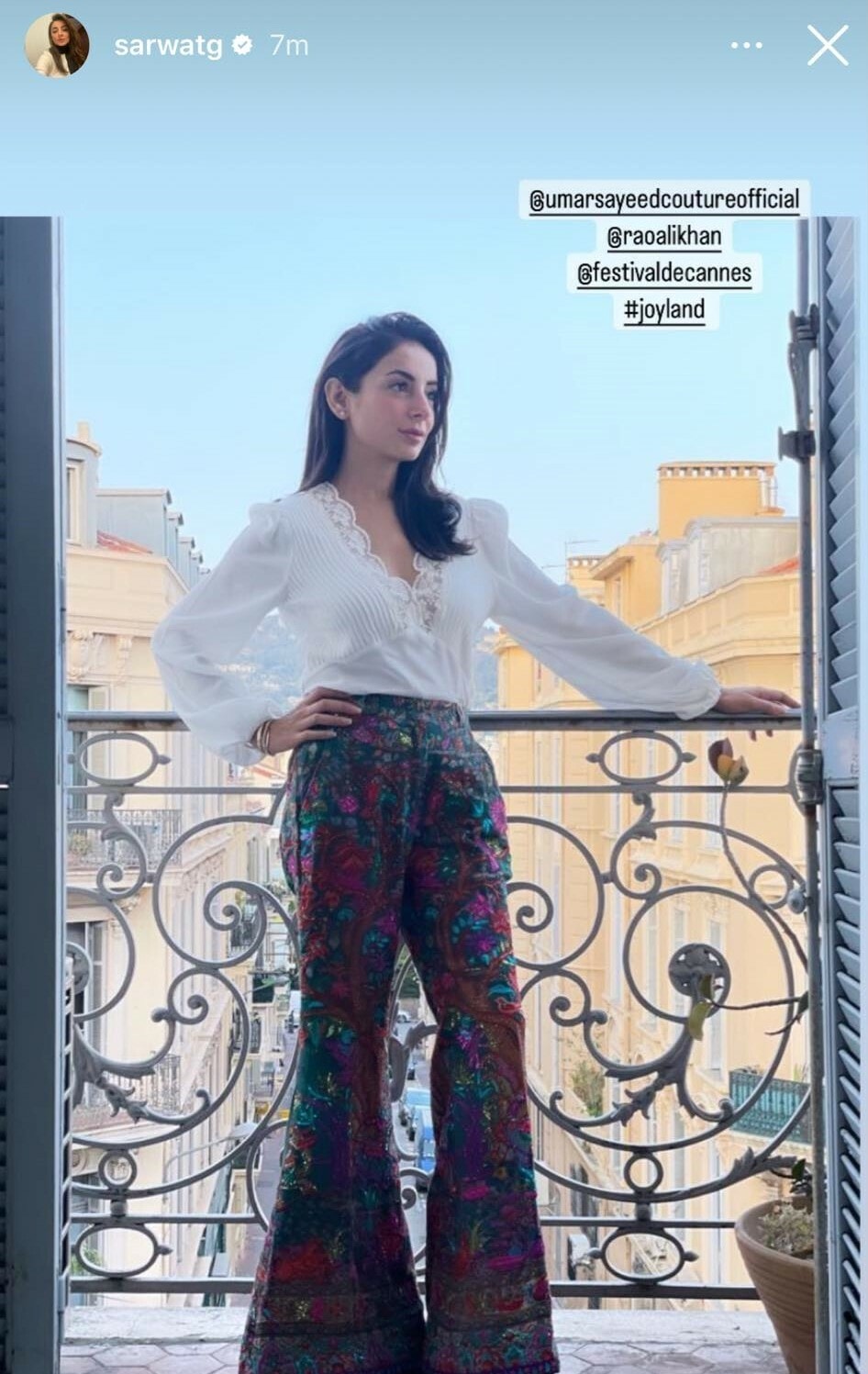 The Pink Tree Company
Sania Saeed is effortlessly graceful and has a diverse fashion choice. While representing Joyland at the Cannes Film Festival, Saeed chose to wear two outfits by The Pink Tree Company and each was as different as the other.
For her first appearance, she wore a floor length royal blue and red floral outfit with embellishments on the neck, sleeves and borders. 
 

 

View this post on Instagram

 
Her second outfit was more muted with a white, silver and blue flowy kameez. For both outfits, the actor sported her signature curls in an updo.
 

 

View this post on Instagram

 
Neem Block Prints
Sania Saeed decided to go traditional on the red carpet and opted to wear an emerald green gharara. In doing so, she promoted a small scale business by the name of Neem Block Prints. Safe to say, she looked gorgeous and truly represented Pakistan in the attire!
 

 

View this post on Instagram

 
Mohsin Naveed Ranjha
What makes Joyland so special beyond just its nomination at the Cannes Film Festival is the fact that it starred a trans actor in the lead role. And its safe to say Alina Khan made her debut with utter grace. Her designer for her debut was none other than Mohsin Naveed Ranjha. She wore a red saree with pink detailing on the pallu and a pink and gold embroidered top to match!
 

 

View this post on Instagram

 
The World of HSY
Who does styling better than HSY? And so it comes as no surprise that both, Saim Sadiq and Sarmad Khoosat, opted to wear customized HSY outfits on the red carpet.
Sarmad Khoosat opted for a classic black tuxedo for his red carpet appearance while Saim Sadiq opted for a white tux for the debut of his film. 
 

 

View this post on Instagram

 
Deepak Perwani
HSY is not the only designer who can make a killer tux and Ali Junejo proved just that. The actor opted to wear a Deepak Perwani tuxedo and went a little unconventional with his color choice by sporting a maroon colored tuxedo.
 

 

View this post on Instagram

 
For his second outfit, Ali Junejo wore a grey suit with a pink shirt and paid homage to his country by including an ajark design.
 

 

View this post on Instagram

 
Needless to say that regardless of the brand the actors chose and the design they sported, they all looked great!