KARACHI: Designer Ali Xeeshan was recently accused of plagiarizing artwork and now the designer has broken his silence and vehemently denied the allegations levied against him. Artist Ayesha Shaikh claimed that Xeeshan's art exhibit Exquisite Mistake was a rip off of her thesis work from 2018. Here is all that you need to know about the claims and response.
Shaikh claimed that her artwork was based on body positivity and she has been "working on the concepts of body shaming and self-love back in 2018 for my thesis project, where I developed sculptures portraying my personal experiences." She detailed how her artwork was featured in the Indus Valley thesis show back in 2019 and then, in Koel Gallery in 2020. When she was alerted to the alleged plagiarism she initially put it off as a coincidence but then she realized she could not ignore the similarities.
View this post on Instagram
Ali Xeeshan initially did not respond to the allegations made. However, the designer finally broke his silence and told Images that his idea for the artwork dated back to 2017 and his sculptures were inspired by his childhood nanny as well as how "humans are ruining mother Earth." He explained how his nanny was "a lot of fun and chirpy" before she got married. However, life after marriage had not been kind to her and "she came back and she looked old and tired."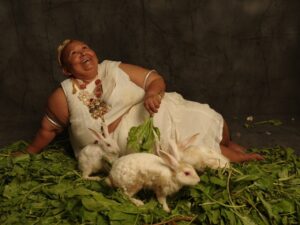 Her return coincided with his understanding of how humans were impacting the planet and thus the inspiration for his work was created, "Around the same time, I had been reading up on how humans are ruining Mother Earth and I felt that in the same way Nani had cruelly been worn-out by life. The analogy inspired me into developing the concept for this art exhibit."
View this post on Instagram
He said that he worked with photographer Abdullah Harris and "I photographed her in different positions so that I could paint her image and sculpt her." He also went on to say, "All through the history of art, you will find similar creations inspired by big-sized women. There are only a limited number of ways in which a heavily-volumed woman can sit and lie down. To say that the postures that I had captured were plagiarised is a baseless accusation."
He also revealed that he reached out to Ayesha Shaikh, "I told her that I was willing to swear on my one-year-old son's life that this was the first time that I had seen her work," he said. "I sent her my phone number and asked her to reach out to me but she never did. She owes me an apology."
Ayesha Shaikh, on the other hand, has refused to reach out to Ali Xeeshan over the allegations.