KARACHI: If there is one thing that has been the topic of discussion this Monday morning, it is that of the exchange between Will Smith and Chris Rock at the Oscars. Presenter for the category of documentary feature, Chris Rock made a comment about Jada Pinkett Smith and her bald head which did not sit well with her husband who ended up hitting Rock. While most people have been torn between siding with Will Smith or Chris Rock and creating memes, a few others have shed light on the larger context of the situation.
Would Smith have reacted the same way had Rock been white? Did Smith have to defend and 'protect' his wife in the first place? Should Rock have 'joked' about someone's health condition in the first place, specially that of a Black woman's? Was this about Jada Smith in the first place, or simply about two toxic men? These are some of the questions being asked regarding the gender and racial dynamics of Will Smith's behaviour.
 

 

View this post on Instagram

 
A little recap of the previous editions of the Oscars will tell you that last Sunday night was not the first time that Chris Rock has taken a jab at Will Smith and Jada Smith. In 2016, 'Oscars so White' trended all over social media after all 20 nominations under the acting category went to white people. Jada Smith was amongst artists of colour who decided to boycott the ceremony. Rock, on the other hand, was the host for the ceremony who replied to the controversy by saying that Jada Smith was only mad because Will Smith did not get nominated for his role in Concussion.
"Jada's mad her man Will was not nominated for Concussion. I get it. I get it. Tell you truth, I get it. You get mad. Said it's not fair that Will was this good and didn't get nominated. You're right. It's also not fair that Will was paid $20 million for Wild Wild West, OK?" Rock had said back in 2016.
Last Sunday night, before Rock came for Jada Smith again, co-host Regina Hall had already made a joke out of the Smiths' marital status while addressing single people in the room. "You're married, but you know what? You're on the list, and it looks like Jada approved you, so you get on up here!" Hall called out to Will Smith who has spoken publicly about the couple's non-monogamous relationship.
Perhaps things were already heated when Rock took stage. However, the question is not what lead to Will Smith hitting Chris Rock, the question is why did it happen at all?
Jameela Jamil was amongst those who want to talk about more than just the slap.
 

 

View this post on Instagram

 
Taking to her Instagram, Jameela Jamil agreed that slapping someone, making fun of someone's health and disrespecting a Black woman and her hair in a country where the topic has been politicised and ridiculed for years is wrong. However, Jamil also shed light on how the whole narrative was being framed and exaggerated to fit the Black man's struggle. At the core of the issue is Jada Smith and her struggle with alopecia. Yet, not enough people are talking about it.
"the way the discourse is only around the slap, and how many people have jumped to hyperbolize it? Huge publications calling it a punch when it absolutely wasn't. Famous people exclaiming "it could have killed him!" When it was a light slap… all plays into the exaggeration of Black men's danger and violence in America," she wrote. "If you're *only* talking about the slap online… it's a bit yikes to me."
 

 

View this post on Instagram

 
"Chris punched down. Will slapped across. Physical behavior is not the only thing to be examined here. The world politely laughing at a woman who has lost her hair, being ridiculed on a world stage… is more damaging than you think. To every person with cancer, or alopecia, auto immune condition that impacts their appearance etc watching…Tonight shouldn't be the start of hitting people over their jokes, but it should be the end of making fun of people's health issues," concluded Jamil.
Like Jamil, Pakistani actor and activist Adnan Malik, too, tried unwrapping the bigger picture. Malik chose to look try and understand the gender and race politics of the situation. Malik wondered, "It's 2022 – is it correct for a man to protect the honour of his 'wife' by being physically abusive to a man who was heckling her. Especially when she is a strong, empowered, independent woman," Malik thought out loud.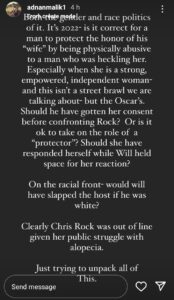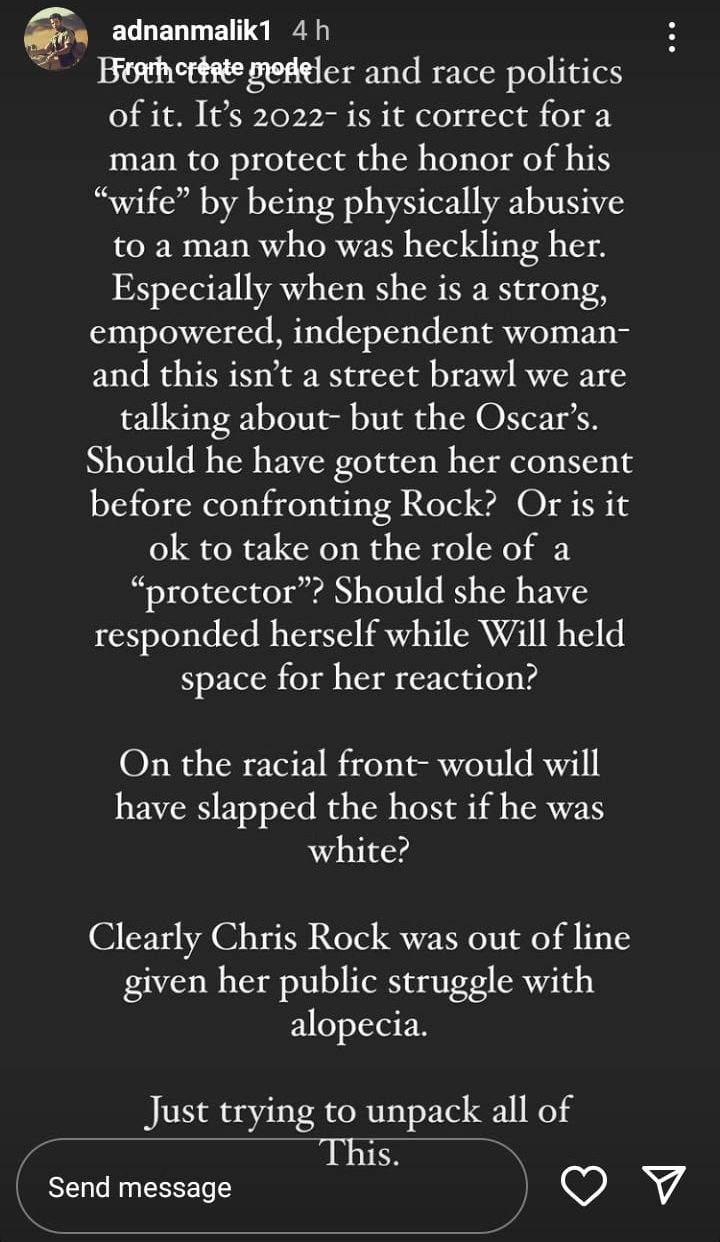 "Should he have gotten her consent before confronting Rock? Or is it ok to take on the role of a 'protector'? Should she have responded herself while Will held space for her reaction?" Malik pointed out the possible case of toxic masculinity and men's urge to 'save' women. Malik also asked a question that was on many people's minds: Would Will Smith have hit Rock had the presenter been White?
"It just feels toxic to me," Malik voiced. "It's about a male bully with a mic and then a male savior who uses physical violence to 'protect' his wife…All the wrong messaging for race, for gender and for allyship." Malik concluded his thoughts with a poll on his stories where he asked women who have been in relationships with men about how they would have reacted to the situation had they been in Jada Smith's shoes.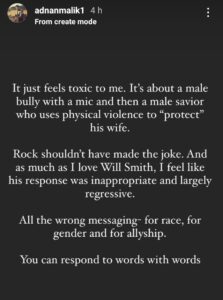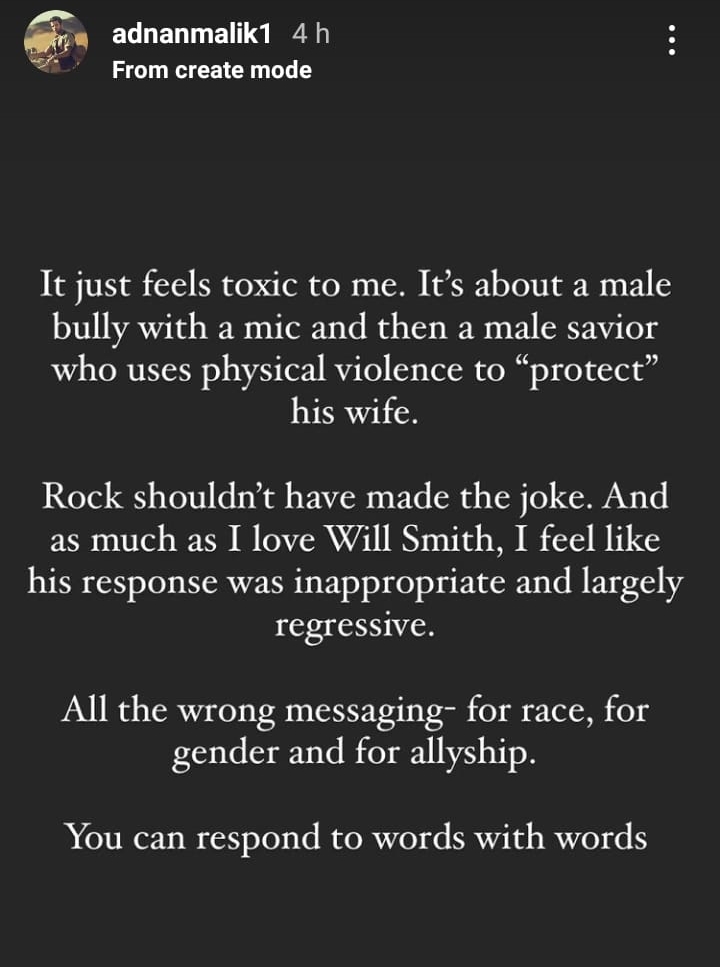 While conversations about gender, race and violence continue to take place with regard to the Will Smith and Chris Rock fiasco, the latter has refused to file charges against Smith. The internet, however, refuses to be as forgiving as Rock and some have chosen to call interpret Smith's actions as 'assault'.
People may be divided on who was right and who was wrong, but one thing that most seem to agree on is that this is not the moment for White people to speak up. The Black community has deep-rooted insecurities and struggles that they have been living with for decades, specially women. And this is not the moment that they need White people to step in for them and lend support.