KARACHI: It took a while but it seems like Pakistani cinema has finally been revived and audiences can get ready to have a taste of exceptional entertainment, especially on the big screen. With the world seemingly going back to normal, quite a few Pakistani movies are ready to hit the screens. Amongst the long list of movies we cannot wait for comes a new edition titled Abhi. Kubra Khan recently shared the teaser trailer for her new movie where she will share the lead with Mumtaz Gohar.
View this post on Instagram
Abhi has been conceptualized by Gohar Mumtaz who also serves as the producer. Set against the stunning landscapes of the Northern areas of Pakistan, we get a glimpse of the lead characters who share a different perspective on life. Mumtaz, a musician, is all about second chances but Khan is all about living in the moment. Naturally, their paths cross and they share some romantic scenes until things go wrong.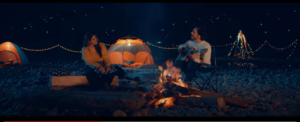 The teaser does not give much away in terms of how and why things go wrong but instead, maintains mystery and intrigue with glimpses of different scenes. We see the armed forces in action, action sequences, dubious looking characters and heartbreak. How all these things fall into place is just something that we will have to wait to find out.
 

 

View this post on Instagram

 
What we do know about Kubra Khan and Gohar Mumtaz's new movie is that it will also have quite the soundtrack. With the likes of Rahat Fateh Ali Khan, Aima Baig, Mumtaz himself and the Leo Twins, it will be exciting to see how, not just the movie, but also the songs turn out.
A release date is yet to be announced but we are already excited!