KARACHI: If there is one thing we have learnt about Nadia Hussain over the years, it is that the model is not afraid to voice her opinions, no matter how strong and unpopular they may be. We have also learnt that once she makes the statement, she makes sure to stand by it. And that is what happened when Nadia Hussain came under scrutiny for making comments about how models in the industry are uneducated and how that reflects in their work.
 

 

View this post on Instagram

 
The whole controversy began when the model and makeup artist appeared on Time Out with Ahsan Khan. When reminiscing about the old days of modeling, Nadia Hussain made the steep claim that models from back in the day were much better at their job than the ones today because they all "had a similar aspiration."
View this post on Instagram
However, things changed in the modeling world when, "All kinds of girls became a part of the profession. Not even the council members cared if they were uneducated or did not have the height. There were no criteria, it was only about whether they could get permission. Where else are you going to get 40 models at once?"
Comparing the older generation models to the current generation, Hussain made the controversial statement, "The new models were not educated. They did not have class or a personality." Quite naturally, many models took offence to Nadia Hussain and her remarks. Model Sara Zulfiqar, in particular, voiced her frustration.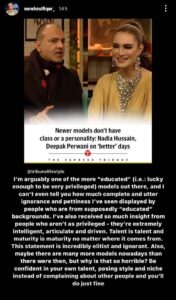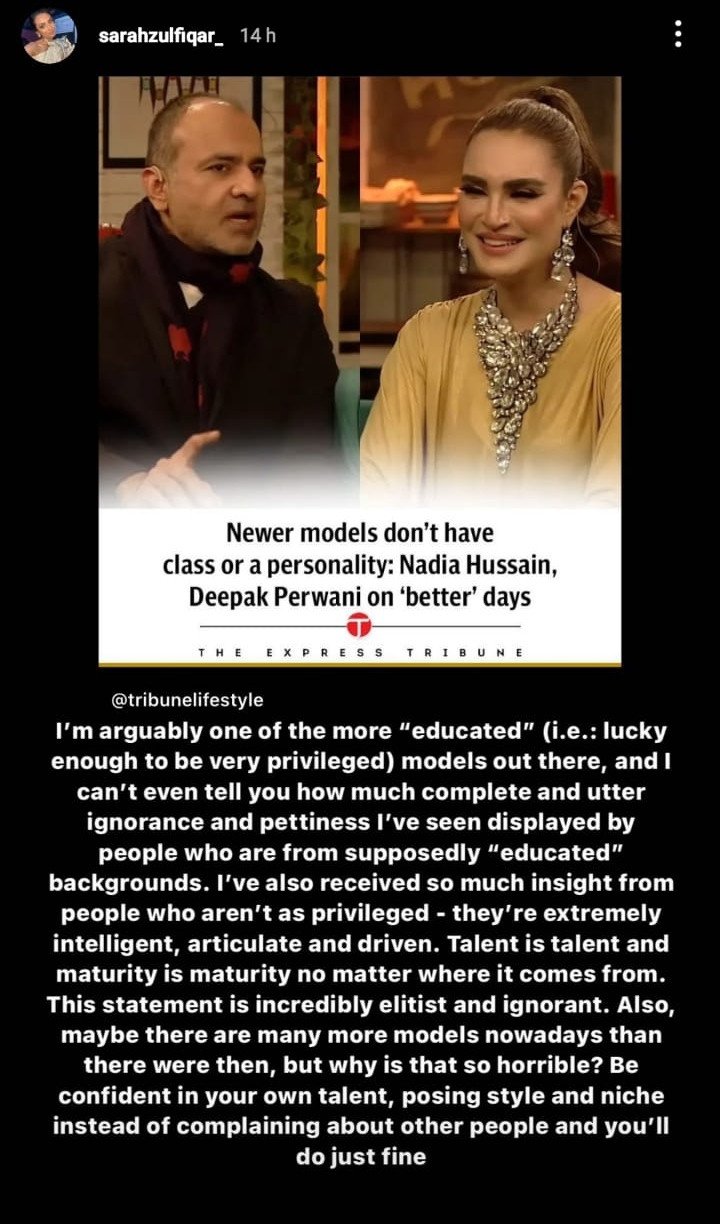 In a now-deleted story, Zulfiqar wrote, "I'm arguably one of the more 'educated' (i.e. lucky enough to be very privileged) models out there, and I can't even tell you how much complete and utter ignorance and pettiness I've seen displayed by people who are from supposedly 'educated' backgrounds." She went on to call Nadia Hussain out and wrote, "[Nadia's] statement is incredibly elitist and ignorant." 
However, it seems as though Nadia Hussain in unfazed by any criticism directed her way for comments. In a recent post, she reinstated that, "Education sets you apart. It gives you bigger goals and objectives and aspirations in life. The educated ones are certainly always a class above anybody." She went on to direct her statement to a particular group of models and wrote, "Know and understand that if you're EDUCATED, you are not the one being talked about! EDUCATION IS THE KEY TO SUCESS AND ALWAYS WILL BE!"
View this post on Instagram
The model has made it clear that she will always "Stand for being educated no matter what job you do!!!"