KARACHI: Over the years, Pakistani cinema has gotten the hang of making some of the most praise worthy movies to hit the screen. However, it seems as though there is still work needed when it comes to the art of trailers. That is exactly what we felt while watching the trailer for the new Saba Qamar movie Ghabrana Nahi Hai.
Ever since the movie was announced, there has been considerable amount of hype surrounding the production which also marks Zahid Ahmed and Syed Jibran's film debut. So naturally, when the trailer dropped, fans were excited to see what the movie had in store for them. However, all they got were disjointed clips of the movie that do very little to give a preview of the actual film.
The trailer begins with Saba Qamar's voiceover narrating that her father's retirement marked two of the most important days of his life: his only daughter's wedding and him claiming ownership of his house.
View this post on Instagram
But who is she getting married to? We have no idea, nor do we ever find out during the trailer. The scene cuts to Zahid Ahmed, who plays a morally ambiguous police officer. He seems to be raiding a nightclub where a raunchy item number is taking place in the background. While he reminds the club goers, "Ye Islami Jamhooria Pakistan hai, yahan sharab-noshi or jua jurm hai (this is the Islamic republic of Pakistan where alcohol and gambling is prohibited)," he offers the guilty party an opportunity for negotiation/bribe. After a series of slaps, squealing macho men and perhaps what seems to be a hand being chopped off, we are introduced to the villain played by Nayyer Ijaz, who seems to have Zahid Ahmed in his pocket.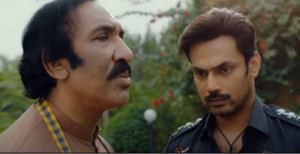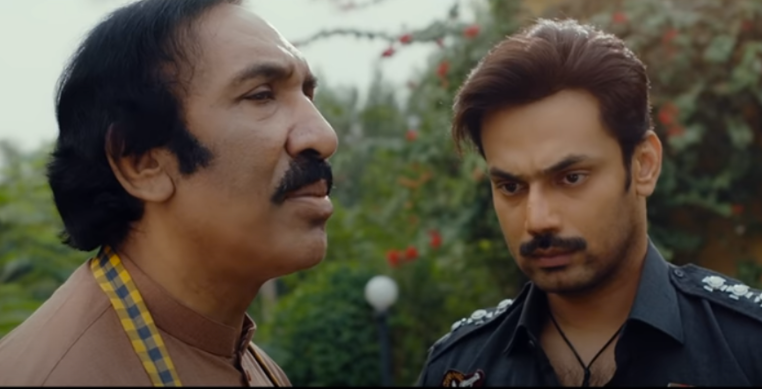 The Ghabrana Nahi Hai trailer then introduces us to Zubeida (Saba Qamar) who is a social media influencer. She somehow crosses paths with Ahmed's character over an unexplained property dispute and has no qualms paying him a bribe to get her work done. After all, police officers are notorious for needing incentives. And that marks the start of the movie's love triangle.
While Zubeida is seen sharing romantic strolls, food dates and pillow fights with the police officer, there is someone brewing in the corner. In comes Syed Gibran. He is Zubeida's second love interest, perhaps the man she was set to marry at the start of the trailer? Insert a few cheesy dialogues which are somewhat PG-15 before we get to the more serious part of the trailer.
View this post on Instagram
We all know that Ghabrana Nahi Hai is about a woman's struggle to get her father justice and the trailer hints at just that. Zubeida's father utters the one dialogue every girl dreads hearing, "Kya bigar legi unka? Beti hai! Beta hota tou jaake lar bhi leta unse (What can you do to them? You're a girl, if you were a boy you would have fought them)." Zubeida gets a serious awakening and all of a sudden, things take a major turn.
She shames her police officer cum love interest for being corrupt, something she did not have an issue with initially. But that is not even the tip of the iceberg of shocking plot twists! Zubeida also somehow ends up as Nayyar Ijaz's love interest! We are not sure how that happens or how that will play out and where Syed Jibran's character will fit into this love…square?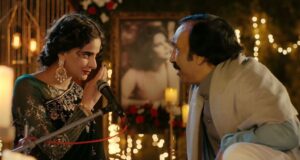 The Ghabrana Nahi Hai trailer, in its quest to not give away too much, ends up giving us very little in terms of what the movie is about. The disjointed story lines, random Chinese people showing up and a really messy love triangle cum square, we can only hope the movie is better than the trailer.