KARACHI: Sushmita Sen continues to be one of the most adored Bollywood actors and defines all things beautiful. Her presence turned out to be even more beautiful for Danyal Zafar when Sushmita Sen uploaded a video on her Instagram with the Pakistani singer's track in the background. In the video, Sen is enjoying a breezy car ride with her daughter who just so happens to be a fan of Zafar's 'Udh Chaliye'. "The breeze, the drive, the open skies & Alisah's favourite song on repeat!!!" Sen captioned her post.
View this post on Instagram
Of course, the post did not go unnoticed by Zafar who was thrilled to be appreciated by Sen. "Omg!! What!!! No way!!! Couldn't be happier knowing y'all are vibin' to the track and it made its way to add to such a beautiful experience y'all seem to be having! The drive, the breeze and the open skies!! This was exactly what I dreamt for the track to do and you've made that dream come true!" Zafar expressed his gratitude under the comments section.
While fans continued to applaud Danyal Zafar under the comments section on Instagram, Sushmita Sen herself took the opportunity to commend Zafar's work once again and recognise the power of art to connect people. "The man himself!! What a beautiful message, forever cherished jaan meri!! Your voice…this song…and it's all heart vibe!!! What a blessing to have the power to connect people & their dreams beyond geography!!👏😊 MashaAllah."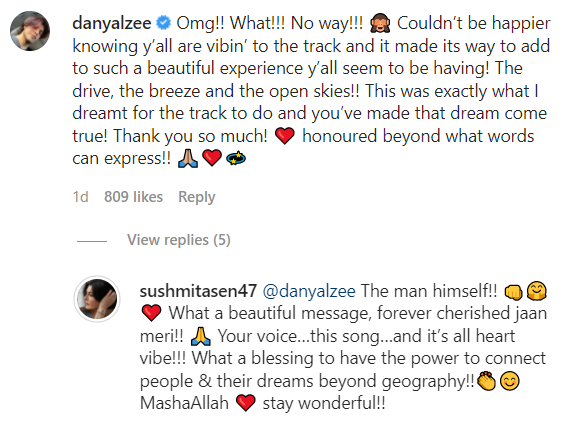 Like an excited fan who gets to hear from their favourite celebrity, Zafar reciprocated Sen's feelings and agreed with the ability of art to transcend borders. "From the QUEEN herself!!! without a doubt it's beautiful to see the power of art transcending beyond borders and everything else and just touching people deep within and even more beautiful is how the transcendence connects people, and I couldn't be more thankful to have been blessed with this connection!" responded Zafar.


Danyal Zafar's 'Udh Chaliye' first came out in March 2020 and was said to be composed and executed within 24 hours.
View this post on Instagram