KARACHI: After the teaser for Zee5's latest women-centric web series, Qatil Haseenaon Ke Naam, had viewers excited, the team treated their fans to the official trailer for the show. Prior to the release of the show on December 10, the creative team and actors of Qatil Haseenaon Ke Naam got together for a virtual trailer launch that was attended by media personalities and journalists from different parts of the world, including Pakistan and India. During the launch, director Meenu Gaur who has also co-written the series shared that the show is an anthology with each episode narrating a new story but each episode will also tie in with the rest to bring the show full circle. "The stories are full of mystery and suspense and plot twists," revealed the director. "I was really inspired by the noir genre that revolves around a qatil haseena (femme fatale) but the narrative is always led by men. I wanted to change that, I wanted to put (the genre) on its head. And I wanted the voiceover to be that of a woman's."
View this post on Instagram
The web series features 7 qatil haseenas presented by some of the most fierce women from our entertainment industry namely Sanam Saeed, Sarwat Gilani, Meher Bano, Faiza Gillani, Eman Suleman, Samiya Mumtaz and Beo Raana Zafar. The trailer also gives away the male actors as we see glimpses of Sheheryar Munawar, Ahsan Khan, Osman Mukhtar and Saleem Mairaj. These men may seem like they are superior to women and the trailer shows instances where they remind women how fragile they are and hence, incapable of being in power. They also objectify women and reiterate the belief that an ageing woman is less desirable. It will be interesting to see how tables turn on these characters and how the women who once were head over heels for them run after their blood.
View this post on Instagram
Speaking of desirability, Meenu Gaur shed light on the stereotypes that the show hopes to shatter. "Not only are we trying to give a woman's perspective on a story in which women have been maligned, I think one thing that we were very very aware of is that the qatil haseenas should not all be young, beautiful women. They should be women of all ages because this is also a male constriction, that a haseena should be young. So we have two episodes being led by older women (played by Samiya Mumtaz and Beo Raana) so we were conscious of breaking many stereotypes."
Beo Raana furthered the conversation by adding how the show is about "women redressing the balance. Where this is lack of justice or revenge is needed, women are strong enough to get up and balance it out. Where any situation was unbalanced, I think they had the guts and the passion to fix it, whether it was justice, revenge, love, lust."
Eman Suleman who plays the role of Zehra highlighted how Qatil Haseenaon Ke Naam brings a fresh perspective since it does not victimize women, an approach that is rather foreign to local audiences. While she joked about her character shedding many tears, Suleman assured that the show does not present women as victims.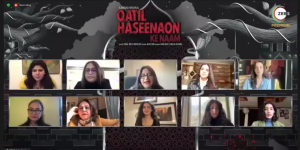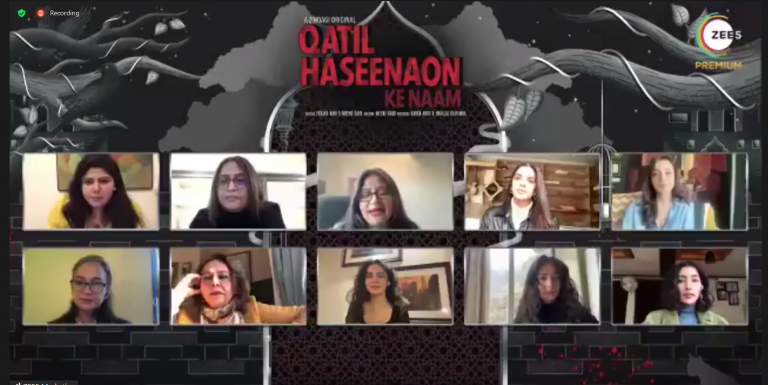 If there is one qatil haseena who stands out in the trailer just by her voice, it is Sanam Saeed. Playing Zuvi who is (or hopes to be) an artist, Saeed revealed how she altered her voice for the role. Zuvi seems to have an accent that belongs to an English lady and lives in what she believes to be a perfect world. Saeed also shared how she is conscious of choosing characters who are very different from her as a person since the joy of being an actor lies in the different behaviours that they get to portray. Another character very different from Saeed and one that continues to be praised over the years by local and international audiences both, is that of Kashaf from Zindagi Gulzar Hai. Given Kashaf's headstrong nature and the way she stood her ground, Saeed's portrayal of Zuvi will be an interesting watch.
While Sanam Saeed may be testing new waters with Qatil Haseenaon Ke Naam, Sarwat Gilani and Meher Bano may have audiences a little skeptical about what new they have to offer. The two did not only star in Churails, another women-centric web series produced for Zee5, the two series also seem similar in their treatment of women. With both having negative connotations in their titles as well, viewers wonder what sets Qatil Haseenaon Ke Naam apart from Churails.
As the question popped up during the virtual launch as well, Gilani took over to share what sets the two shows apart. "Churails was more contemporary setting and Qatil is very noir and…there is a mix of classical and noir, so the coating of Qatil is very different. It's a post-modern genre and that just adds a lot of layers to it. The characterization, the visuals such as the tilted camera angles and skewed positions, an interplay between dark and light is (something) you see in Qatil and not in Churails. So visually it's very different also."
View this post on Instagram
Meher Bano mirrored Gilani's thoughts as she agreed that the main difference lies in the genre of the two series. While Churails has a fanbase of its own, the new web series looks equally promising and intriguing. Just how similar or different the two are and whether it's even fair to draw a comparison between the two is something that viewers will find out on December 10.