KARACHI: It takes two to tango and it definitely takes two to make a baby. Yet, in Pakistan, the responsibility to take care of the child's needs falls solely on the mother. Basic parenting tasks from bathing to feeding and more specifically changing diapers is something that has been assigned to the mother. If by any chance a father steps up and helps out with these tasks, he's lauded as the father of the year. But politician Sharmila Faruqi wasn't having any of that. Instead, she recently called out the incredibly low standards that have been set for a Pakistani father.
View this post on Instagram
It all started on an appreciation post shared by actor Iqra Aziz for her husband Yasir Hussain. She shared a picture of her husband in the midst of "a pamper and clothing change session". She wrote that this was the first time her husband changed their son's clothes and wrote, " I am so proud of you @yasir.hussain131 you've helped me so much in this new phase of my motherhood." She went on to appreciate him for changing diapers and, "holding him while I rest for a bit, and making me breakfasts."
View this post on Instagram
Many people took to the comments to appreciate Yasir Hussain, for helping his wife in taking care of their son. Actor Sadia Ghaffar even wrote, "MASHAA ALLAH! only a good Son can be a good Husband and Father". However, there was one voice who wasn't too in awe of the father and that was Sharmila Faruqi.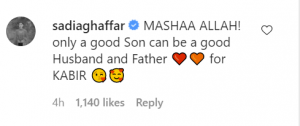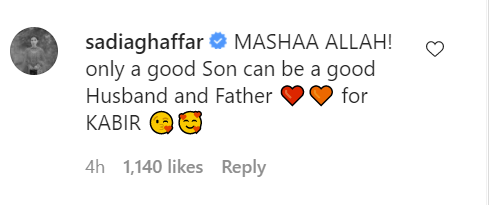 The politician called out the double standards set in society when it comes to fathers being hands-on. She wrote, " I'm so glad your husband is hands-on but it's nothing to be proud of or anything special." She went on to explain, "all good, involved fathers do this for their kids." She gave her husband's example who "bathes, changes diapers, feeds and takes our son for his Preschool if I'm at work or unwell." However, she didn't have any high praises for her husband for doing so.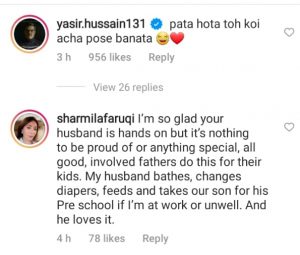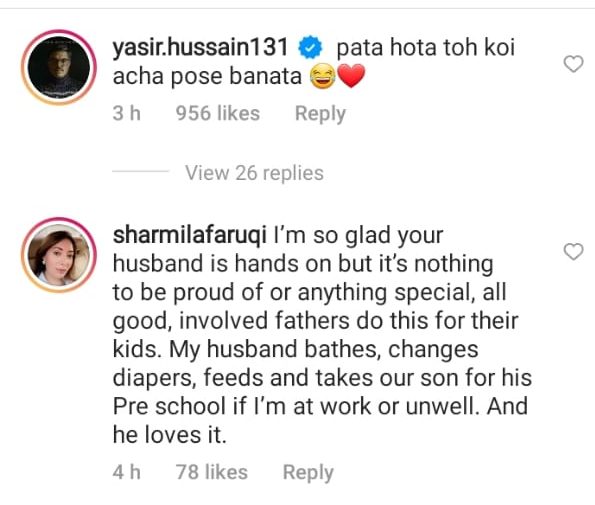 We're not going to lie, Sharmila Faruqi and her comment questioning why a Pakistani father gets unnecessary praise was a breath of fresh air. After all, if these basic tasks are worth all the praise men get, women should be perched upon the highest of pedestals all the time.