KARACHI: Just a few days back it was announced that  Junaid Khan and Hiba Bukhari are set to star in upcoming drama called Hum Na Thay Be Mehar and now it looks like we have another onscreen pairing to look forward to. This time it's Amar Khan and Muneeb Butt who are set to star in a new drama called Baddua. The two last starred opposite each other in the Hum TV series Choti Choti Batain and we're excited to see what the upcoming drama has in store for us. The Belapur Ki Dayan actress took to Facebook to announce her new project.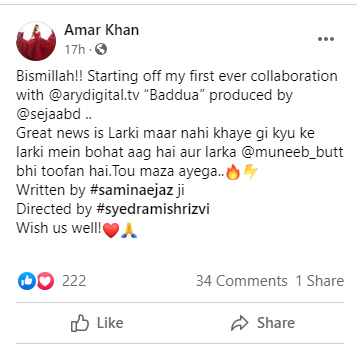 "Starting off my first-ever collaboration with ARY Digital, Baddua, produced by Abdullah Seja," she wrote.
We reached out to Amar for details on the project. While she could not reveal much at the moment, she shared that the drama was in the works for a while. She informed that it has been written by Samina Ejaz of Yaarian, Kesa Hai Naseeban and Phaans fame while Ramish Rizvi is directing it.
"It is going to be a very interesting watch," she told Cutacut. "The sad part, however, was, that after Qayamat which was a huge hit, similar scripts were being written but I have always tried not to repeat myself. I was constantly struggling with a lot of scripts which I refused but this was something very interesting."
View this post on Instagram
Speaking of her character, she revealed that it is going to be in sharp contrast with what her role was in the acclaimed drama serial Qayamat. "She is very patakha larki, very fiery and someone who listens to her heart, is very opinionated at times, and has a powerful voice of her own. She is daring enough to achieve whatever she wants in her life."
In addition to Amar Khan and Muneeb Butt, Baddua will also star Samina Ahmad, Mehmood Aslam and many others. They are soon to begin shooting for the project in Karachi.